My Grandma's speciality dish, one dish that I crave often and enjoy to the core…
I had already posted the recipe for making chicken chakkoli, in which chicken is added along with the rice dumplings and then cooked with the coconut gravy. However, this dish tastes better and is traditionally made with shrimp. One of the dishes my grandma makes whenever I visit her and is the best when made by her. I don't make this that often, I make this when I get the irresistible craving for it and that's when it tastes even more better.
There are different ways of making this dish and has different names too. This dish is made in Kerala and in some parts of Tamil Nadu. Some of the names of this dish are chakkoli, thakkidi, kunji pathal etc. In my family, this dish is known as chakkoli and is made either with shrimp or chicken. Most dishes taste delicious when served warm, but this dish tastes better when it sits for long time, the next day it gets better. 

The rice dumplings in this dish resembles to gnocchi which is made of potato dough. The only tiring part is making the rice dumplings, well it's not that tiring; make this when you have your friends and family around, making this is more fun when you have more people around 🙂 Absolutely delicious dish, and one of my most favorite dishes.
Preparation Pictures
Kneaded Rice dough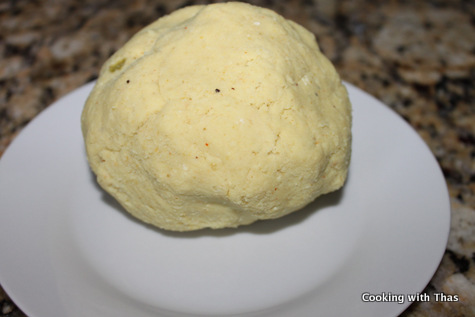 Rice dumplings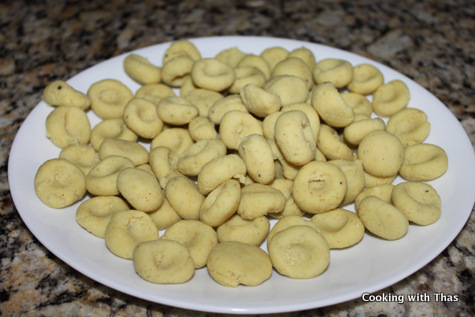 Cooking shrimp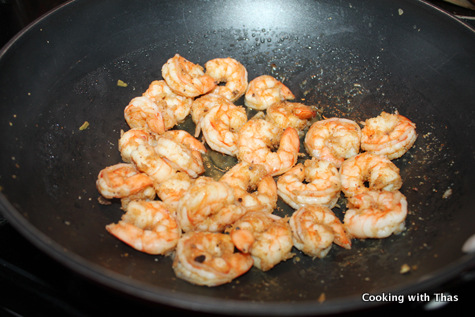 Cooking rice dumplings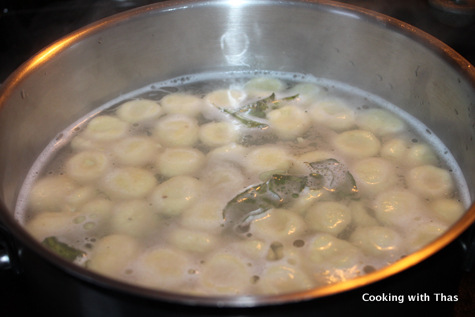 Cooked rice dumplings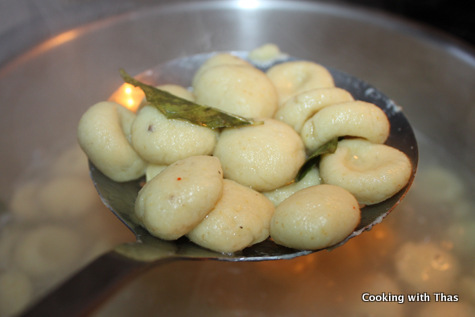 Shrimp and rice dumplings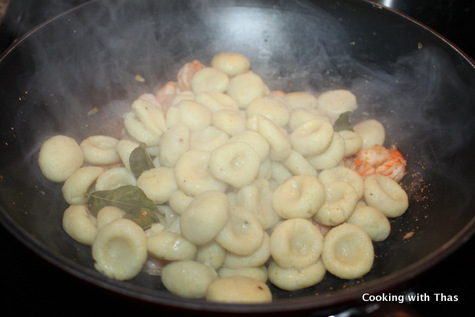 Adding coconut gravy
Cooked chakkoli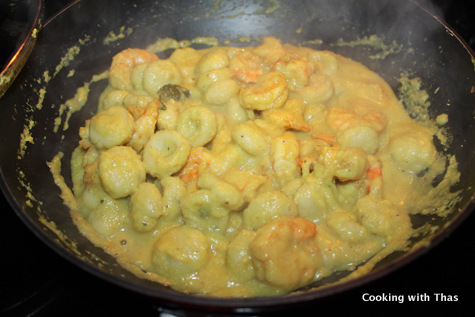 Shrimp or Prawns Chakkoli - Shrimp and Rice Dumplings in Coconut Gravy
Prep time:
Cook time:
Total time:
Ingredients
For making the dough:
Rice flour- 1¾ cups
Fennel powder- 1½ tsp
Coriander powder- 1 tsp
Garam masala- ½ tsp
Turmeric powder- ¼ tsp
Chili powder- ¾ tsp
Water- 1½ cups
Salt- a few pinches
Cooking the rice Dumpling:
Small dough rounds already prepared
Water- 3 to 4 cups
Vegetable Oil- 2 tbsp
For cooking Shrimp
Shrimp, deveined, shelled- 20
Garam Masala- ½ tsp
Chili powder- 1 tsp
Turmeric powder- ¼ tsp
Fennel powder- 1 tsp
Coriander powder- 1 tsp
Curry leaves- 1 sprig
Salt- to taste
Making coconut gravy
Coconut, grated- 1 cup
Fennel powder- 1½ tsp
Turmeric powder- ¼ tsp
Cinnamon stick- 2 inch slice
Water- to make smooth paste
For seasoning (must do)
Small onions, chopped- 2
Curry leaves- 1 Sprig
Ghee- 2 tbsp
Instructions
Step1: Making the Dough
Boil water in a wide cooking pot, add all the above mentioned spices.
As soon as the water boils, add the rice flour and combine it with a wooden spoon, remove from the stove.
Let it cool down a bit, but don't wait to cool completely.
Using your hands, knead the dough well.
If the dough is hard, sprinkle little water and knead the dough to a round shape.
Grease your hands with little oil.
Take an inch long of the dough and make into round shape by rolling in between your palms.
Make a depression on the middle of the dough with your finger.
Repeat this procedure until you have the entire dough made into small rounds, keep aside.
Step 2: Cooking the dumpling
Place a wide pot over medium heat, add 3 to 4 cups of water and oil to it.
When it comes to a rolling boil, add the already prepared small rice dumplings.
Let it cook for 15 minutes, stirring gently making sure not to break the dumplings.
After 20 minutes of cooking, the water will thicken and the dumplings will float on the water.
Remove the pot from the stove, drian the water and keep the rice dumplings aside.
Step 3: Cooking shrimp
Add chili powder, turmeric powder, garam masala, fennel powder, coriander powder and curry leaves to the shrimp and spread it evenly.
Cook the marinated shrimp in a large pan till it has cooked well.
Step 4: Making the Coconut gravy
Grind the coconut along with fennel powder, turmeric powder, cinnamon stick and water into a smooth paste. Keep aside.
Cooking rice dumplings with shrimp and coconut gravy
Add the cooked shrimp and rice dumplings into a wok or wide pot.
Combine everything gently.
Now, add the coconut gravy, combine well and cook covered for a few minutes.
If the gravy is watery turn the heat to high and let the gravy thicken.
Don't stir too frequently as the rice dumplings will break apart.
Step 5: Final seasoning
Heat a frying pan, add ghee, fry small onions and curry leaves till golden brown in color.
Add this over the cooked chakkoli and gently combine everything.
Immediately close the chakkoli in the pot with its lid so that the aroma of the fried onions will get into the dish.
Let cool down and serve the chakkoli in a plate.
This is a complete meal and you don't need anything to go with this.
This dish tastes better after it sits for sometime, next day it will taste more delicious.