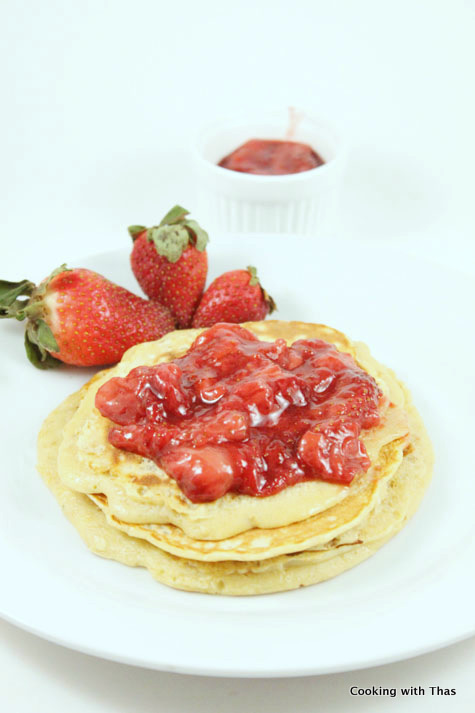 Healthy and delicious breakfast…
You guessed it right, I got tired of my usual cereal breakfast. Just as a coincidence, I came across an easy breakfast dish. This is absolutely not my recipe. Ever since I've started going to grad school, I've been a regular reader of Western Gazette, this is the student newspaper of my University. With the advent of internet, I seldom buy newspapers, as a matter of fact I had not read newspapers for a long time. However, after reading western gazette, I was relived to learn that I still enjoy reading newspapers. Lying on my couch, sipping a cup of coffee with my eyes travelling through every nook and corner of the paper, this is how I love to read. As I read, I get a relaxed feeling which the internet fails to offer me.
Another reason for me to grab this paper is they have a column for recipes. Last week they had the the recipe for Oatmeal pancake. I brought the paper home and placed it on my kitchen counter. Every morning when I entered the kitchen I made sure to take a look at the recipe hoping to try it. Then, I would easily fall for the cereal box in my pantry. But yesterday, I did hold on to my  decision of trying this recipe. This easy recipe didn't take up much of my time, in less than 20 minutes I was seen enjoying this.
Sharing with my readers, try a new breakfast dish and you'll get a feeling that your day is going to be a good one. I topped the pancake with homemade Maple Strawberry Syrup.
Oatmeat Pancake by Nicolle Gibillini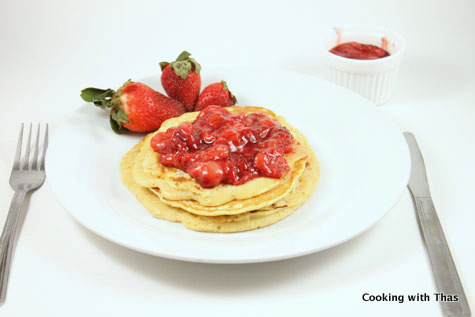 Ingredients
Oats, instant- 1/2 cup
Milk- 1 cup
All purpose flour- 1 cup
Brown sugar or White sugar- 2 tbsp
Baking powder- 1 tsp
Salt- 1/4 tsp
Egg- 1
Butter, unsalted and melted- 2 tbsp
Vanilla extract- 1 tsp
Instruction
Soak oats in milk for 10 minutes.
In a bowl, combine:  flour, brown sugar, baking powder, salt.
Add the oats soaked in milk, egg, butter and vanilla extract to the dry mixture.
Combine well with a fork or whisk to a thick batter, let stand for a few minutes.
Heat a pan or skillet over medium heat.
Grease with non-stick cooking spray.
Pour a spoonful of batter on the pan, let the bottom side cook well and turn golden brown.
Flip over and cook the other side too.
Serve on a plate.
Maple Strawberry Syrup
Strawberry, ripe fresh or frozen diced- 2 cups
Sugar- 3 tbsp
Maple syrup- 2 tbsp
Lemon juice- 2 tsp
Instruction
Cook the above mentioned ingredients in a covered saucepan, till the strawberries are cooked well, about 15-20 minutes.
Mash the cooked strawberries with the spoon.
You could also add little water to thin down the syrup.
Remove from the heat and let cool down.
Top the oatmeal pancakes with maple strawberry syrup and enjoy.
To see all the 601 recipes published so far, please go to the recipe index.
If you enjoyed this post, subscribe to receive future posts


You can also subscribe via Facebook, Twitter and RSS