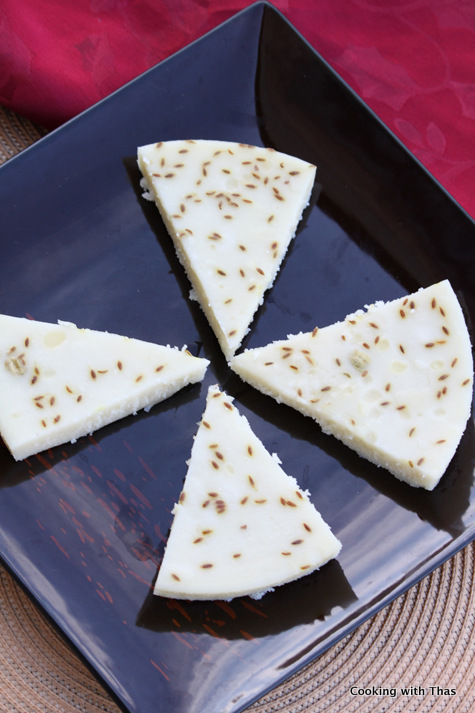 My mom's specialty dessert…
Do you have any kind of food with which you have shared a strong bond right from the moment food got into your brains? If yes, then we should team up. I can call mine as "My mom's specialty dessert". I have had the opportunity to taste this dessert made by my Aunt's, other family members and even non-family members. And the truth is none of them was able to beat my moms. Every time when I tasted this dessert made by others, I  silently judged them, comparing it to my mom's. I must say not even a single time it had won over my taste buds. I was forced to notice some kind of faults in those,  for instance: not too soft like my mom's, too sugary sometimes and many times the overall taste wasn't that great. Don't get me wrong here, I am not blaming their culinary talent and I truly appreciate their effort on trying to give their best shot at this dessert.
Now you could come to the conclusion that this dessert needs to be made with the utmost care and attention to achieve the perfect taste and look. I  have always seen my mom making this particular dessert with all her heart and affection, as if she was with a baby. And this is the sole reason behind her success of making this dessert with perfection all the time.
Kinnathappam, I am still uncertain about it's authenticity, since I have seen both Keralites and Tamilians making  this. Anyway, one statement I can make without much controversy is that this is an authentic South Indian dessert. Kinnathappam, which can be translated to english as 'kinnam' which means 'plate' and 'appam' means 'cake'. Since this dessert is made in  a plate it is called 'cake in a plate'. Mostly this is made in a stainless steel plate. I can even call this as Steamed Rice-Coconut Pudding, based on the ingredients it has and the preparation method, but I wouldn't dare to change its name given by whoever who came up this delightful dessert, may be centuries ago. This dessert is a proof that old, traditional desserts still exist even after the advent of other fancy desserts.
In my family there wouldn't be any special occasions without this dessert, hence this is served and tasted with so much dignity.
As a kid, as a teen, in my early 20's, I have seen my mom making this in her kitchen, those days I had neither cared to help her out making this nor showed any interest to find out what all were added to that. Only one thing that I wanted to know and asked her over and over was how long it would take to make, so that I could have the first bite of it. While sneaking into the kitchen during the preparation process, I had seen the way my mom made this and the memories of that is still with me, so crisp and clear. So, when I humbly made up my mind to make this in my kitchen, I felt my mom's presence, giving me all the detailed instructions and when I stood still thinking whether I am doing it in the right way, I felt as if my mom is showing me the Thumps up sign. I totally imitated my mom, when it came to the care and the attention I had to show while making this.
I did succeed in making this. After each and every bite of it, there came the judgment part, judged by my taste buds  and I had to admit that my taste buds were still longing for my mom's special Kinnathappam, it was indeed tough to beat her, no matter what. Let my mom prevail as the Queen of Kinnathappam forever..
Steam Cooked Kinnathappam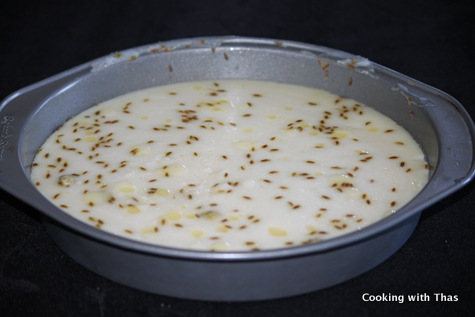 Cut into wedges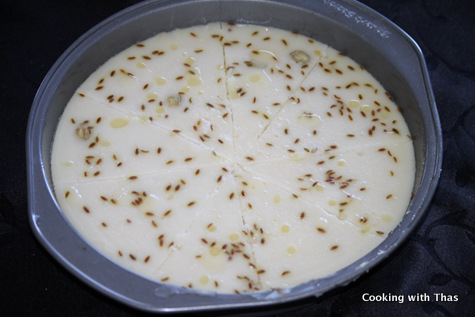 Tips:
Make sure the batter has the right consistency, neither thick nor watery.
When you make this with all your heart, you will surely succeed in this, also practice makes this dessert perfect.
Kinnathappam aka Cake in a plate
Prep time:
Cook time:
Total time:
Ingredients
Raw Rice (ponni rice or sona massori)- 1 cup, soaked in water overnight
Egg-1
Sugar- ½ cup (based on your sweet level)
Coconut milk, from fresh grated coconut or use canned -1¾ cups
Cardamom whole, smashed- 2
Cumin seeds- ¾ tsp
Ghee- 2 tbsp + ½ tbsp
If using thick coconut milk, substitute ½ cup water for ½ cup coconut milk, this means: 1¼ cup thick coconut milk and ½ cup water.
Instructions
Soak 1 cup of rice in water for 5 hours or overnight.
Drain the water from the soaked rice and grind it with egg and coconut milk until very smooth.
Strain the batter through a muslin cloth or a strainer with tiny holes. This would help to remove any coarse particles in the batter.
Add sugar and combine well till the sugar dissolves well.
Add cardamom and cumin seeds to the batter.
The batter consistency should not be too thick or too watery, it should have a medium consistency.
If you think the batter is thick, use more of the thin coconut milk or water to thin it down.
Grease the stainless steel or cake pan with ghee.
Pour the batter into a stainless steel plate that usually comes with the steamer or a cake pan would work too.
Steam cook for 20 to 25 minutes over medium heat, or until a fork inserted into the kinnathappam comes out clean.
After it's cooked, drizzle ½ tbsp ghee over the kinnathappam.
Let cool down and slice into wedges and serve.
Leftover kinnathappams can be kept in the refrigerator, it tastes better when chilled.
If you don't have a steamer, don't worry follow the method I use:
Fill ¼ of a wide bottomed vessel/pan with water.
Cover the plate/pan with the batter with aluminum foil.
Place the plate into the vessel and cover it with its lid.
Steam cook in medium heat for 20 to 25 minutes.