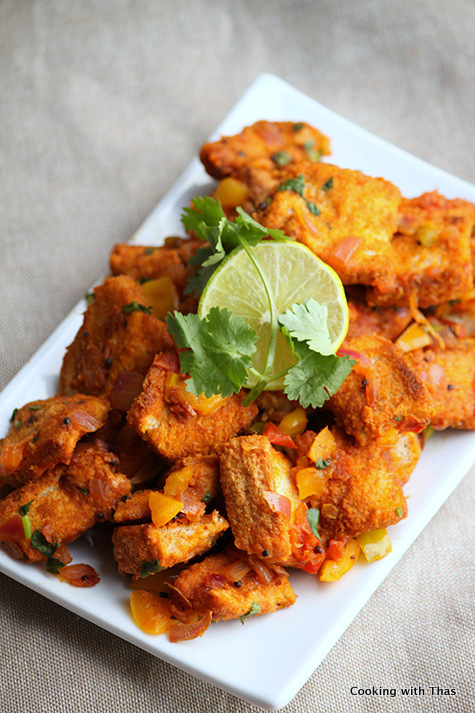 Bread stir fry, an easy to make breakfast dish or have as an evening snack…
Bread is always found sitting on our kitchen counter top, and has rescued us countless times when we need to whip up something real quick. This is one such dish that can be made for weekend breakfast or as an evening snack. Bread stir fried along with peppers and some seasonings. Easy to whip up, tastes delicious and filling…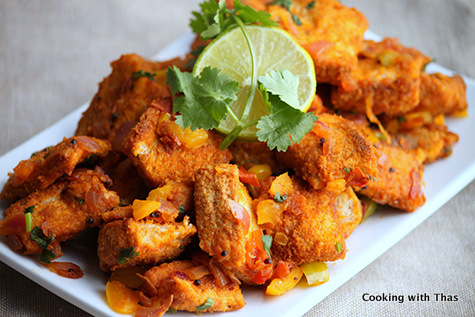 Cooking Video
Easy Bread Upma
Prep time:
Cook time:
Total time:
Ingredients
Bread, toasted and cubed- 6 slices
Oil- 2 tbsp
Mustard seeds- ¾ tsp
Onion, chopped- 1
Salt- ¼ tsp
Ginger-garlic paste- ½ tsp
Tomatoes, chopped- 2
Yellow, Red or Green pepper, chopped small- 1
Chili powder- ¾ tsp
Turmeric powder-1/8 tsp
Coriander powder-1 tsp
Garam masala- ¼ tsp
Salt- a few pinches
Tomato ketchup- 3 tbsp
Water- 3 tbsp
Lime or lemon juice- 1 tsp
Cilantro, chopped- 2 handfuls
Instructions
Toast the bread slices till crispy and golden, cut into cubes.
Place a pan over medium heat, add oil. Let oil turn hot.
Add mustard seeds, let it splutter.
Add Onion, season with salt and saute for a few minutes.
Add ginger-garlic paste, saute till onions turn golden in color.
Add tomatoes, cook till mashed up.
Add chopped pepper, cook till soft.
Add chili powder, turmeric powder, coriander powder, garam masala and salt. Combine well.
Add tomato ketchup, combine well and cook for a minute.
Add water, combine well.
Add the toasted and cubed bread slices, combine well till well incorporated.
Add lime or lemon juce and cilantro, give it a stir.
Serve onto a plate and enjoy while it's warm along with filter coffee or tea.