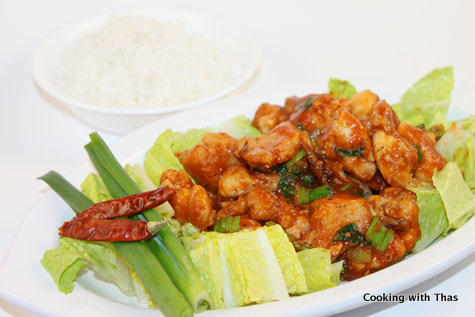 My mom shared this recipe with me a few years ago. I am always in search of easy breezy recipe and so this recipe really fits my criteria. It's easy and delicious. This dry and spicy (you could alter the spice level accordingly) dish is just great for any kind of occasion. Dragon chicken could be served as a side dish or as a main dish and goes well with fried rice, plain rice, rotis and chapattis.
Dragon chicken – Simple Indo Chinese Recipe
Ingredients
For marination
Ginger paste – 1 tsp
Garlic paste – 1 tsp
Ground Pepper – 1½ tsp
Egg white – of 1 egg
Corn starch – 2 tbsp
Chicken, boneless – 1 pound (cut long)
While cooking
Ginger, finely chopped – ½ tbsp
Garlic, finely chopped – ½ tbsp
Red chilly flakes – 1½ tsp
Tomato sauce – 1 cup
Soy sauce, low sodium – 1 tbsp
Sugar – ½ tsp
Cilantro chopped- 1 handful
Green onions, chopped- 1 stalk
Vegetable oil for deep frying
Instructions
Marinate the chicken pieces with the above mentioned 'marination ingredients' and set aside for 15 minutes.
Fry the marinated chicken in oil until golden brown and crispy.
Heat a non-stick pan over medium heat, pour 2 tbsp of oil used for frying.
Add the finely chopped ginger and garlic, saute till light golden.
Add red chilly flakes, saute for a second.
Add tomato sauce, combine well.
Add soy sauce and sugar, let the sauce come to a slight boil.
Add the fried chicken pieces, combine well.
Let cook for some more time until everything is well incorporated.
Garnish with spring onions and chopped cilantro.
Serve hot with rice or roti.
Notes
If sugar added is more, add more of the tomato sauce to compensate the sweet taste.
This is more of a dry dish, if you want more gravy add more of the tomato sauce.
To see all the 745 recipes published so far, please go to the recipe index.
If you enjoyed this post, subscribe to receive future posts


You can also subscribe via Facebook, Twitter and RSS