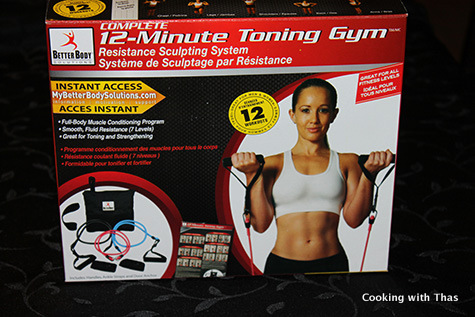 My latest obsession is working out with resistance bands and I'm loving it…
Last month, I got a package and thought my Man would have ordered some fancy accessories for his motorcycle or some gadgets. I was a bit curious and I fiercely opened it, there was a box inside it and it said "complete 12-minute toning gym". Immediately, I texted my Man about the package. He replied- "It's for you, have fun working out with the resistance bands". Me- Hmm…Now, I need to figure out what the heck are resistance bands and how to work out with it.
The box had 3 bands (light, medium, heavy) along with handles, ankle straps and door anchor. It also came with a workout poster showing all the different kinds of workouts that can be done using those bands. So far, everything seemed interesting. Next, as always I went to youtube and searched for workouts using resistance bands, so many videos lined up. I started trying some of the workouts and started loving it.
I loved the fact that the bands are so light, so many different workouts can be done with it and can also be carried along with us anywhere we go. We could even carry them to work and do some stretch workouts during lunch break.
To keep in mind if you are a beginner
Choose the right kind of band, as it comes with light, medium and heavy.
Never release the bands while under tension, it can cause the bands to bounce towards you and can injure you.
Try each workout slowly and make sure you are comfortable doing it and then continue.
First week, take it easy and do easy workouts.
Always, do stretch workouts before starting and after you are done.
To be effective, workout at least 30 minutes, 3 times a week.
Helps in toning the whole body, muscle conditioning and strengthening.
PS: This is not a sponsored post.
Here are some of the workouts I've been doing:
First try doing these simple workouts:
When you feel comfortable may be after a week, workout for 30 minutes, follow this video: