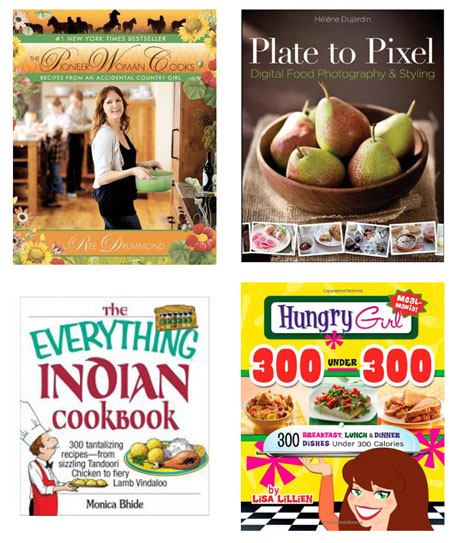 You could be the winner of this fabulous cookbooks bundle valued at $100…
First, I am truly pleased to host this giveaway. These cookbooks were hand-picked by me as the best of the best. They were all written by remarkable authors who are popular on the blogosphere and twitter addicts (read hip!).
I present to you three phenomenal cookbooks that take the guesswork out of your cooking. And one book on food photography to help you take that perfect picture.
Prize #1
Plate to Pixel: Digital Food Photography & Styling
Author: Helene Dujardin
Sponsored by: John Wiley & Sons, Inc.
"Helene's food photography and styling work is impeccable".
If you're looking for a book that can guide you like a true friend to shoot breath-taking food pictures, then I would say your search comes to an end, read Plate to Pixel. If someone asks me about my favorite food photography blog, without a doubt I would have to say Helene's award winning blog Tartelette. Take a look at her blog and you'll know why.
Her food photography and styling will make a grant treat to your eyes. She has photographed for several best selling cookbooks. Helene's food photography and styling work has been praised online and in print by publications such as Elle magazine, Forbes magazine, The Times Online, Saveur magazine, CNN, Martha Stewart and more.
Prize #2
Author:  Ree Drummond
Sponsored by: Harpercollins Publishers
"This woman needs no introduction…the pioneer woman is sure to entertain you to the core…"
Ree Drummond is a food blogger turned book author turned TV personality. I came to know about her blog a couple of years ago through one of my foodie friends, since then I have been hooked. Not just for recipes but to know more about the country lifestyle and other amazing stories she writes about.
Ree says: "My cookbook, "The Pioneer Woman Cooks", is a natural extension of the cooking section of my website. Using only simple and widely-available ingredients, I share my favorite, classic recipes from my website—along with a good crop of new dishes. I hope you enjoy it. It's homespun, homemade, and very stream-of-consciousness. It's me".
Prize #3
Author: Lisa Lillien
Sponsored by: St. Martin's Press
"Lisa is obsessed with food(period)"…
This TV personality is always hungry and that's what drives her to create the yummiest yet the easiest dishes. Want to eat burgers, doughnuts and pizza and still be able to fit in your pants? This book helps you to create your favorite meals starting from breakfast, lunch to dinner all under 300 calories. Even though it's low calories it would still taste rich and scrumptious. She delivers the best guilt-free ideas on her book.
Lisa Lillien is a number-one New York Times bestselling author and the creator of the Hungry Girl brand. She is the  founder of hungry-girl.com and a star on food network.
PS: I would also like to share that Lisa's newest book, Hungry girl: Supermarket Survival, is coming out on Oct 11th. This amazingly comprehensive supermarket guide is your key to guilt-free shopping, eating, and living. You absolutely don't want to miss this. Take a sneak peek at the book cover here.
Prize #4
Author: Monica Bhide
Sponsored by: Adams Media
"Monica is the pride and joy of Indian cooking".
Monica Bhide, has written several Indian cookbooks and has made appearances on TV and radio. Her TV appearance as a food judge on an Indian prime-time cooking show is about to premier soon. In this cookbook, she guides Indian food lovers on an easy-to-use foray into the flavors, ingredients, techniques, and tips to home-style Indian cooking.
If you want to create some of the famous Indian food in your kitchen, then this cookbook will be your guiding light. This book features 300 mouthwatering recipes, all you have to do is have the book open beside you and let the cooking start, in no time you'll be seen indulged in delicious Indian food with your family and friends.
How to participate
To participate, please use the rafflecopter widget below. If the widget does not load, please refresh this page. The widget is self-explanatory, however, if you need help, watch this video.
You can do one item or all the items, it's up to you and no mandatory items.  The (+) indicates the number of entries you'll earn for that item. For eg: you can tweet about this giveaway once per day and earn a +1 entry everyday(this is optional but increases your chances of winning, so bookmark this page).
One lucky winner will receive all the 4 prizes, valued at $100 shipped!
If you have any questions, please post a message on my page at facebook or simply stop by and say hello 🙂
GOOD LUCK!!!