Soup for the soul, this is my all time favorite soup that's aromatic, hearty and flavorful…
Any dish made Thai style is my favorite. I love all the aromatic ingredients used in Thai cuisine: lemon grass, galangal, basil leaves, kaffir lime leaves and Thai bird's eye chili.
One of the ingredients that's always seen in my refrigerator is Thai red curry paste, I buy the Thai Kitchen brand and have found that's one of the best brands out there. I make Thai red curry with chicken quite often, sometimes I skip adding the coconut milk.
On a lazy day or on a cold Fall/Winter night, I make this Thai style soup. I just throw all the ingredients into a pot and cook for 30 minutes. This time, I made this soup in the Instant pot in soup mode.
The key ingredient that made this soup absolutely aromatic and flavorful is kaffir lime leaves, couple of leaves added to soups or any dish can do wonders and tantalize your taste buds. I store the fresh kaffir lime leaves in the freezer, it stays fresh for months.
If you don't have an Instant Pot, you could make this in a pressure cooker or in a soup pot cooked over stove top.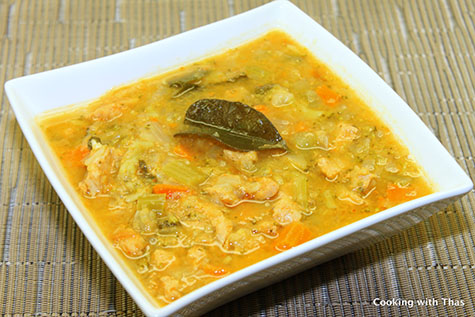 Thai Red Curry Chicken Soup- Thai Chicken Soup in Instant Pot
Ingredients
Onion, chopped- 2
Carrots, diced small- 1
Broccoli, small florets- 1 cup
Tomato, chopped- 1
Celery, chopped- 1 stalk
Red lentils- 1 cup
Boneless Chicken , diced small- 2 chicken breasts
Thai Red curry paste- 3 tbsp (I used Thai Kitchen brand)
Kaffir lime leaves- 2 leaves (must add)
Cilantro, chopped- ¼ cup
Water- 3½ cups
Salt- to taste
Ground pepper- ¼ tsp
Instructions
In a bowl, combine boneless chicken breasts with 1 tbsp Thai red curry paste.
If using Instant Pot: Into the pot, add all the above mentioned ingredients along with marinated chicken, 2 tbsp red curry paste and water. Combine well.
Close the lid, keep the vent in sealing position.
Click the Soup button- default time for cooking soup is 30 minutes. Walk away.
After you hear the beep, turn it off and let pressure release naturally- takes about 15 minutes.
Open the lid, taste and add salt if required. If you want more spice add more of the ground pepper while serving.
Serve in soup bowls and enjoy- it will open up your senses and makes you feel refreshed.
Notes
1- If you don't have an IP, you could cook in a pressure cooker for 30 minutes or in a soup pot cooked over stove top till chicken has cooked well.
2- You could add any kinds of vegetables.
3- Adding Kaffir lime leaves is a must, don't skip this.