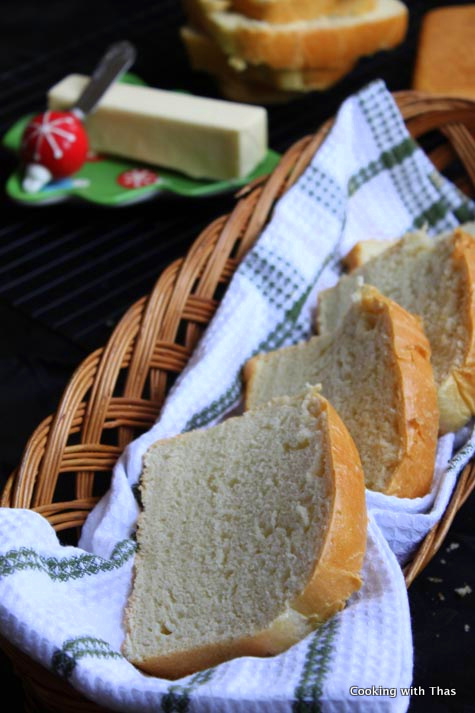 Hands down, the best white bread I've ever made; it did beat the store bought breads…
I am so proud of myself for making this perfect soft white bread which looked and tasted exactly like the store bought or bakery bought ones.  I am patting myself on the back, Well done Thas!
You need to appreciate yourself, respect yourself, more importantly love yourself. By doing so you'll start perceiving life in a beautiful way, everything turns out to be beautiful, you'll turn into a compassionate and better human being. Not that I am perfect; however, everyday I work towards improving myself.
Making bread from scratch had been on my to-do list for so long, I finally was able to check off bread from my list. These days, I seldom buy bread due to my husband's gluten intolerance. Even if I buy bread, I have never managed to finish it all by myself. One of my favorite ways of devouring bread is by smearing it with butter and toasting it. The perfectly toasted and buttered bread tastes just phenomenal and I find it hard to stop devouring.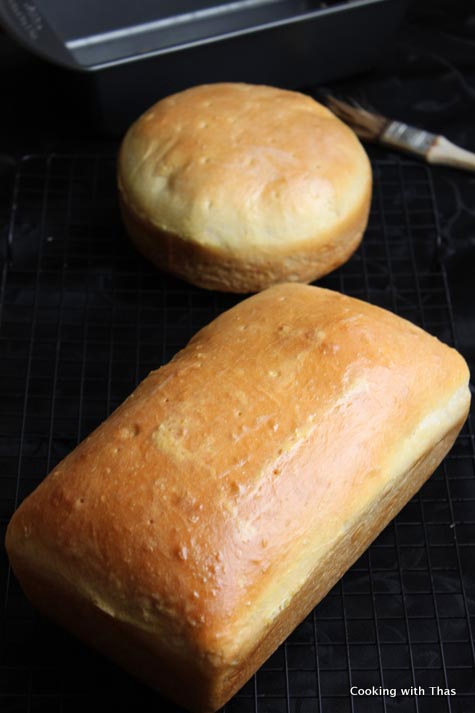 Initially, I was a little intimidated. But trust me, making bread from scratch is one of the easiest. When you see the perfectly baked soft bread you'll tear up. I did tear up when I saw the perfectly risen baked bread, when I sliced the bread, when I felt the texture of the bread and when I took a bite of it. I stood speechless for a few seconds. The next thing I did was sharing the pictures of the bread on my FB page and I did share with my friends as well.
Follow the recipe as it is, I guarantee that you will be amazed by the softness, the texture and the taste of this bread.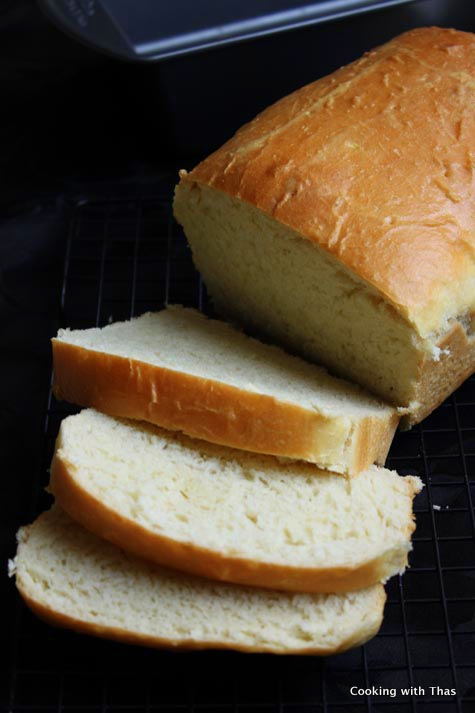 Round Bread baked in a round cake pan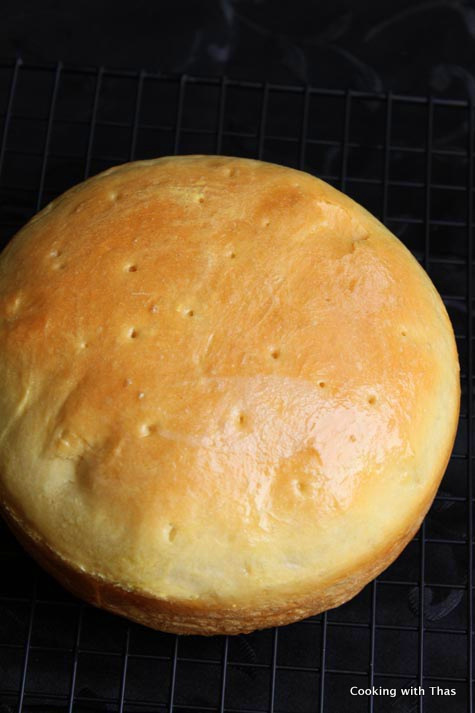 Step by Step Pictures
Soft White bread Recipe - Homemade, Easy to Make
Ingredients
Bread flour- 5¾ cups to 6 cups
Egg, beaten- 1 (for egg wash)
Melted butter- 2 tbsp ( to brush on the top of baked bread)
Yeast Mixture
Instant dry yeast- 2¼ tsp
Warm water- ⅛ cup or 2 tbsp (not boiled water)
Sugar- ½ tsp
Milk mixture
Water- 1⅛ cup ( 1 cup + 2 tbsp)
Milk- ¼ cup + ⅛ cup ( ¼ cup + 2 tbsp)
Shortening- 3 tbsp
Sugar- 3 tbsp
Salt- ½ tsp
Instructions
In a small bowl, combine yeast, warm water and sugar, let it stand for 10 minutes till the liquid turns curdy and bubbly.
Heat a saucepan over medium heat, add water (1 cup + 2 tbsp) and milk.
Heat the milk mixture till small bubbles start to form at the edges, do not boil the mixture.
Remove from the heat, add shortening, sugar and salt, combine well. Let cool down.
Add the yeast mixture into the milk mixture, combine well.
In a large bowl, add 4 cups of flour, slowly pour the yeast-milk mixture and combine with your hands, it will be a very sticky dough.
On a clean surface, first add 1 cup flour.
Add the sticky dough mixture onto the flour spread on the surface.
Knead the dough, as you knead combine well with the flour.
Add ¾ cup more flour and keep kneading.
Knead for about 5 minutes till you have a smooth and not so sticky dough.
If the dough is still sticky add ¼ cup more flour and knead.
Do not add too much flour and make the dough hard.
Grease a large bowl with non-stick cooking spray, place the dough into the bowl and cover with a plastic wrap or with a damp cloth.
Turn on the oven at the lowest temperature for 5 minutes, turn off the oven when it gets slightly warm.
Place the dough into the oven and let it sit there for 1 hour till it has doubled up in size.
Make sure to turn off the oven before you keep the dough in it, or place the dough on a warm place. It's very important that the dough is kept in a warm place for better and faster fermentation.
After 1 hour, the dough must have risen to double the size. Punch it down.
Grease a bread pan with non-stick cooking spray.
Place the dough into the pan and spread it evenly.
Place the dough placed in the bread baking pan back into the warm oven or warm place for another 45 minutes.
After 45 minutes, the dough will rise to the top of the baking pan. Remove from the oven and keep aside.
Using a skewer or fork, put holes on the surface of the dough. Don't insert it too deep.
Preheat the oven to 350 F or 176 C.
Beat one egg and brush it generously all over the dough.
Place the dough on the middle rack and bake for 35 minutes.
After 35 minutes, take it out of the oven and let cool down for a couple of minutes.
Brush the top of the baked bread with butter.
Let cool down completely before you slice the bread.
Using a sharp knife, slice the bread to ½ inch or 1 inch thickness.
Enjoy this homemade and soft bread that you have made with your family and friends.
You could smear the bread slices with butter and toast it on a pan heated over stove top, tastes delicious.
Notes
I had some leftover dough, so made a round cake as well. Place the dough in a greased small round cake pan and bake it.