A popular and delicious Sindhi vegetarian dish…
Sindh is a province in Pakistan and their cuisine is called Sindhi cuisine. I have seen and read a lot of Sindhi recipes posted by some of my fellow bloggers and have been thinking of making some of the dishes in my kitchen.
Finally, I made this Sindhi Kadhi. It's basically a delicious vegetarian curry and the base of this curry is tomato puree. Into the cooked tomato puree, vegetables like potatoes, drumstick, lady's finger and cluster beans are added and slow cooked. In the beginning, besan or gram flour is added into the tempering and cooked well. The besan makes this curry thick and imparts a nice texture and flavor.
I love vegetarian dishes and so when I make veggie dishes I eat a little more than usual. This Sindhi Kadhi has become one of my favorite veggie dishes. Absolutely flavorful and delicious that I literally drank this curry.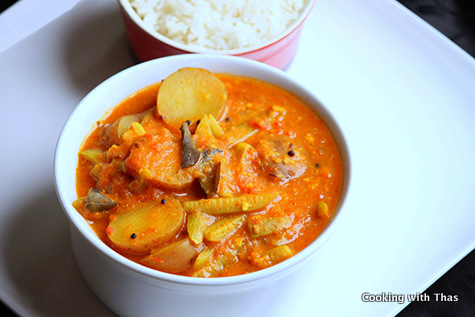 Sindhi Kadhi with Potatoes and Tindora
Ingredients
Oil- 2 tbsp
Mustard seeds- 1 tsp
Fenugreek seeds- ½ tsp
Cumin seeds- 1 tsp
Curry leaves- 1 sprig
Asafoetida- 2 pinches
Gram flour or besan or chick peas flour- ¼ cup
Tomatoes- 3
Chili powder- 1½ tsp
Turmeric powder- ¼ tsp
Ginger, minced- 1 inch slice
Potatoes, quartered- 4
Tindora, cut vertically- 1½ cups ( I used tindora)
Tamarind, fresh- 3 inch slice soaked in ¼ cup water
Water- 3 cups
Notes
In authentic Sindhi Kadhi below veggies are added along with potatoes, add these if you have them:
Drumstick, cut into 2 inch pieces- 10 pieces
Lady's finger, halved- 10
Cluster beans or Guar beans (Avarakka in Malayalam)- 2 handfuls
Instructions
In authentic Sindhi kadhi, veggies like drumstick, lady's finger and cluster beans are added. Add these if you have them.
I only added potatoes and tindora as I didn't have the other veggies.
In a bowl, soak the tamarind with ¼ cup warm water for 5 minutes. Combine the tamarind well in the water and squeeze the juice from it. Strain the juice and discard the skin..
In a blender, puree the tomatoes with ¼ cup water. Keep aside.
Place a large pot over medium heat, add oil, let it turn hot.
Add mustard seeds, let it splutter.
Add fenugreek seeds, cumin seeds and curry leaves, saute for 2 seconds.
Add asafoetida and combine well.
Immediately, add gram flour or besan, saute well for a few seconds.
Add ¼ cup water, combine well with the gram flour and keep stirring and cook for a minute.
Add ¼ cup more water and combine the gram flour without any lumps. You could use a whisk to do this. Let the gram flour cook for a minute.
Add the tomato puree, combine well and cook for 3 minutes.
Add chilly powder, turmeric powder, minced ginger and salt, combine well and cook the tomato puree for 5 more minutes.
Add 2½ cups water and cook covered for 5 minutes.
First, add potatoes and cook covered for a few minutes.
After potatoes have half cooked, add the tindora and cook covered till they have cooked well.
Once the veggies are cooked, add tamarind juice and cook for another 7 to 8 minutes.
The gravy will be thickened.
Taste and add more salt if needed, or chilly powder for more spice.
Remove the pan from the heat and keep covered for sometime.
This sindhi kadhi goes well with roti or rice.
Notes
If using drumstick, lady's finger and cluster beans; add these after the potatoes have half cooked and cook till the veggies have cooked well.