Aromatic soup infused with Thai flavors, great to sip on a cold day…
Summer has faded, leaves have started to fall, the weather is getting crispy, Fall is here…The transition from Summer to Fall always make me feel sick. Woke up this morning sick and it was tylenol that kept me going for the whole day. In the evening, I just wanted to sip a bowl of my favorite Tom yum soup that has always made me feel better.
The ingredients added in tom yum soup like lemon grass, galangal, kaffir lime leaves and the Thai chili peppers make the soup aromatic and flavorful. After sipping this soup, you will start to sweat and you'll feel better in no time. An amazing soup to have when you are down with flu.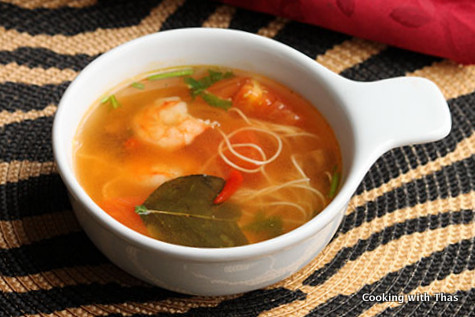 Shrimp Tom Yum Soup - Aromatic Thai Soup
Ingredients
Chicken or vegetable stock- 4 cups (low-sodium)
Lemon grass- the white part of 1 stalk, cut into 1 inch slices
Kaffir lime leaves- 4
Galangal, cut into 1 inch slice- 2 small pieces
Thai red chili, halved- 2
Fish sauce- 1 tbsp
Sambal Oelek- ½ tsp (or add ground pepper)
Thai Red curry paste- ½ tbsp
Lime juice- ½ tbsp
Shrimp, shelled and deveined- 8
Tomato, diced- 1 large tomato
Chow mein noodles
Cilantro, chopped- ¼ cup
Instructions
In a large saucepan or soup pot, add chicken stock along with lemon grass, kaffir lime leaves, galangal and Thai red chilies. Let the stock come to a rolling boil.
Add fish sauce, sambal oelek and thai red curry paste, combine well and cook over medium low heat for 3 minutes.
Add shrimp, tomato, chow mein noodles (just add enough) and lime juice, cook for 5 minutes. Do not over cook the tomatoes.
Garnish with cilantro.
While serving, discard the kaffir leaves, lemon grass, galangal and the peppers.
Serve hot in a soup bowl and enjoy.