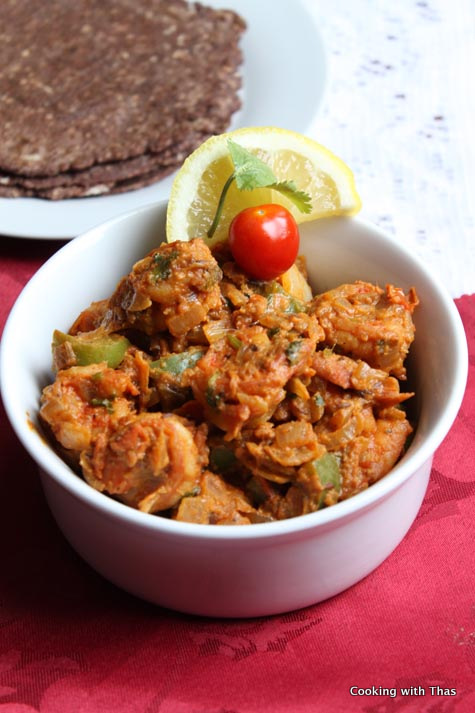 Succulent shrimp tikka masala…
It was a beautiful weekend, weather wise. But I was so sick and stayed home blowing my nose and drinking chukku kaapi. On last Friday I dined at a Thai restaurant and had tom yum goong, it really helped me to open up my senses. Tom yum goong and fiery thai dishes provides me the needed comfort on days when I feel sick. On saturday, I felt a little better and so went ahead and made this delicious shrimp tikka masala.
I had a conflict whether to make chicken tikka masala or shrimp tikka masala. Shrimp being my favorite shell fish, I fell for that. I am glad that I went with shrimp, this has become my favorite dish. This dish was really flavorful, aromatic and absolutely tasted better than restaurant style tikka masalas.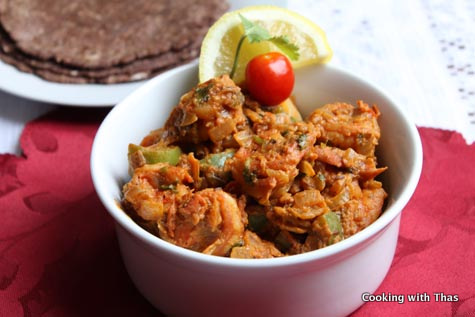 Step by step Pictures
Shrimp Tikka Masala Recipe - Easy to make
Ingredients
To marinate shrimp
Shrimp, de-veined- 20
Kashmiri red chili powder- 1 tsp
Garam masala- ¼ tsp
Salt- to taste
For cooking
Oil- 2 tbsp
Cumin seeds- 1 tsp
Whole cardamom-2
Cloves- 2
Cinnamon- 2 inch
Bay leaves- 2
Onions, chopped finely- 2
Ginger-garlic paste- 1 tbsp
Tomatoes, chopped finely- 2
Kashmiri red chili powder- 1 tsp
Coriander powder- 1½ tsp
Turmeric powder- ¼ tsp
Salt- to taste
Yogurt- 3 tbsp
Ground black pepper- ¼ tsp
Cilantro, chopped- ¼ cup
For final cooking
Onion, diced- 1, small
Green pepper diced- ½ of the green pepper
Garam masala- ½ tsp
Lemon juice- ½ tbsp
Instructions
Marinate the shrimp with the above mentioned ingredients "to marinate shrimp", keep aside for 15 minutes and cook covered till the shrimp has cooked well, keep aside.
Place a large non-stick pan over medium heat, add oil.
Add cumin seeds, whole cardamoms, cloves, cinnamon and bay leaves, saute for a few seconds till aromatic.
Add finely chopped onions and a little salt, saute till translucent.
Add ginger-garlic paste and cook till onions turn light golden brown.
Add tomatoes, cook covered till tomatoes have mashed up.
Add kashmiri red chili powder, coriander powder, turmeric powder and salt, combine well.
Add yogurt, combine well and cook for a minute.
Add the cooked shrimp, combine well.
Add ground black pepper and cilantro, give it a stir. Cook for a few minutes.
Finally, add diced onions and diced green pepper, combine well and stir fry for a few minutes. Don't over cook the onion and green peppers, it should stay crispy.
Sprinkle garam masala and lemon juice, combine well. Cook for a minute.
Remove the pan from the heat and keep it covered.
Serve along with chapati, roti, naan etc. I served with Millet (Ragi) roti, it was yum!
Notes
You can replace shrimp with chicken.