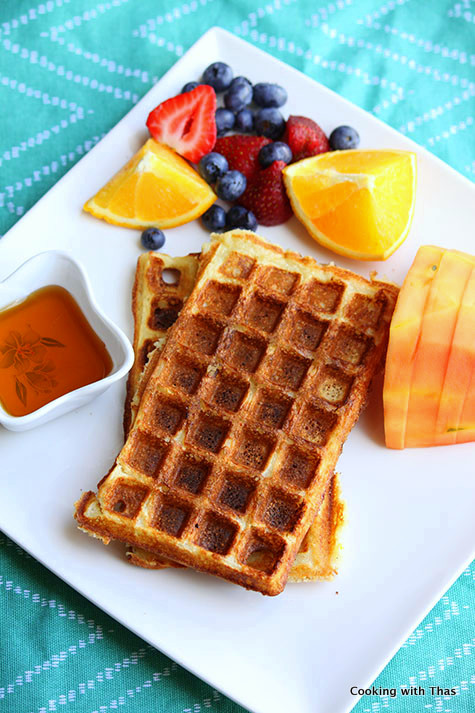 Crispy waffles made with semolina or sooji and all-purpose flour…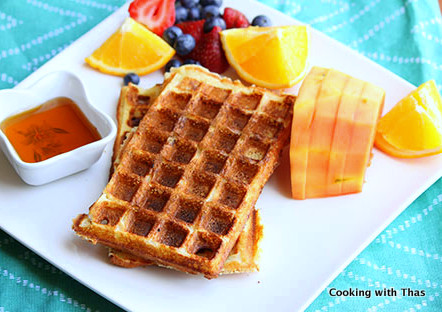 Semolina Waffles- Easy Waffle Recipe
Ingredients
All-purpose flour- 1½ cups
Semolina or Sooji- ½ cup
Sugar- 2 tbsp
Baking powder- 1¼ tsp
Baking Soda- ¼ tsp
Salt- ¼ tsp
Egg- 1
Vanilla extract- ½ tsp
Butter, melted- ¼ cup
Milk- 1½ cups
Orange zest- from 1 orange (optional)
Instructions
In a large bowl, combine all the dry ingredients.
Add egg, combine well using a whisk.
Add vanilla extract, butter and milk. Combine well using a whisk.
Add orange zest, combine well.
Make a smooth batter.
Heat a waffle maker, grease with non-stick cooking spray.
Add 1 to 2 spoonful of batter. Cook till waffles turn golden and crispy.
While serving, pour maple syrup or pancake syrup over the waffles.
Enjoy along with fresh fruits and coffee.