This is a guest post submitted by Tazin Faiz.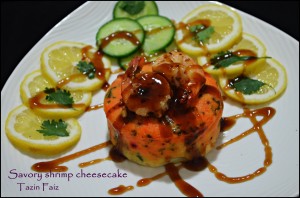 Savory Shrimp cheesecake
Ingredients
5 large shrimp,peeled and deviened
2 tbsp chopped spring onion
2 tbsp chopped onion
2 tbsp chopped parsley (i replaced with corriander leaf)
2 cloves garlic
1 to 3 small red chili pepper chopped
1 tbsp butter
2 oz cream cheese
2 oz feta cheese
2 tbsp sour cream
1 egg
1 tbsp cornstarch
1 tbsp black pepper or more
1tbsp olive oil
Oyster sauce for serving.
Instructions
Preheat oven to 180' C or 350 F, grease the ramekins by spraying with non stick cooking spray.
In a pan, add spring onion, parsley/corriander leaf, onion, chopped garlic cloves, red chili pepper, butter and the shrimp.
Cook until the shrimp has cooked well. It takes around 5 to 6 minutes. Do not over cook. Remove from the flame and chop the shrimp. Do not make a paste.
In a bowl, mix cream cheese, feta cheese, cooked herbs and chopped shrimp. Mix them well.
Scrap the sides of the bowl, add sourcream, egg, black pepper, give a good whisk.
Add olive oil, mix them.
Pour this batter into the prepared ramekins.
Meanwhile, boil some water and pour into a large baking pan ( fill 2 inch of the pan).
Place the ramekins into the pan.
Put the whole thing in the preheated oven and bake till 20 to 25 minutes.
Remove from the oven, let cool down and serve.