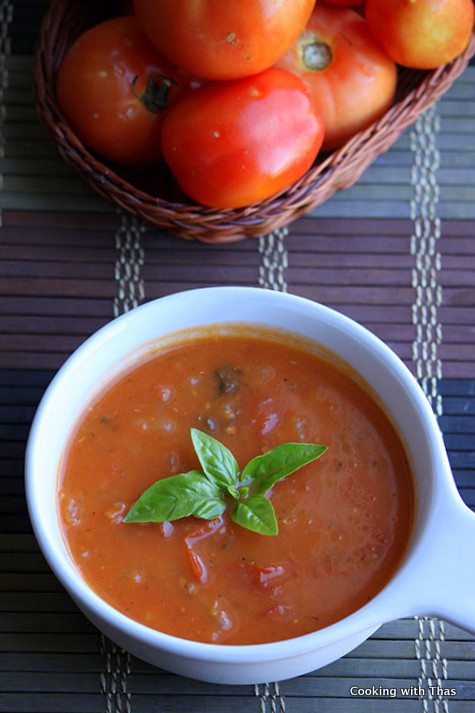 Oven roasted tomatoes turned into delicious and aromatic soup…
Chrysanthemums in my garden have bloomed, pumpkins are stacked up outside most of the grocery stores, pumpkin spice latte is back on the coffee shop menus…Yes, Fall is fast approaching. After reading about the first snow fall of this season in Calgary, I looked out of the window and felt happy to see that Summer hasn't faded in my place. Only a few more weeks to enjoy the warmth, the flip flops, the beach…
Last weekend, our place was hit by a severe storm, accompanied by lightning and thunderstorm. Oh Boy, it was beyond scary and I was hiding under the blanket the whole time. Yes, I'm so damn scared of lightning and thunderstorm. Mother Nature had turned into a drama queen for a few hours. After that, everything looked so calm and quiet as if nothing had happened. It got chili after the storm, and I got the craving to sip a warm soup.
Just before the storm, when the dark clouds carpeted the sky…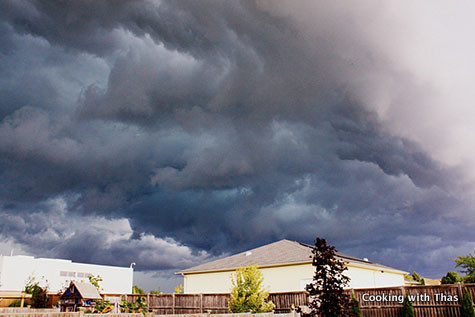 I couldn't think of anything but tomatoes. This time, I oven roasted the tomatoes and made into a soup. Also, added basil leaves while cooking the soup, it got aromatic in no time. Delicious and aromatic tomato soup.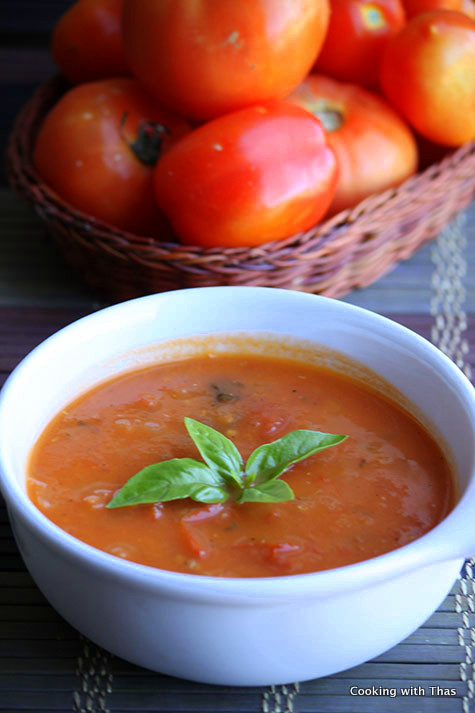 Roasted Tomato Soup Recipe
Ingredients
For roasting tomatoes
Tomatoes, halved- 8 (Roma tomatoes)
Ground pepper- ½ tsp
Salt- a few pinches
Olive oil- 2 tbsp
For making soup
Olive oil-1 tbsp
Garlic, minced- 2 cloves
Onion, chopped small- 2
Dried red chili flakes- ½ tsp
Chicken stock, low-sodium- 3 cups (or use vegetable stock)
Fresh Basil leaves, chopped- 8
Salt- to taste
Instructions
Preheat oven to 400 F.
Line a baking sheet with aluminum foil, spread the halved tomatoes on the baking sheet, season with ground pepper, salt and olive oil. Roast tomatoes for 45 minutes.
Place a large soup pot over medium heat, add 1 tbsp olive oil.
Add garlic, saute for a few seconds.
Add onions and dried red chili flakes, season with salt, saute till onions turn translucent.
Add the oven roasted tomatoes, combine well.
Add fresh basil leaves and chicken stock.
Let the stock come to a slight boil, lower the heat and simmer the soup for 15 minutes.
Using a hand blender, slightly puree the soup. Let there be a few chunks of tomatoes.
If you want to thin down the soup, add some water and cook for a couple more minutes.
Taste and add more salt or ground pepper according to your needs.
Serve in soup bowls and enjoy.