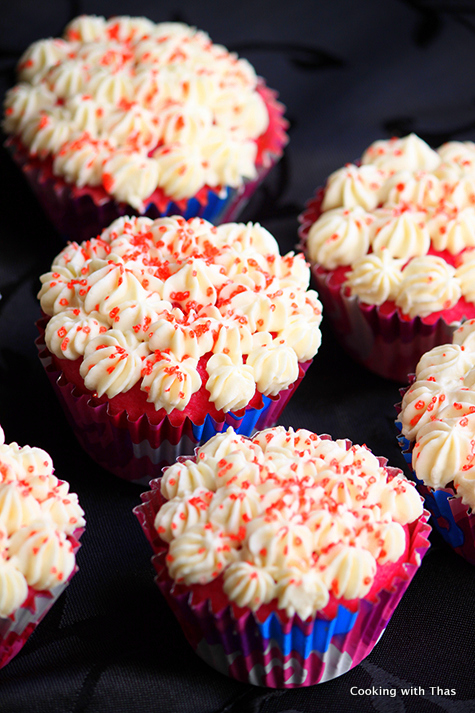 Delicious Red Velvet Cupcakes, perfect for any parties or just to treat yourself and your loved ones…
I made these delicious and gorgeous red velvet cupcakes for our block party and it was liked by all. I like to make cupcakes for parties or get togethers as it's easy to decorate, serve and everyone gets one to treat their tastebuds. I used cream cheese and whipped cream frosting and decorated the cupcakes using star shaped tips. Loved the frosting decoration and it made the cupcakes look phenomenal. With a little effort, you can take anything to the next level.
If you are looking for something special to bake on a special occasion or for a party, this will be an ideal show stopper.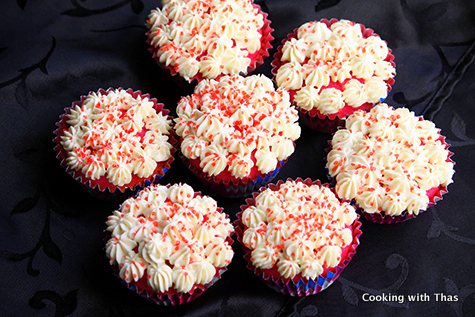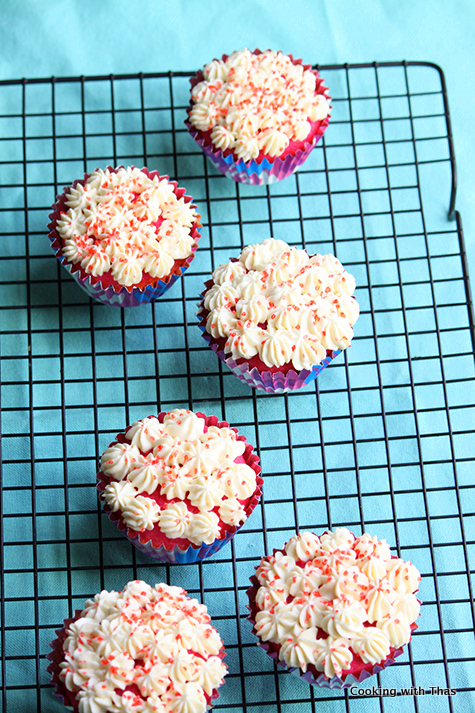 Recipe for Red Velvet Cake with Mascarpone cheese and cream cheese frosting, click here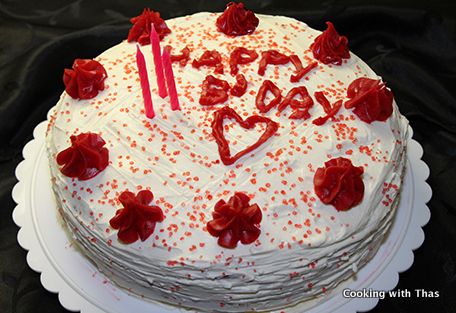 Red Velvet Cupcakes with Cream Cheese Frosting
Ingredients
For making cupcake batter
All purpose flour- 2½ cups
Sugar- 1½ cups
Eggs- 2
Baking powder- 1 tbsp
Salt- ¾ tsp
Light olive oil or Vegetable oil- 1¼ cups
Buttermilk- 1 cup
Vanilla extract- 1 tsp
Red liquid food color- 2 tbsp
For making Frosting
Cream cheese, room temperature- 8 ounces (227 grams)
Vanilla extract- 1 teaspoon
Confectioners' (powdered) sugar)- ½ cup (60 grams)
Cold heavy whipping cream- ⅔ cup
For garnish
Red color sugar sprinkles
Instructions
Making the cupcake batter
Preheat oven to 350 F or 175 C.
Line the cupcake pan with the cupcake liners (use colorful liners with beautiful prints), spray non-stick cooking spray on it. Keep aside.
In a large bowl, combine the flour, sugar,baking powder and salt.
In another bowl, combine buttermilk and oil together using a whisk.
Slightly beat the eggs using a whisk and add to the flour mixture.
Add the buttermilk and oil to the flour, combine well using an electric hand mixer on low speed for a couple of minutes.
Add vanilla extract and the red food color to the batter, combine well.
Pour the batter into the cupcake liners, fill only ¾th of the liner.
Bake for 25 minutes or until a tooth pick inserted in the center of the cupcake comes out clean.
Let the cupcakes cool down completely.
Making the Frosting
Beat the cream cheese using an electric hand mixer or in a stand mixer (using paddle attachment) until smooth.
Add the vanilla extract and powdered sugar and beat till smooth.
Change the attachment to whisk if using stand mixer.
Slowly add the heavy cream and whip at high speed until the frosting is thick and stiff peaks are formed. Do not over whip the heavy cream, stop as soon as stiff peaks are formed.
Decorating the cupcakes with frosting
Allow the cupcakes to cool down completely.
Take the frosting in a piping bag with star shaped tip- I used Wilton #22. Or you could use any other shapes.
Pipe stars on the cupcake till the top of the cupcake is completely covered with frosting.
Repeat and pipe on all the cupcakes.
Garnish the frosting with red colored sugar sprinkles.
Place the frosted cupcakes on a tray and refrigerate for an hour- this way the frosting will be set well.
Display on a cupcake stand, wait and watch how fast the cupcakes disappear. It's delish!!!