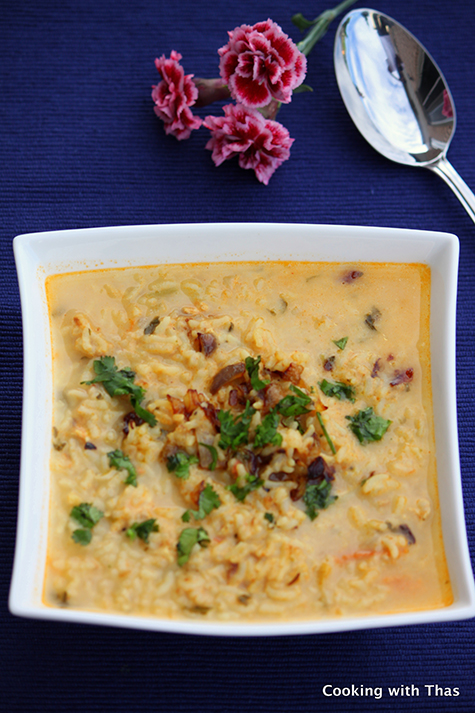 Chicken and Rice Kanji or Porridge is one of my favorite dishes to make during Ramadan…
Hope everyone is having a blessed Ramadan. Since it's summer we are having long fasting hours, here sun sets at 9 pm. For me observing the fast is not a big deal, but as soon as I break the fast and eat something my stomach feels blotted. I have been experiencing this for the past few days and I have not been able to eat much. Only one dish that I can possibly consume without much problem is rice porridge or kanji. This is a must have dish for me during Ramadan. Also, by having porridge my body is well hydrated. There are different types of porridge that's famous in my hometown, one of the porridges that's often made in my family is Creamy Rice Soup or Ramadan Kanji.
To make the porridge even more rich and flavorful, I added chicken to it. Along with chicken and other spices, the porridge tasted delicious and a couple of bowls of this soup will provide me with enough energy during Ramadan.
Chicken Rice Kanji Cooking Video
Preparation Picture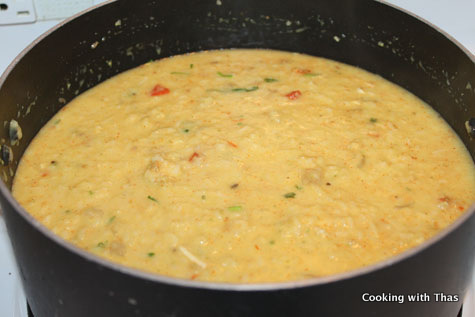 Chicken Rice Kanji
Chicken Rice Kanji or Porridge - How to Make
Ingredients
To cook rice and chicken
Oil- 2 tbsp
Onion, chopped small- 1
Ginger-Garlic paste- 1 tbsp
Green chili, halved- 1
Tomatoes, chopped- 2
Chicken, cut small- 2 chicken breasts
Chili powder- 1 to 1½ tsp
Turmeric powder- ¼ tsp
Fennel powder- 1 tsp (roast the fennel seeds and grind it to fine powder)
Coriander powder- ½ tbsp
Garam masala- 1 tsp
White rice, (ponni or sona masoori)- 1½ cups
Water- 3 cups
Mint leaves, chopped- 7 leaves
Cilantro, chopped- ¼ cup
Salt- 1½ to 2 tsp
After cooking rice and chicken
Coconut milk- 2 cups
Water- 2 cups or more to thin down
Cilantro, chopped- ¼ cup
Salt- to taste
For Seasoning
Ghee- 1 tbsp
Small onions or pearl onions, minced- 5 (or use 1 shallot)
Instructions
Place a pressure cooker or a large soup pot over medium heat, add oil.
Add onion, season with ¼ tsp salt and saute for 2 minutes.
Add ginger-garlic paste & green chili; cook till onions turn translucent.
Add tomatoes, cook till mashed.
Add chicken, combine well.
Add chili powder, turmeric powder, coriander powder, fennel power, garam masala and salt. Combine well and cook for a few minutes.
Add rice along with mint leaves and cilantro chopped.
Add 3 cups water, combine well.
Cook the rice and chicken till they have cooked well; for 20 minutes.
If using pressure cooker cook till 2 to 3 whistles.
After the rice and chicken have cooked well, add coconut milk and combine well.
Add 2 cups or more water to thin it down.
Have a taste, add salt according to your needs
If you need more spice add chili powder at this point.
Add chopped cilantro and let the kanji or porridge come to a slight boil.
For seasoning: Fry the minced small onions in ghee till golden brown in color and add to the porridge.
Remove the cooker or pot from the heat and keep it covered for 15 minutes.
Serve in a soup bowl and enjoy.
Notes
•When the porridge gets cold it will thicken, so before serving, heat the porridge with some water if you prefer or just serve as thick soup.
•Leftover can be refrigerated and warm it up before serving.
Adding fried small onions is optional, you could even add store bought fried onion, enhances the taste of this porridge greatly.