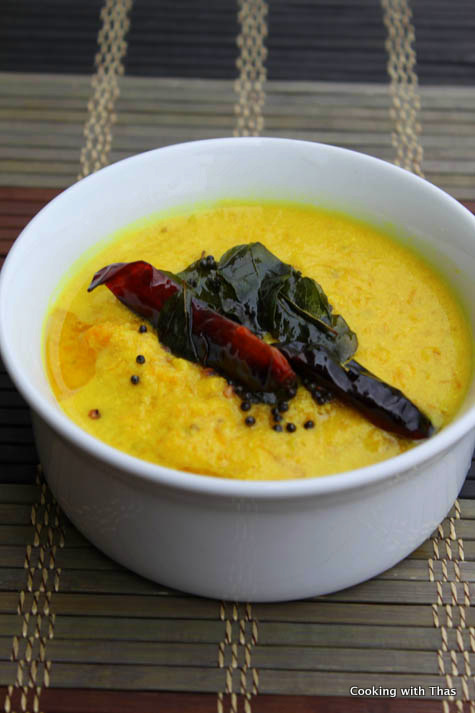 A vegetarian side dish served along with Sadya…
It's pumpkin season again and they are literally everywhere. Pumpkins are made into almost all forms: pies, cookies, cakes, breads, lattes with pumpkin spice and many more. I'd made pumpkin pie a few years ago from scratch, if you are looking for a recipe check this out:
pumpkin pie recipe
 with step by step preparation method.
I made this vegetarian dish with pumpkin when I'd made
Sadya
. It's called pulissery and the gravy is made of coconut and yogurt. I had made pulissery with
cucumber
, beetroot and
pineapple
before, so this time I tried with pumpkin. It tasted really good with pumpkin as well.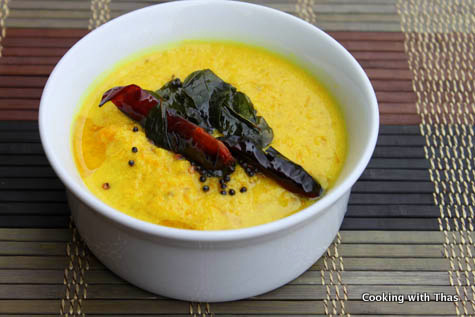 Pumpkin Pulissery -Pumpkin in Coconut-Yogurt Gravy
Ingredients
To cook pumpkin
Pumpkin, diced- 3 cups
Turmeric powder- ½ tsp
Chili powder- ¼ tsp
Curry leaves- 1 sprig
Water- ½ cup
Salt- to taste
To Grind
Coconut, grated- ½ cup
Green chilies- 2
Cumin seeds- 1 tsp
Curry leaves- 1 sprig
Water-1/4 cup
Other ingredients
For seasoning
Coconut oil or vegetable oil- 1 tbsp
Mustard seeds- 1 tsp
Whole dry red chili- 2
Curry leaves- 5 leaves
Instructions
In a saucepan, combine pumpkin with the ingredients mentioned above "to cook pumpkin' and cook covered till pumpkin has turned tender. Don't over cook or mash it.
In a blender, grind the above mentioned ingredients "to grind".
Add the ground coconut mixture to the cooked pumpkin, combine well and cook for a few minutes till the raw taste of coconut goes away.
Remove the pumpkin mixture from the heat and immediately add yogurt to it, combine well.
Heat over low heat for a couple of minutes.
Taste and add more salt if needed.
For making seasoning
Heat a small pan, add oil, let it turn hot.
Add mustard seeds and let it splutter.
Add dry red chilies and curry leaves, saute for a few seconds.
Pour this seasoning over the pumpkin pulissery and cover the pan with its lid to lock the aroma of the seasoning.
Serve as a side dish along with rice or for Sadya.
Notes
-You could replace pumpkin with pineapple, mango, plantain etc.