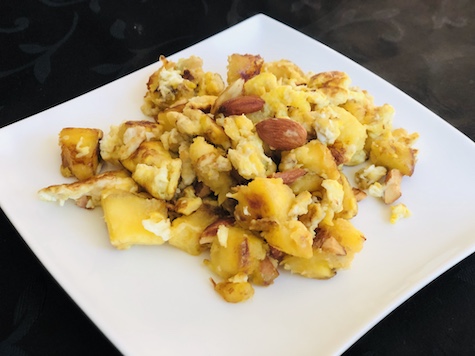 Healthy and filling breakfast…
One of my favorite weekday breakfast is made with plantains and eggs. Plantains are rich in fiber and instant energy boosters. Whenever I find plantains at the grocery store I get them. Even if it's not ripe, buy them and keep them on the kitchen counter top. In a few days, they will ripen.
This is one of the easiest dishes you can make with plantains and is perfect for breakfast or as an evening snack.

Plantain Scrambled Eggs- Healthy Breakfast
Ingredients
Ghee or Butter- 2 tbsp
Ripe Plantain, diced- 1
Eggs- 2
Almonds, chopped- 6
Agave syrup or sugar- 1 tbsp
Instructions
Use ripe plantain, dice them up.
Place a non-stick pan over medium heat.
Add ghee or butter.
Add the diced plantain, stir fry and let turn golden brown in color.
In a bowl, beat 2 eggs using a fork.
Add the beaten eggs to the roasted plantain.
Scramble eggs and cook for 2 minutes.
Add chopped almonds and agave syrup or sugar.
Combine well and stir fry for 2 minutes.
Serve on a plate and enjoy.