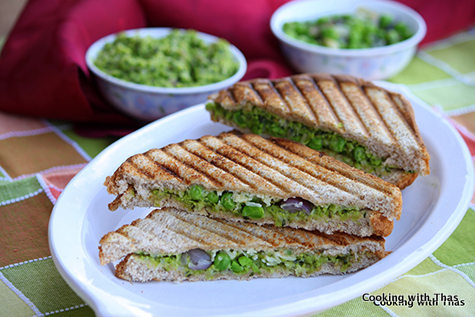 Easy to make Green Pea pesto smeared on the bread and grilled into a panini…
I seldom make veggie panini, it gotta have some meat stuffed into it and that makes my man happy. Last weekend, while browsing I stumbled upon the recipe for making pea pesto. I love basil pesto, so I was tempted to try pea pesto. I always have frozen peas and had other ingredients for making the pesto. In just a  matter of minutes, pea pesto was ready. I had whole wheat bread too, so thought I should spread the pea pesto on the bread and make them into a panini.
I did spread some butter on the outside of the bread before grilling, that kind of made the bread taste even more delicious. This panini tasted so good that I ended up making a lot and served for dinner as well.
This panini can be served as an evening snack or for lunch/dinner.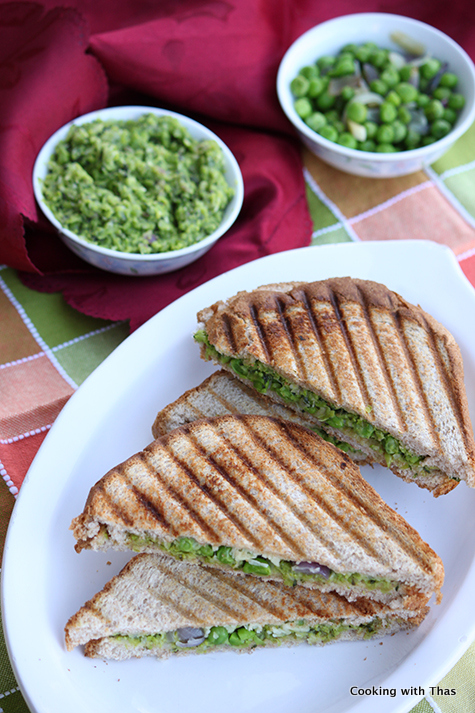 Preparation pictures
Cooking peas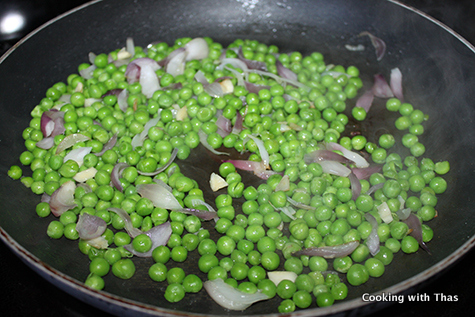 Making pea pesto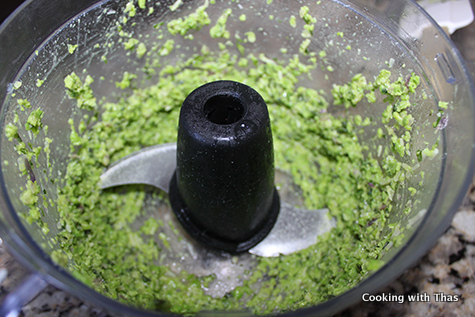 Spread pea pesto on the bread and top with cooked peas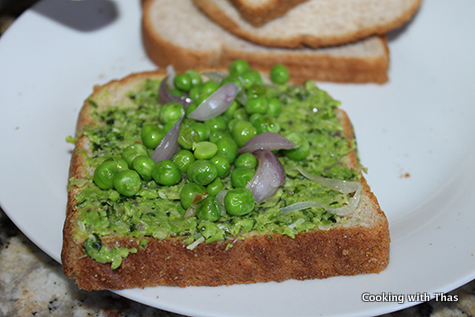 Making pea pesto panini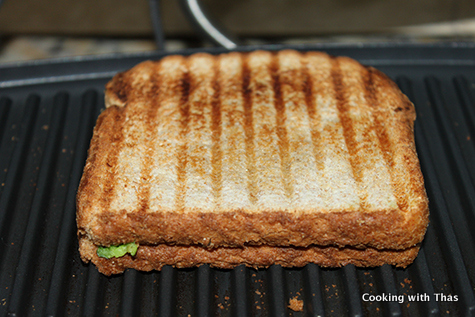 Recipe adapted from here

Pea Pesto Panini Sandwich
Ingredients
For cooking Peas
Peas, frozen- 1½ cups
Olive oil- 1 tbsp
Shallots, chopped- 1 or use 3 small onions
Garlic, chopped- 1
For making Pesto
Fresh basil leaves loosely packed- ½ cup
Cilantro, chopped- ¼ cup
Olive oil- 2 tbsp
Lemon juice- ½ tbsp
Parmesan cheese- ¼ cup
Salt- to taste
Ground pepper- ⅛ tsp
Other ingredients
Whole wheat or White bread
Butter, unsalted
Instructions
Place a non-stick pan over medium heat, add oil.
Add shallots or small onions and garlic, saute till translucent.
Add peas and cook for 2 minutes till they are cooked through. Do not over cook the peas.
Remove the pan from the heat and let cool down.
Into a food processor: add basil, cilantro, olive oil, lemon juice, parmesan cheese, salt, ground pepper and half of the cooked peas. Process these until coarsely smooth. Taste and add more salt if needed.
Transfer the pea pesto into a bowl. Keep aside.
Spread 1 to 2 tbsps of the prepared pea pesto on the bread slice, top with 1 to 2 tbsps of cooked peas and close with another bread slice.
Spread some butter on the outside of the bread slice and grill the sandwich in a panini maker till it turns golden brown in color.
If you don't have a panini maker- you could grill on a non-stick pan: melt butter on the heated pan, place the sandwich on the pan and then place a heavy skillet on the sandwich. When the bottom bread slice has turned golden brown, flip it over and let the other slice turn golden brown too.
Using a sharp knife, half the panini and serve immediately.