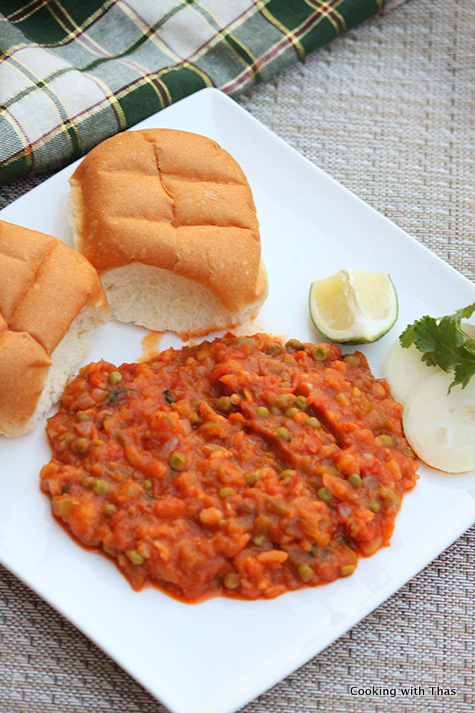 Pav Bhaji is a popular Maharashtrian street food, devoured by all with so much enthusiasm…
Bhaji is a thick vegetable gravy made by cooking mixed veggies along with tomato sauce. It's then served with Pav or dinner rolls. Any kind of veggie can be used for making bhaji and is a great way of including veggies in your diet.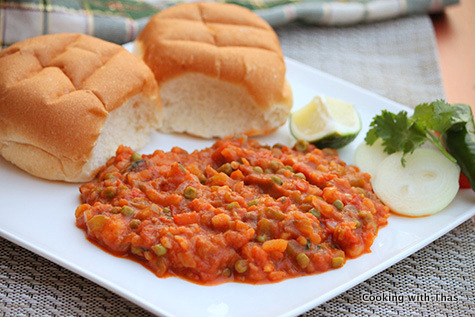 Cooking video:
Pav Bhaji Recipe
Ingredients
Oil- 2 tbsp
Cumin seeds- ½ tsp
Onion, minced- 1
Salt- ¼ tsp
Ginger-garlic paste-1 tbsp
Green chilies, minced- 2
Green pepper, chopped small- 1
Peas- 1 cup
Tomatoes, chopped- 4
Tomato paste- 3 tbsp
Cumin powder-1/2 tsp
Coriander powder- 2 tsp
Kashmiri chill powder- 2 tsp
Amchur or Dried Mango powder- ½ tsp
Potatoes- 4 medium (cooked and mashed)
Water- 1 cup
Salt- ½ tsp
Cilantro, chopped- 2 handfuls
Lemon juice- ½ tbsp
Butter- 2 tbsp
Instructions
Cook potatoes in a microwave or in boiling water till they are cooked well. After they cool down, peel off the skin and mash them using a wooden spoon, keep aside.
Place a wide non-stick pan over medium heat.
Add oil, let it turn hot.
Add cumin seeds, saute for a few seconds.
Add onion and season with salt, saute for a few minutes.
Add ginger-garlic paste and green chilies, saute till onions turns light golden in color.
Add green pepper and peas, cook till veggies turn tender.
Add tomatoes, cook covered till tomatoes are mashed well.
Add tomato paste, combine well.
Add cumin powder, coriander powder, chili powder and dried mango powder, combine well.
Mash the veggies well and cook.
Add mashed potatoes, combine well.
Add water and cook covered for a few minutes.
Add salt to taste as required.
If you want more gravy, add water accordingly. Usually, bhaji is a thick gravy.
Add chopped cilantro, lemon juice, combine well.
At the end, add butter and let it melt.
Serve the bhaji or thick veggie gravy along with pav or dinner rolls.