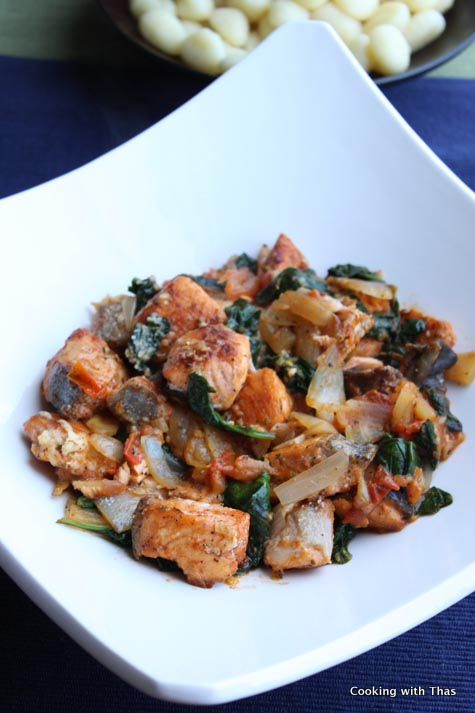 Salmon, spinach and parmesan cheese; this dish couldn't get any better I swear…
I had a wonderful week and having a lovely weekend too. I'd been waiting for my convocation since 9 months and finally it happened on last Thursday. It was such a proud and overwhelming moment. I had so much fun with my dear friends who took time to be a part of my graduation. I felt so blessed and my heart was full of gratitude. Well, it's all over and has become a sweet memory now. Yesterday was a dream, tomorrow is an illusion, the only reality is the present moment…live in the moment!
I had made this parmesan spinach salmon last week, it was a dinner that I quick fixed and turned out to be one of the best dishes. Pan fried the salmon and combined it with spinach, finished it off with parmesan cheese. Serving this with pasta was in my mind, however I combined this with store bought gnocchi. It was one yummy dinner, I wouldn't mind making this over and over.
Parmesan spinach salmon combined with Gnocchi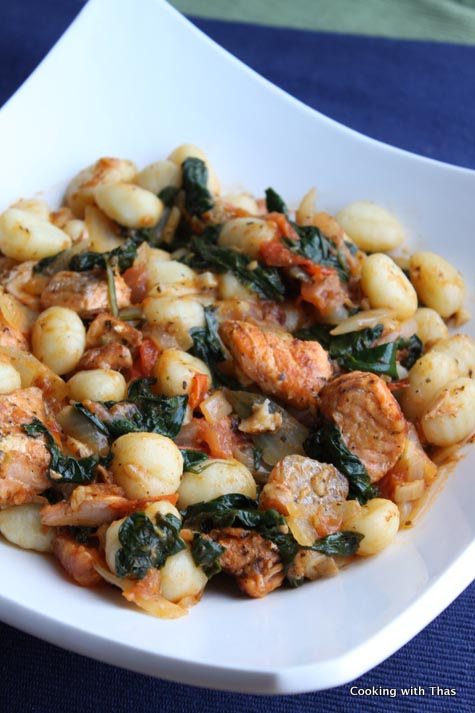 Preparation Pictures
Pan frying salmon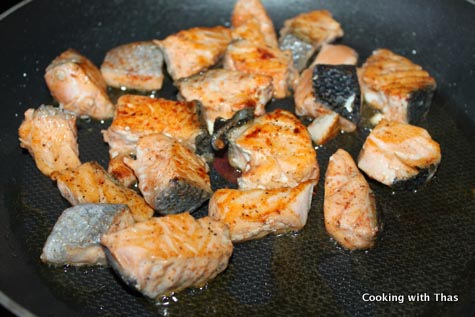 Cooking the veggies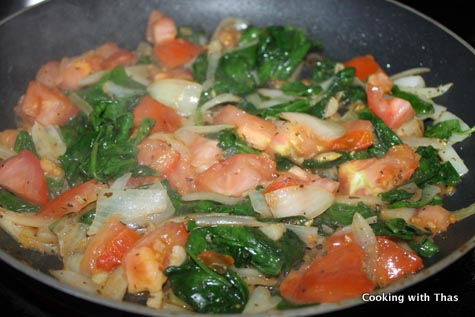 Combined with pan fried salmon
Parmesan cheese added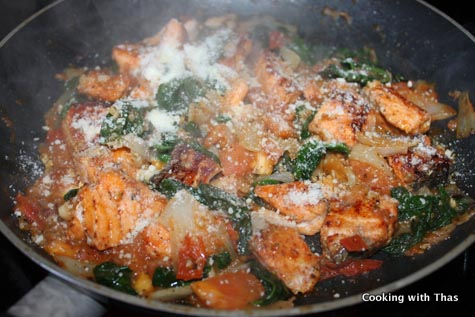 Combined with Gnocchi
Parmesan Spinach Salmon - Parmesan Pan Fried Salmon
Ingredients
Salmon, cubed- 2 fillets or 16 cubes
Ground pepper- ¼ tsp
Salt- to taste
Paprika- ½ tsp
Light olive oil- 4 tbsp for shallow frying salmon
While cooking
Garlic, chopped- 2 large cloves
Onion, cut long and thin-1
Italian seasoning- 2 tsp
Spinach- 3 cups
Tomato, chopped- 1
Paprika- 1 tsp
Ground pepper- ¼ tsp or according to your needs
Parmesan cheese, grated- ¼ cup
Instructions
In a bowl, combine salmon with ground pepper, paprika and salt, keep aside for 15 minutes.
Place a non-stick pan over medium heat, add olive oil, let it turn hot.
Add the salmon to the oil and pan fry till it turns golden brown. Transfer to a paper towel.
Use the same pan, there will be some oil left in the pan.
Add the chopped garlic to the oil, let it turn golden in color.
Add onion and a little salt, saute till tender.
Add Italian seasoning, saute for a minute.
Add spinach and cook, let it wilt.
Add tomato, combine well and cook till it's slightly mashed up.
Add paprika and ground pepper, saute for a couple of minutes.
Finally, add parmesan cheese and let the cheese melt.
If you are adding gnocchi, cook gnocchi in boiling water, drain the water and add that to the parmesan salmon, combine well and cook for a couple of minutes.
Serve in a plate and sprinkle more cheese if you prefer.
You could even serve this along with pasta or rice.