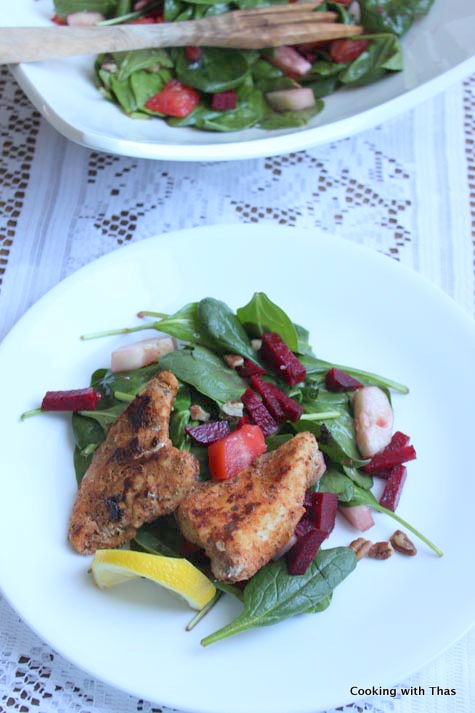 Pan fried chicken with spinach salad is a low-carb, low-fat dish and is great for weight watchers. Easy to make and is very healthy…
My latest favorite salad is made by combining spinach and fresh beetroot, which is then drizzled with lemon juice. I don't need any mayo or cheesy dressings for this particular salad. To make it a complete meal, I also topped the salad with pan fried chicken. Chicken is cooked without adding any oil. This chicken salad is definitely very healthy and is a perfect meal for weight watchers as it's low-carb and low- fat. Try to serve fresh greens and veggies as a side dish with every meal.
Spinach-Beetroot Salad
The fresh beetroot tasted sweet, crispy and delicious.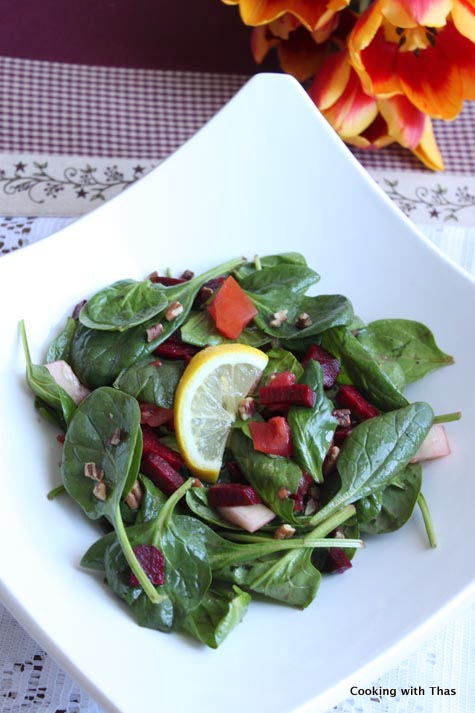 Pan Fried Chicken with Spinach Salad - Low Carb, Low Fat Chicken
Ingredients
For marinating chicken
Chicken breasts, boneless- 2 breasts halved
Paprika- 1 tsp
Ground cumin- ½ tsp
Ground pepper- ¼ tsp
Dried oregano- 1 tsp (optional)
Salt- to taste
For making salad
Spinach, fresh- 2 cups
Beetroot, fresh, chopped- 1
Cucumber, diced- ½ of a cucumber
Tomato, chopped- 1
Walnuts or almonds- 2 tbsp
Ground pepper- ⅛ tsp
Salt- to taste
Lemon juice- 1½ tbsp
Instructions
In a bowl, combine the halved chicken breasts along with the ingredients "for marinating chicken", keep aside for 10 minutes.
Place a non-stick pan over medium heat, grease the pan with non-stick cooking spray.
Place the marinated chicken on the pan, cook covered. Half way through flip the chicken to the other side and cook till the chicken has turned golden in color.
Transfer the cooked chicken to a plate, keep aside.
Making the salad
In a bowl combine all the ingredients mentioned "for making salad".
While serving, place salad on a plate and top with pan fried chicken.
Notes
Use fresh spinach and fresh beetroot.