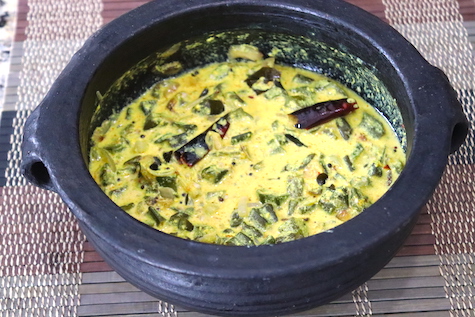 Okra or lady's finger in yogurt, a South Indian vegetarian delicacy…
Pulissery is a popular South Indian vegetarian dish that can be made with different kinds of veggies. The veggies are cooked in ground coconut & yogurt. Pulissery along with rice tastes delish & is a comfort food.
Over the years, I've made pulissery with beetroot, pineapple, cucumber, mango, plantain, pumpkin, and green apples.
This time I made pulissery with okra or lady's finger. I didn't add grated coconut while making this, just added yogurt. Turned out good & I enjoyed with rice.
South Indian- Kerala Lunch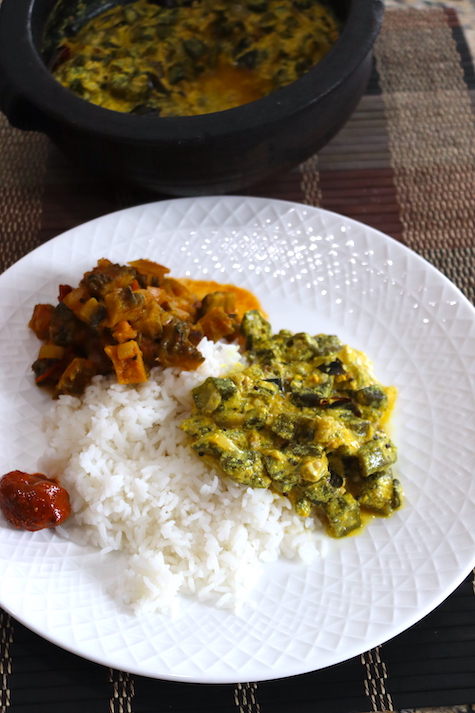 Okra- Lady's Finger Pulissery - Cooked In Yogurt | South Indian Recipe
Ingredients
Coconut oil- 2 tbsp
Mustard seeds- 1 tsp
Dried red chilies, halved- 3
Curry leaves- 10 leaves
Shallots, sliced- 3 large shallots or 6 small onions
Okra or lady's finger, cut into rounds- 2 cups
Salt- 1 tsp
For grinding
Yogurt- 1 cup
Fenugreek seeds- ½ tsp
Cumin seeds- 1 tsp
Turmeric powder- ¼ tsp
Green chilies, halved- 2
Ginger- 1-inch slice
Water- ¼ cup
Instructions
Place a claypan or saucepan over medium heat.
Add oil, let turn hot.
Add mustard seeds, let them splutter.
Add dried red chilies & curry leaves, saute for a few seconds.
Add sliced shallots or small onions, season with ½ tsp salt & saute till golden in color.
Add okra or lady's finger, combine well & cook covered till okra turns soft.
If getting dry, add 2 tbsp water & cook.
In the meantime, to a blender jar add all the ingredients mentioned 'for grinding' & grind to a smooth paste.
Once okra turns soft, open the lid & saute till okra turns light golden brown.
Add ½ tsp more salt, combine well.
Take the claypot off the heat.
Add the ground yogurt & combine well.
Rinse the blender jar with ¼ cup water & add the water to the pot.
Don't have to place the clay pot over the heat. Yogurt will curdle when heated.
The pot is still hot so the yogurt will cook in that heat.
Keep it covered for some time.
Serve with rice or chapati & enjoy.