Energy balls, rich in protein & fiber…
Homemade energy balls with just 7 ingredients, these are the best & healthy snacks.
We can tweak the recipe however we want & add whatever ingredients we want. These taste better than store-bought energy balls. Perfect for breakfast & a healthy snack to munch in the afternoon.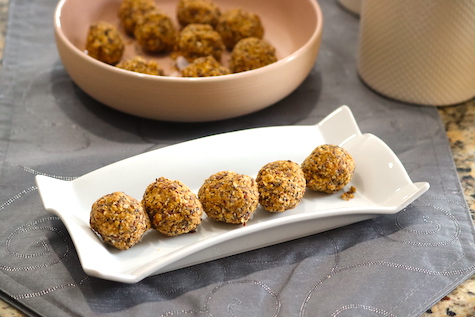 No Bake Energy Balls | Protein & Fiber Rich With Flax & Chia Seeds
Ingredients
Instant oats or rolled oats- 1 cup
Chia seeds- 2 tbsp
Flax seeds- 2 tbsp
Dates pitted- 5
Whole almonds- ¼ cup (or add cashew nuts)
Peanut butter- 5 tbsp (or almond/cashew butter)
Maple syrup or honey- 2 tbsp
Instructions
Rolled or instant oats can be used.
Instead of peanut butter, almond or cashew butter can be added.
To a food processor, add all the ingredients & grind for a minute.
If you prefer, you can also add ¼ cup roasted coconut.
For making a large batch, double or triple the recipe.
Roll the mixture into round shapes.
Any leftover energy balls can be stored in the refrigerator for up to 2 weeks.
Or keep in the freezer for 2 months.
Enjoy these homemade energy balls.
Absolutely, we can also coat the energy balls in melted chocolate & let set in the refrigerator for an hour.