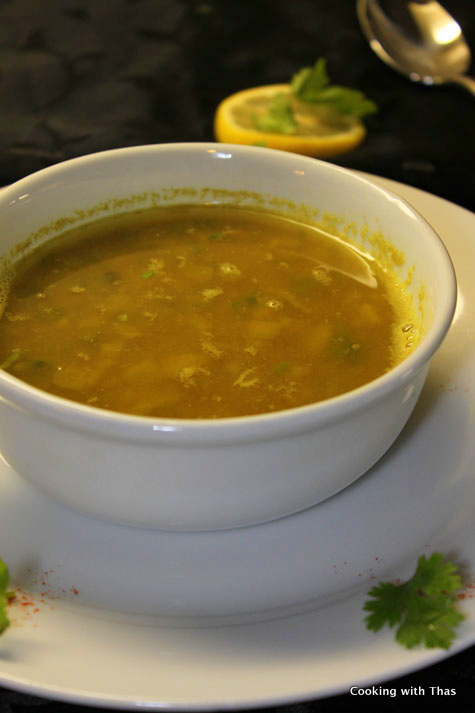 Delicious, aromatic soup to boost your appetite…
Yesterday, we had a snow storm and today we had lots of sunshine. Nature is just unpredictable and most of the times it offers us the best and we need to embrace it. I did have a lot of fun in the snow while my man was snow blowing. Kids in the neighborhood were seen sledding in the snow, some of them even made igloos and snow man. It was crazily snowing and we were celebrating it like anything. Snow brings happiness for some and it's a disaster for others; I belong to the former category. I was so eager to get inside the igloo, but in vain 😛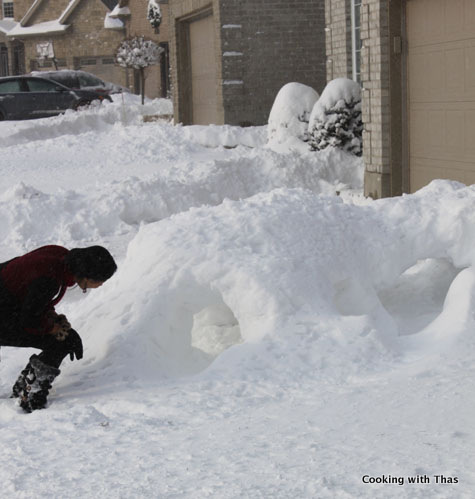 I've had this mulligatawny soup for the past 3 years for so many times; not made by me, but at one of the best Indian restaurants in my city. Whenever I dined at that restaurant, I started with this soup as it was the best tasting mulligatawny soup I've ever tasted. Many times, I was tempted to steal the recipe from the chef. However, I didn't even bother asking for the recipe as I knew they wouldn't reveal it. Coincidentally, I found the recipe for making this soup in a magazine after a few months. I was thrilled to see the recipe, the recipe was provided by the chef of that Indian restaurant. What more could I ask for???
This soup is commonly served in North Indian restaurants; it has red lentil, chicken and rice added to it. I made this soup to serve as a starter for tonight's dinner. It tasted really delicious, gave the needed warmth and increased our appetite.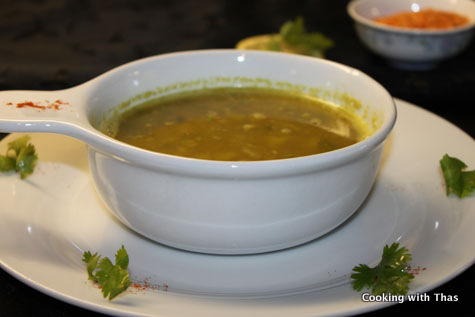 Mulligatawny Soup
Ingredients
Ghee- 1 tbsp
Onion, chopped small- 1, medium
Garlic, minced- 4 cloves
Ginger, mashed- 2 tsp
Green chilies, chopped- 2
Ground cinnamon- ⅛ tsp
Ground cloves- ⅛ tsp
Ground coriander- 2 tsp
Ground cumin- 1½ tsp
Turmeric powder- 1 tsp
Whole cardamoms, slightly smashed- 4
Mashed potatoes- 1 tbsp
Red lentil, rinsed and drained- 1 cup
Chicken stock, low-sodium- 6 cups (or use chicken cubes 2 or 3 dissolved in water)
Lemon juice- 1 tbsp
Cooked white rice- ¾ cup ( I didn't add this)
Cooked chicken, shredded- 1 cup
Fresh cilantro, chopped- 2 tbsp
Instructions
Cook one small potato in a microwave till it turns really tender. Remove the skin, mash it and keep aside.
Chop 1 chicken breasts to small slices, sprinkle with ¼ tsp ground pepper and a little salt, cook covered till chicken has cooked well. Chop the cooked chicken into bite-size slices and keep aside.
Place a large soup pot or pan over low heat.
Add ghee, let it melt.
Add onion, garlic, ginger, green chilies, ground cinnamon, ground cloves, ground coriander, ground cumin, turmeric powder and whole cardamoms.
Cook till onion has browned and the mixture turns aromatic.
Add mashed potato, red lentils and chicken stock to the pan.
Cover the pan and simmer for 15 to 20 minutes.
After lentil has cooked well, discard the cardamom pods.
Puree the soup in a blender at low speed. The soup is very watery so puree at low-speed.
Return the pureed soup to the pot.
Add lemon juice and cilantro, combine well.
Add cooked shredded chicken and rice if adding, stir until heated through.
Serve in soup bowl and garnish with cilantro if needed.
Enjoy this delicious and aromatic soup with naan or flat bread.
Step by step Pictures