Mughal style rich and mesmerizing chicken and saffron Korma, it's delicious to the core…
I'm a saffron freak, must be the millionth time I am saying this. A pinch of saffron can turn any dish into the most delicious one. I don't like the taste of raw milk, but by adding a pinch of saffron can make it taste heavenly and I will be seen indulged in it.
One of my favorite cuisines has been Mughlai cuisine, all of the dishes are rich, flavorful and mesmerizing. I'd tried a few dishes in my kitchen and was blown away by the taste of it. In most of the dishes, the secret ingredient is that pinch of saffron, which takes that dish to the next level.
Almond paste or cashew nut paste are also added to some of the curries which makes the gravy thick, rich and imparts a nutty flavor.
This chicken korma is more of a Mughlai style. Last month, I made this for the first time and the taste of this dish lingered in my mouth for a while. After that, every time I asked my Man what he wanted for lunch or dinner he would instantly say he wanted this dish. Last Saturday, I made this dish again and turned the gloomy and rainy day into an exciting one. My man and I, ate a little more than the usual.
Recipe for making Mughlai Chicken in Almond Saffron or Chicken Rezala, click here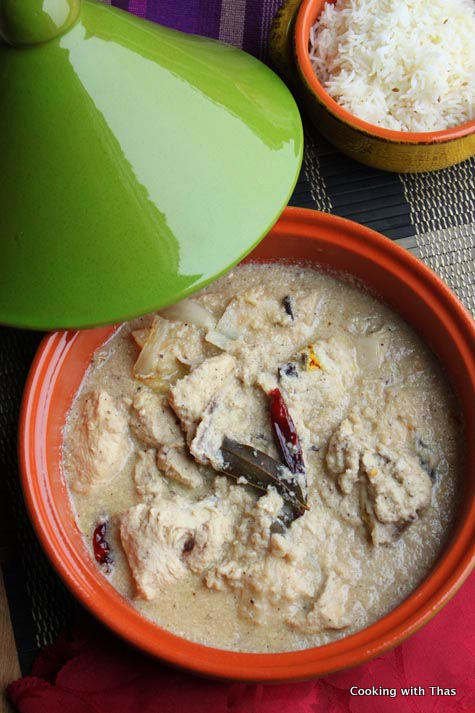 Eid is around the corner and this dish would be an ideal one to serve for breakfast or dinner along with Naan or Paratha. So, this Eid make this and watch how it's going to put a happy smile on everyone's face 🙂
Mughlai Chicken and Saffron Korma
Ingredients
For marinating Chicken
Chicken legs, halved or use chicken bone-in pieces- 12 pieces
Chili powder- 1 tsp
Turmeric powder- ¼ tsp
Coriander powder- 1½ tsp
Fennel powder- 1 tsp
Garam masala- 1 tsp (use freshly ground garam masala for better taste)
Salt- to taste
For making the korma
Ghee- 2 tbsp or add Oil
Bay leaves- 2
Whole cardamom- 2
Whole cloves- 2
Whole cinnamon- 2 inch slice
Onion, chopped- 2
Garlic, crushed- 2 cloves
Ginger, crushed- 2 inch slice
Green chilies, crushed- 1 or 2
Tomatoes, chopped- 2
Coconut milk, medium-thick- 1 cup
Saffron soaked in 1 tbsp water- 2 pinches
Ground pepper- ¼ tsp
Salt- to taste
Cilantro, chopped- 2 handfuls
Instructions
For making this dish, use bone-in chicken pieces. I halved the chicken legs and used that, as it tastes better.
Use freshly ground garam masala for better taste: In a coffee grinder, grind 10 whole cardamom, 5 whole cloves, 2 inch cinnamon to a powder. Use 1 tsp of this. Store the remaining in an air tight container and use as needed.
In a bowl, combine the chicken pieces with the above mentioned spices 'for marinating the chicken'. Let marinate for 30 minutes.
Place a wide non-stick cooking pan over medium heat. When it turns hot, add ghee or oil.
Add bay leaves, whole cardamom, whole cloves and whole cinnamon. Saute for a few seconds till aromatic.
Add onions, season with salt and cook till translucent.
In a mortar and pestle, crush the ginger/garlic and green chilies, add to the onions and cook till onions turn light golden in color.
Add tomatoes and cook for a couple of minutes.
Add the marinated chicken and cook covered. Water will ooze out of the chicken and it will get cooked in it. So, don't have to add water.
Soak the saffron strands in 1 tbsp water for 5 minutes.
When the chicken has cooked well, open the lid and add the coconut milk.
Add the saffron soaked in water.
Keep the flame low and Cook covered for a few more minutes.
Taste and add more salt if needed.
If the gravy is too thick, you could add ¼ cup thin coconut milk to thin down and cook for a minute.
Add the ground pepper and cilantro, cook for a minute.
Remove the pan from the heat and keep covered for sometime.
Serve this delicious Mughlai chicken Saffron Korma along with Naan, paratha, bhatura or poori.