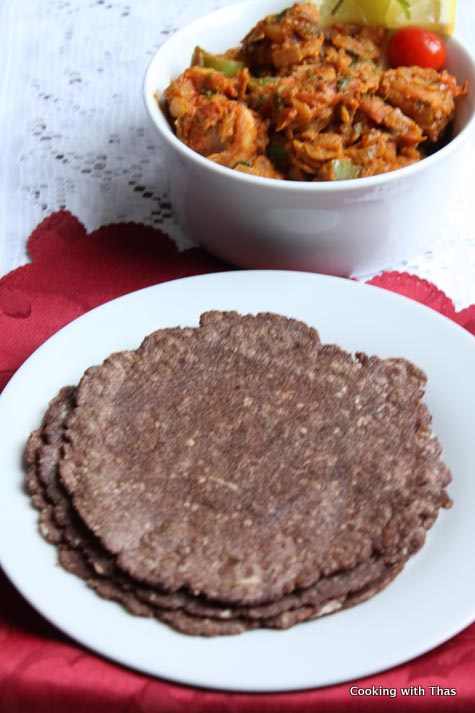 A very healthy flatbread made using millet flour…
Millets are small seeded grasses and are the main ingredients in the bird food. If you are still thinking that it's only for the birds then you are wrong. It's great for humans as well. Millets are such wonderful and healthy grains, they can be used for making different kinds of food. They come in different colors, I prefer red which is very colorful.
Red millet flour or known as Ragi flour in India is used for making flat breads and Puttu (Steamed millet cakes). I always have red millet flour in my pantry and I make flat breads with it quite often.
The preparation is very similar to making Orotti or Rice flatbread. Combine the millet flour in warm water and make into a soft dough, roll the dough into round shapes and cook it. Millet flatbreads can be served with both veg and non-veg curries.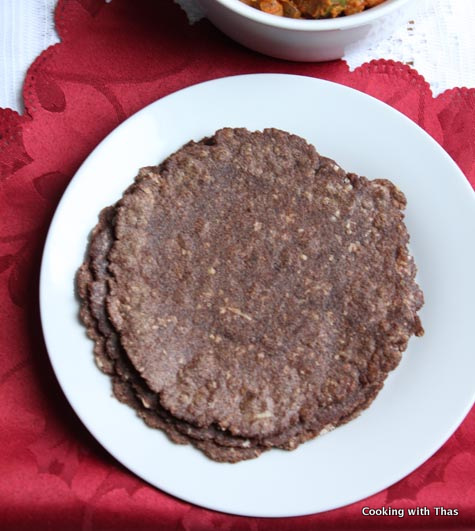 Preparation Pictures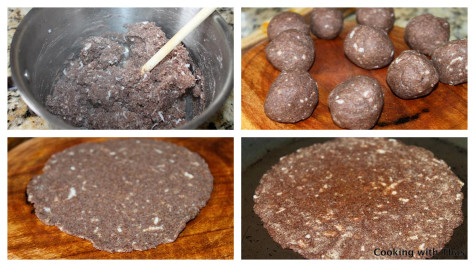 Millet Orotti - Ragi Orotti -Millet Flatbread
Ingredients
Red Millet flour or Ragi flour- 1¾ cups
Water- 1 cup
Coconut grated- ½ cup (optional)
Salt- a few pinches
Instructions
Take the water in a deep saucepan, slightly boil the water.
Add grated coconut and salt into the water.
When the water starts to boil, remove the pan from the heat.
Slowly add the flour, combine using the back of a wooden spoon.
Combine the flour well till it forms a soft dough.
Add the flour accordingly.
Let cool down a bit and knead the dough using your hand.
Make small balls out of the dough.
Line a wooden board or a clean surface with a thick plastic sheet or use cut ziplock bag, this is to prevent the dough from sticking to the surface.
Grease the plastic sheet with non-stick cooking spray.
Place a dough ball on it.
Cover with another plastic sheet and roll it to a round shape using a rolling pin.
Place a non-stick pan over medium heat, place the rolled dough on the pan.
Let the bottom side cook a bit, flip it over and gently press the sides of the flat bread. It will puff up.
Flip one more time and cook that side as well.
Transfer to a plate and repeat till you cook the rest.
Serve with your favorite curry: veg or non-veg.
Notes
Make wraps with this flatbread: Place cooked chicken or any other meat, greens and drizzle with your favorite dressing and make into wraps.