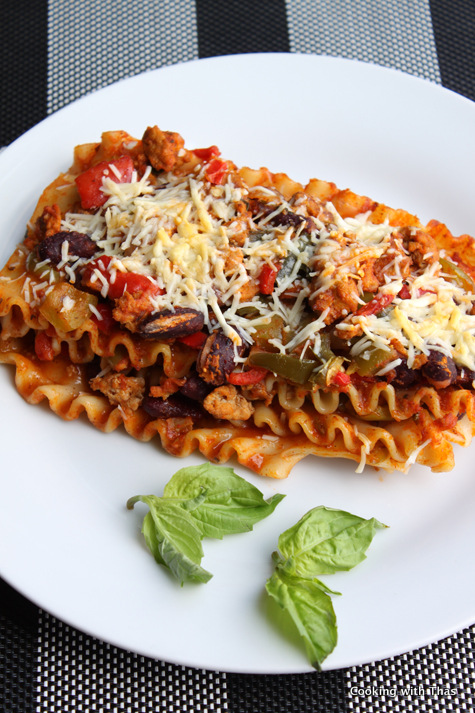 Lasagna topped with hearty and flavorful Mexican Chili, delicious one pot meal…
I love Mexican chili soup and I love lasagna, so I thought of combining these two together. I would say the best thought I've ever had, it was extremely and absolutely delicious. Chili soup which is loaded with ground beef, peppers, black beans and cheese makes a hearty and flavorful soup to sip on any day. On the other hand, lasagna makes a hearty one pot meal too. Topping lasagna noodles with chili uplifted lasagna to an entirely new delicious level.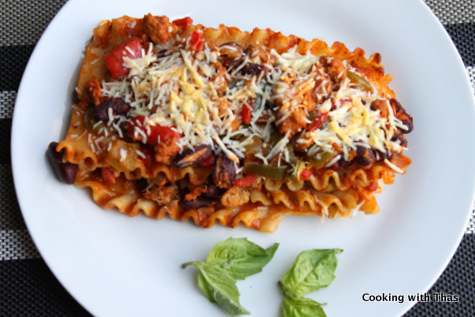 For Mexican Chili Soup recipe, click here.

Mexican Chili Lasagna - Chili Lasagna Recipe
Ingredients
For making Chili
Oil- 1 tbsp
Onion, chopped- 1
Garlic, chopped- 2 large cloves
Ground beef or chicken- 1 lb or ½ Kg
Ground cumin- 1½ tsp
Dried Oregano- 1½ tsp
Chili powder- ½ tbsp to 1 tbsp
Green pepper, chopped small- 1
Red pepper, chopped small-1
Black kidney beans, canned- 1 medium can
Tomato sauce, low- sodium- 1½ cups
Water- ½ cup
Cilantro, chopped- ¼ cup
Salt- to taste
Other ingredients
Oven ready Lasagna Noodles- 8
Pickled Jalapeños- 8 slices, chopped
Cheddar cheese or Parmesan cheese- to garnish
Instructions
Heat a large non-stick pan over medium heat, add oil.
Add onion, season with salt and saute till translucent.
Add garlic and saute till onions turn light golden in color.
Add ground beef or chicken, combine well using a wooden spoon and break any lumps that's formed. Cook covered till the pink color has gone.
Add ground cumin, dried oregano, chili powder; combine well.
(Or you could add 2 tbsp of store bought Mexican chili seasoning)
Add green pepper and red pepper, cook for a few minutes.
Drain the canned black kidney beans (if needed rinse under running water) and add the beans into the pan, combine well.
Add tomato sauce and water, combine well and cook covered till the meat has cooked well and the sauce has thickened.
Taste and add more salt if needed.
Add cilantro, give it a stir and remove the pan from the heat. Keep aside.
Since I used oven ready lasagna noodles, I didn't have to pre cook it in boiling water, it will be cooked in the oven.
If you are using the regular lasagna noodles, cook it in boiling water seasoned with salt till it's tender, pat dry with paper towel and use that for layering.
How to layer the Lasagna
Preheat the oven to 375 F.
Use a large oven proof casserole to bake the lasagna.
Spread half of the prepared chili onto the casserole as the bottom layer.
Place 2 sheets of lasagna noodles close to each other, top them with 2 more noodles.
Top the noodles with chili.
Sprinkle chopped pickled jalapeños over the chili.
If you want you could top the chili with cheddar or parmesan cheese.
Again, place the remaining 4 more lasagna noodles, top with rest of the chili and sprinkle the pickled jalapeños.
Top generously with cheddar or parmesan or a mix of both.
Cover the casserole with aluminum foil.
Place the casserole in the preheated oven on the lower rack.
Bake for 40 minutes.
After 40 minutes, take the casserole out of the oven and uncover it.
The casserole will be very hot so wear heat proof gloves.
Turn on the broil mode to high.
When it's ready, place the uncovered casserole on the top most rack and let it broil for a minute till the cheese has turned light golden in color.
Don't broil for long as the cheese will burn so be sure to keep an eye.
Remove the casserole from the oven, let cool down for a few minutes.
Using a knife, cut the lasagna into squares and serve.
Notes
You could add 2 to 3tbsp of store bought chili seasoning instead of adding ground cumin, dried oregano and chili powder.

If using oven ready lasagna noodles, don't have to pre cook it.

If using regular lasagna noodles, cook it in boiling water, pat dry and layer it.

The layered lasagna without baking can be kept in the freezer for a few weeks; before baking, thaw in the refrigerator overnight and bake the next day.