Medjool Dates ice cream, one of the best tasting ice creams and will leave you speechless…
The blessed month of Ramadan is around the corner and Muslims around the world are getting ready to fine tune their soul, to seek blessings and forgiveness from the Almighty God and to generously help the needy. In Ramadan, fasting is observed from dawn till sunset for 30 days. While breaking the fast, a glass of juice and dates will be first consumed. Dates being an instant energy booster is the perfect snack to have for breaking the fast. Dates are mostly eaten as it is. Several other sweets and desserts made with dates will also be served afterwards to sweeten up the taste buds.
I have said this before and I will say it again that my most favorite among dates is Medjool dates and I always buy a few boxes of Natural Delights Medjool dates before Ramadan starts. Medjool dates, "the king of dates" is a true delight to the eyes and taste buds. It has a wrinkly outer texture and a very soft inside. One bite of it and you will feel the nectar oozing out of it, naturally delicious and hard to resist. Medjool dates are packed with fiber, rich in potassium and other essential vitamins and minerals. Without a doubt, they will be your true companion for a healthy lifestyle.
The idea of turning Medjool dates into an ice cream has been haunting me for a while. Medjool Dates being naturally sweet makes a perfect candidate for making ice cream. With great enthusiasm and expectation, I first started making the medjool dates pulp and then added it to the other ingredients. The well whisked mixture had to be kept in the freezer over night, I patiently waited to have a taste of the dates ice cream.
3 scoops of medjool dates ice cream was served into a waffle bowl, decorated with fresh fruits and dates and I happily presented to my Man who had no clue about what was in the ice cream. I keenly watched him tasting the ice cream. As soon as he tasted one spoonful of the ice cream, his eyes opened wide with astonishment. He said, "one of the best tasting ice creams I have ever tasted". Trust me, he has tasted almost all kinds of ice cream flavor that's out there. And then came the next question, "how did you make it?". I narrated the recipe in less than a minute. After that we both indulged in the ice cream for a while.
This Ramadan, treat your family and friends with this easy to make and delicious Medjool Dates ice cream…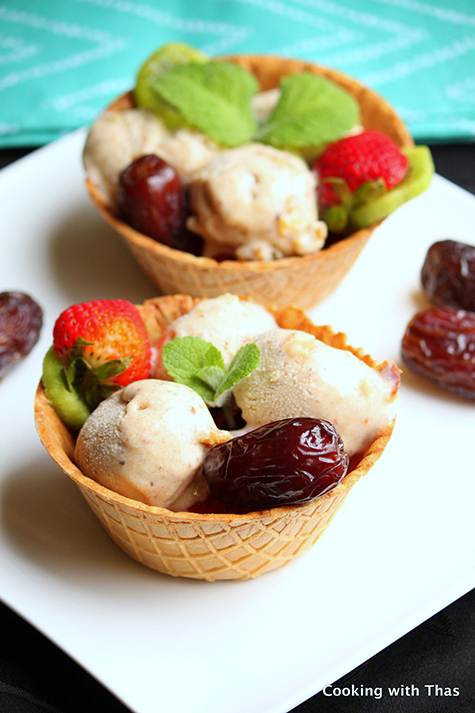 Medjool Dates Ice Cream
Ingredients
Natural Delights Medjool Dates, pitted and chopped- 15
Water- 1½ cups
Sweetened condensed milk- 300 mL
Whipped topping- 225 g
To add into the ice cream mixture
Chopped Walnuts- ¼ cup
Chopped Medjool dates- 5
For Garnish
Fresh fruits- Strawberry, Kiwi etc
Mint leaves
Instructions
In a saucepan, add 15 chopped dates along with ½ cup water. Cook over medium heat for 5 minutes till dates have cooked well. Remove the pan from the heat and let cool down.
In a blender, puree the cooked dates along with 1 cup water into a pulp constituency. Do not make it too watery. You will have 2 cups of dates pulp.
Pour the dates pulp into a large glass bowl. Add condensed milk and combine well using a whisk.
Add the whipped topping and combine well using a whisk till the mixture turns smooth.
Cover the bowl with a plastic wrap and keep the bowl in the freezer for 2 hours.
After 2 hours, take the bowl out of the freezer, add the chopped walnuts and dates, combine well.
Keep the bowl back into the freezer and let it freeze overnight.
The next day, take the bowl out of the freezer.
Using an ice cream scoop, scoop Medjool dates ice cream into a waffle cone or bowl.
Garnish with fresh fruits and mint leaves.
Serve immediately and indulge in this delicious homemade Medjool dates ice cream.