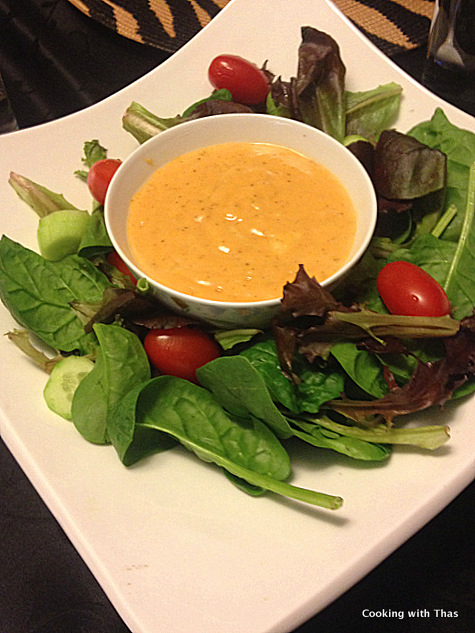 Easy and creamy dressing for your salad or for dipping your finger foods…
Salad without dressing is a big no, to make the dry salad delicious it has to be drizzled with a dressing. It's good to serve the salad as a side dish for lunch or dinner, that way we can intake some greens or veggies. Or make the salad as the main dish by adding cooked or grilled chicken/beef or lamb to the greens and by pouring dressing over it.
This is a very easy to make dressing and tastes creamy and delicious too. You could even serve this as a dipping sauce for any kind of finger foods like chicken nuggets, spring rolls, etc.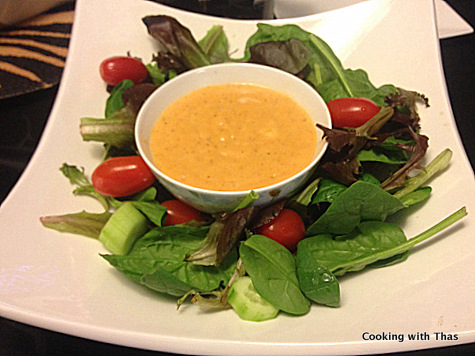 Mayo and Ketchup Dressing- Easy French Dressing
Ingredients
Mayonnaise- ¼ cup
Tomato ketchup- ¼ cup
Cider vinegar- ⅛ cup
Sugar- 1 tbsp
Onion, chopped- 2 tbsp
Salt- ¼ tsp
Ground pepper- ¼ tsp
Extra virgin Olive oil- ½ cup
Instructions
Place the mayonnaise, ketchup, cider vinegar, sugar, onion, salt and ground pepper in a blender and blend to a smooth paste.
Gradually, add the olive oil and blend it to smooth constituency.
Chill the dressing in the refrigerator for 30 minutes.
Drizzle over salad or serve as a dipping sauce.
Double the amount of ingredients to make more.