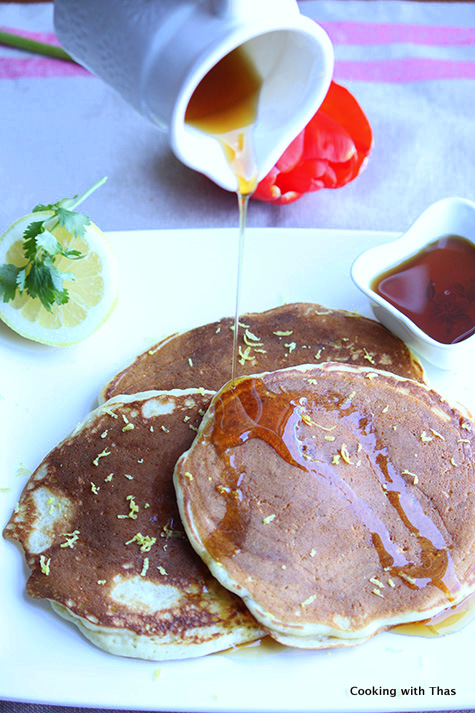 Soft, Fluffy and Refreshing pancakes…
Most weekends, I end up making pancakes for my Man. Last weekend on Sunday, he made the pancake batter and I cooked the pancakes: team work it is.
This recipe can also be used for making waffles. Either pancakes or waffles, based on your preference make it and enjoy for breakfast or brunch.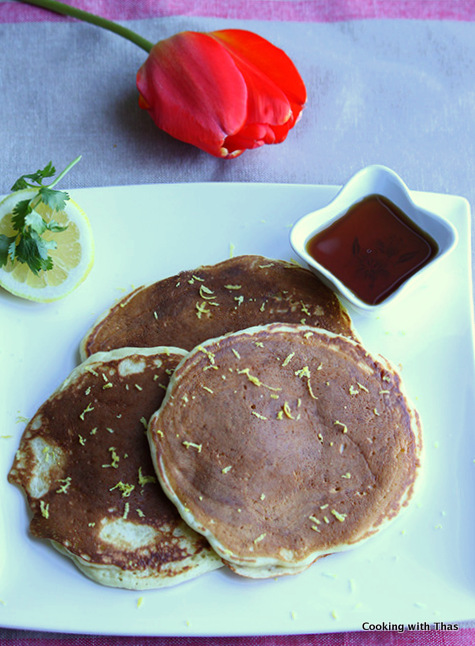 Lemon Pancakes
Ingredients
All purpose flour- 2 cups
Baking powder- 2 tsp
White Sugar- 2 tbsp
Salt- ½ tsp
Eggs- 2
Lemon zest- 2 tbsp
Vanilla extract- 1 tsp
Milk- 2 cups
Butter, melted- 6 tbsp
Instructions
In a bowl combine flour, baking powder, sugar and salt.
In an another bowl, whisk the eggs well.
Add lemon zest, vanilla extract and milk, combine well.
Add the flour mixture, combine well.
Add melted butter and combine well till smooth constituency.
Place a pan over medium heat.
Grease the pan with non-stick cooking spray.
Pour a large spoonful of batter onto the pan.
Let holes form on the batter, and bottom side turn golden brown, flip it over.
Let the other side cook well and turn golden brown.
Repeat till you make all the pancakes.
While serving, drizzle maple syrup or honey and enjoy while the pancakes are warm.