One of my favorite fish is King fish or Neymeen (in Malayalam), shallow fried king fish combined with sautéed onions and tomatoes, a delicious King fish roast…
King fish is definitely one of the favorite fish of most Keralites and is the preferred fish to be served during special occasions. It is really good for making fish biryanis. King fish biryani, king fish roast, Kerala style king fish curry or just fried king fish, king fish made anyway I just love it and will be seen gobbling up.
It's been a while since I've made fish in my kitchen as in winter I seldom make fish. If I get the fish craving, I make fish dishes over the weekend. I did get the craving to have king fish last week and as a coincidence I found really good fresh king fish at a Canadian store. No second thoughts, bought those and made this delicious King fish roast over the weekend. This can be served with any kinds of rotis, chapati, orotti or with rice.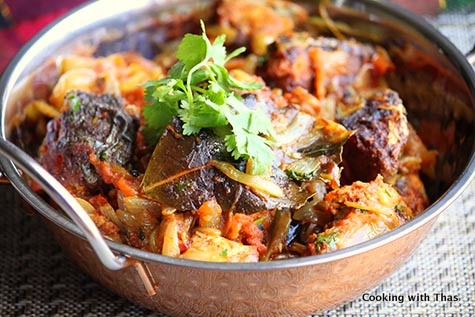 King Fish Roast- Kerala Style
Ingredients
To marinate Kingfish
King fish pieces- 8
Ginger-garlic paste- ½ tbsp
Kashmiri Chill powder- 1 tsp
Turmeric powder- ¼ tsp
Coriander powder- 2 tsp
Garam Masala- ½ tsp
Fennel powder- 1 tsp
Salt- ½ tsp
Lemon juice- 2 tsp
For making the roast
Coconut Oil or Vegetable Oil- ¼ cup
Dried Bay leaf- 1
Whole cardamom- 2
Onion, chopped- 3
Salt- ¼ to ½ tsp
Ginger-garlic paste- 2 tsp
Green chilies, chopped- 2
Curry leaves- 1 sprig
Tomatoes, chopped- 2
Coriander powder- 1 tsp
Chill powder- ¾ tsp
Fennel powder- ½ tsp
Cilantro, chopped- 2 handfuls
Lemon juice- 2 tsp
Instructions
In a bowl, combine all the above mentioned ingredients 'to marinate' along with the king fish pieces and marinate for 15 minutes.
Place a non-stick pan over medium heat, add oil.
Place the marinated king fish pieces over the oil and shallow fry till fish turns brown.
Transfer to a plate lined with paper towel and keep aside.
Use the same pan used for shallow frying fish.
To the leftover fried oil, add bay leaf and whole cardamom, saute for a few seconds.
Add chopped onions, season with salt and curry leaves, saute till transparent.
Add ginger- garlic paste and green chilies, saute and cook till onions turn golden in color.
Add tomatoes and cook till tomatoes are mashed up.
Add coriander powder, chili powder, and fennel powder.
Combine well and cook for 3 minutes.
Taste and add more salt and chili powder if needed.
Add the shallow fried king fish, combine well to the onion and tomatoes.
Cook for 3 to 5 minutes.
Add cilantro and lemon juice, combine well and cook for a minute.
Remove the pan from the heat and keep covered for a few minutes.
This can be served along with chapati, orotti, pathiri or with rice.