This is a guest post submitted by Rafeeda.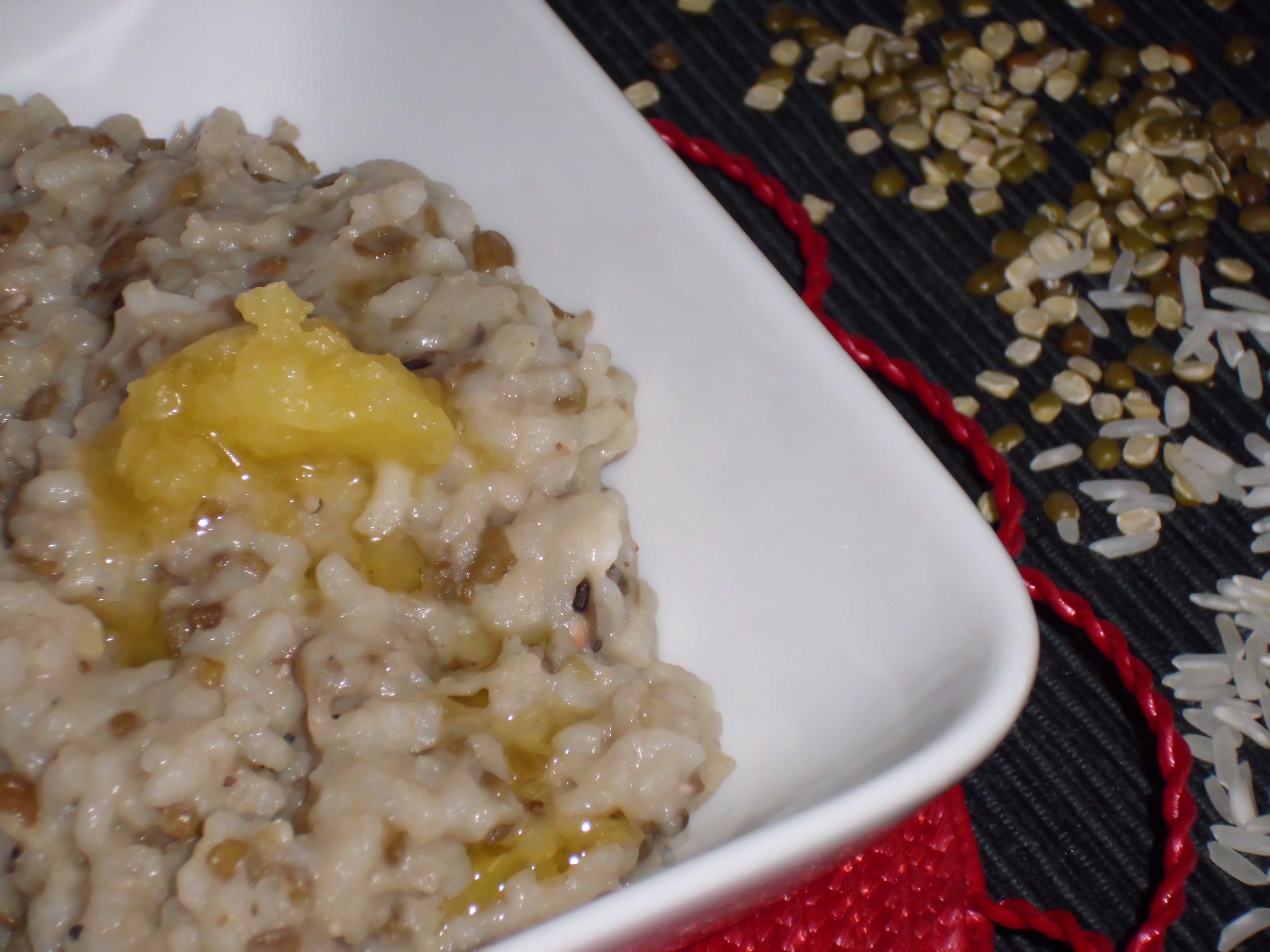 Hi Thas…
The time I saw your email inviting guest posts, I thought of jumping up for your opportunity. I have started a blog which is just a month old and one of the inspiration is definitely you. I adore your blog and the way you come up with interesting recipes. I have tried a couple of them, one of them being the whole chicken in pressure cooker and my next in line is the whole chicken biriyani and the flourless peanut butter cookies.
The recipe I am submitting is a very simple one – in fact, a family favorite. This used to be made by my vellimma (my dad's mom) and everybody in the family just gobble it down. My umma learned it from her and it is our staple Friday breakfast. Every third Friday, we have this. Initially, it used to get very irritating but now when most of the time she's back home, I miss it! Now that I have learned to make it, it's kind of become permanent in our household as well, that hubby asks, "Oh, kichadiyano?" ("Oh, is it kichadi?"). Slowly now he is also becoming a big fan of it, along with my daughters… 🙂
First of all, it's a wholesome breakfast – fills your tummy and you are fine till lunch time. Secondly, it's so easy to make – just dump all in and pressure cook, that's it!!! That explains why I like it – it is perfect fodder for the lazy cook in me… 🙂
Off to the recipe now…

Kichadi
A very wholesome breakfast, which can be made in a jiffy!
Ingredients
1 cup broken moong dal (also called kichadi parippu)
1 cup Raw rice or Basmati rice
100 gm jaggery, melted in little water (add more if you want it sweeter)
1 can (400 ml) coconut milk
1½ cups (300 ml) milk (you can also make it 1 cup milk and ½ cup water)
5 tbsp grated coconut
A pinch of salt
Ghee for serving
Instructions
Wash the rice and dal well till water runs clear.
Soak the rice-dal in water for around 30 minutes. This is actually not compulsory, but really shortens the cooking time.
Drain off the soaking water and add along with the rest of the ingredients in a pressure cooker.
Close the lid and cook up to 3 whistles, then reduce the flame to minimum and cook for around 15 minutes.
Switch off the flame and allow the pressure to go by itself.
Open the lid of the pressure cooker, mix all well and serve with a dollop of pure ghee!!!
Thank you so much Thas for this opportunity… Wish you all the very best to keep continuing to post many many more recipes and influence a lot of people to perform well in their kitchen! 🙂
With lots of love…
Rafeeda
You can read more of Rafeeda's recipes at her blog: The Big Sweet Tooth