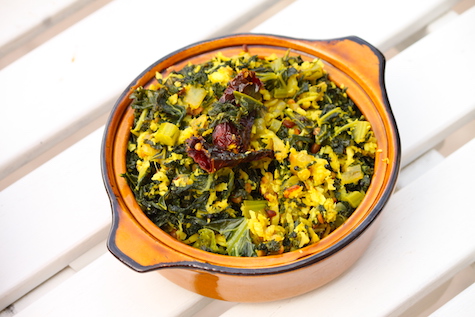 Kale and Coconut Stir fry or Thoran makes a perfect healthy side dish with rice or roti…
Kale is a super green, packed with essential nutrients & vitamins. It has incredible health benefits. Kale contains fiber, antioxidants, calcium, vitamins C and K, iron, and a wide range of other nutrients that can help prevent various health problems. Protects against diabetes, supports heart health, limits the risk of cancer, improves bone health, helps in digestion, promotes healthy skin & hair, and great for eye health.
Many delicious dishes can be made with kale: fritters, soups, and stews, possibilities are endless.
This is one of my favorite dishes to make with Kale, stir fry the kale leaves with coconut and turmeric powder. I avoid adding too many spices or seasonings as I want to enjoy the taste of kale and benefit from it.
This can be served along with rice or roti.
Cooking video
Kerala Style Kale Coconut Thoran- Healthy Kale Coconut Stir Fry
Ingredients
Coconut Oil- 1 tbsp
Mustard seeds- 1 tsp
Chana dal- 1 tbsp
Urad dal- ½ tbsp
Dried red chilies- 2
Onion, chopped- 1
Salt- 1 tsp
Garlic, chopped- 1 tbsp
Kale leaves, chopped- 3 cups
Green chilies, halved- 2
Water- ½ cup
Turmeric powder- ½ tsp
Salt-1/2 tsp
Grated coconut- 1 cup
Instructions
Place a saucepan or claypan over medium heat. Let turn hot.
Add coconut oil.
Add mustard seeds, let splutter.
Add chana dal & urad dal, saute for a few seconds till they turn golden. Donot brown them.
Add dried red chilies, saute for 2 seconds.
Add onion chopped, season with salt.
Stir fry for 2 minutes.
Add garlic, combine well. Cook for a minute.
Add chopped kale leaves and green chilies.
Add water, combine well and cook for 5 minutes.
Do not over cook the kale leaves, let it slightly wilt.
Add turmeric powder and ½ tsp salt; combine well.
Add grated coconut, stir fry.
Increase heat to high and stir fry till coconut turns golden in color, tastes delicious.
Remove the pan from the heat, keep covered for sometime.
Serve along with rice or roti.