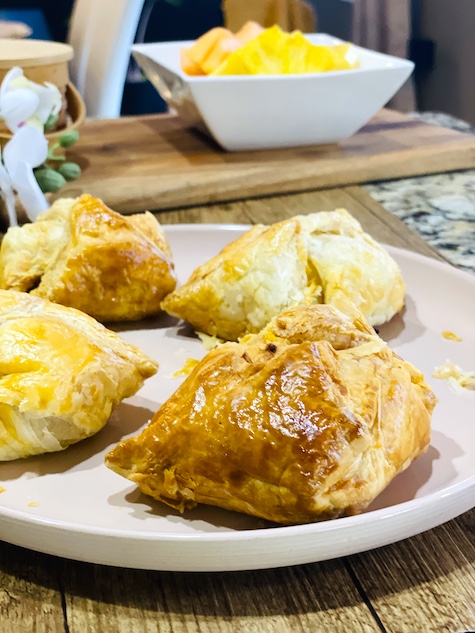 Kerala bakery-style egg puffs, crispy flaky goodness…
Egg puffs are a popular snack in Kerala that consists of a baked pastry filled with a savory mixture of eggs, onions, and spices. They are commonly sold in bakeries and street food stalls in Kerala and are enjoyed as a quick and tasty snack.
The pastry shell of an egg puff is made from puff pastry, which is a light, flaky dough that is created by folding layers of butter or margarine into a flour mixture. Making puff pastry from scratch is a time-consuming process, hence I always get store-bought sheets. All I have to do is thaw the puff pastry sheets for an hour & then make a simple filling.
The onion filling is made by sauteing onions till golden brown & seasoned them with a blend of spices. It's an easy filling.
To make egg puffs, the pastry sheet is cut into squares. A spoonful of the onion mixture is placed onto each pastry, and topped with hard-boiled egg, wrapped into a gift box style. The puffs are then brushed with egg wash and baked until golden brown.
Egg puffs are a delicious snack that is devoured by everyone.
Kerala Egg Puffs | Bakery Style Recipe
Ingredients
For making onion filling
Oil- 1 tbsp
Onions, sliced thin- 2
Ginger garlic paste- ½ tbsp
Salt- ½ tsp
Chili powder- 1 tsp
Coriander powder- 1 tsp
Fennel powder- 1 tsp
Garam masala- ½ tsp
Salt- ½ tsp
Cilantro, chopped- 2 tbsp
Other ingredients
Hard-boiled eggs
Puff pastry sheet
Egg- 1
Instructions
I've used store-bought puff pastry sheets. It was frozen, take it out of the freezer & thaw the sheet well for at least an hour.
puff pastry sheet will make 4 puffs. For making more, double to triple the filling recipe.
Cook the hard-boiled eggs, I cooked them in the Instant Pot- pressure cook the eggs for 5 minutes followed by 5 minutes of natural pressure release & then do a quick pressure release. Immediately plunge the eggs in ice-cold water for 15 minutes.
Peel off the shells, and half the eggs & keep them aside.
Next, let's make the filling.
Onions have to sliced really thin.
Place a pan over medium heat, add oil, onion, ginger garlic paste & ½ tsp salt.
Saute till onions turn golden brown.
Add all the spices along with ½ tsp salt & cook for a minute.
Add cilantro & keep aside the onion masala.
I've taken 1 thawed puff pastry sheet.
Using a pizza cutter, cut into 4 equal squares.
Place 2 tbsp onion masala onto each puff pastry square.
Top with a halved hard-boiled egg.
Wrap the puff puff pastry sheet- bring all the ends of the sheet over the egg & gently press it down. Wrap without any gap.
To a bowl, crack an egg & beat well using a whisk.
Using a puff pastry, spread the egg over the puff pastry. Don't skip the egg wash, egg wash will impart golden color to the puffs.
I baked the puffs in the air fryer, you can also bake them in an oven.
Place the stuffed puff pastry into the air fryer basket, set the temperature to 400 F or 200 C & time to 25 minutes.
If baking in the oven, preheat the oven to 400 F or 200 C & bake the puffs for 25 minutes.
The puffs will turn super crispy & flaky, along with the egg filling tastes delicious. This has to be enjoyed right away that's when the puffs will be crispy.