Stew cut beef pressure cooked in the Instant Pot & turned into 3 amazing snacks…
Beef seasoned with spices and pressure cooked in the Instant Pot, the beef will turn very flavorful & fork tender. Shred the cooked beef and let's make 3 amazing dishes. With the shredded beef, I've made crunchy beef sandwiches, crispy cutlets & homemade crispy samosas.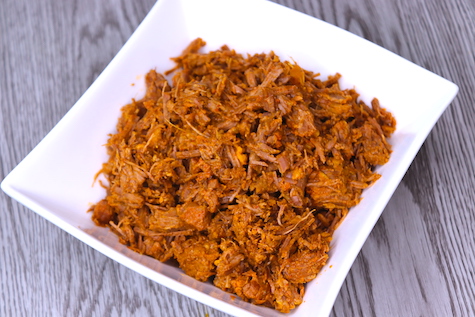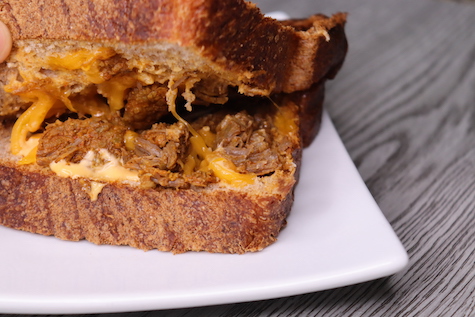 Instant Pot Cooked Beef | 3 Snacks | Beef Sandwich | Beef Cutlets | Homemade Beef Samosas
Ingredients
For marinating beef
Beef, stew cut- ½ kg or 1 lb
Kashmiri chili powder- ½ tbsp
Turmeric powder- ½ tsp
Cumin powder- 1 tsp
Coriander powder- 1 tbsp
Garam masala- 1 tsp
Ginger- Garlic paste- 1 tbsp
Salt- 1½ tsp
For making beef sandwich
Bread slices
Prepared cooked shredded beef
Grated cheddar cheese or slices
Chipotle mayo or regular mayo or any spread
Butter, unsalted- 1 tbsp/sandwich
For making beef stuffing
Oil- 2 tbsp
Onion, chopped- 3
Ginger garlic paste- 1 tbsp
Salt- 1½ tsp
Shredded beef
Potatoes, cooked- 2
Garam masala- 1 tsp
Cilantro, chopped- ¼ cup
For making beef cutlets
Prepared beef stuffing
Cornstarch- ½ cup
Cold Water- ¼ cup
Breadcrumbs- 1½ cups
For making samosas
All-purpose flour- ½ cup
Wheat flour- ½ cup
Salt- ½ tsp
Water- close to ½ cup
Oil- 1 tsp
For making flour glue
All-purpose or wheat flour- ¼ cup
Water- 2 tbsp
Egg- 1
Oil- enough for frying
Instructions
In a bowl, combine the beef along with all the above-mentioned ingredients 'for marinating beef'. Let marinate for 10 minutes.
Pressure cooking the beef in the Instant Pot.
Add the beef to the stainless steel pot.
Close the pot with the lid.
Select Pressure cook setting. Set the time to 25 minutes at High pressure.
After 25 minutes of pressure cooking, let the pressure release naturally for 10 minutes and then do a quick pressure release.
Open the lid, the beef will be perfectly cooked.
There will be around ½ cup of liquid in the pot.
Separate the liquid & the beef. Save the liquid for making soups, stews, or for cooking rice.
In a bowl, shred the cooked beef using a fork. Keep it aside.
Let's make beef sandwich
I've taken whole wheat bread, white or multigrain bread can be used.
Smear the bread slices with mayo or any of your favorite spread.
Top with the shredded beef & add grated cheese over the beef.
Make into a sandwich.
On top of the sandwich, place butter cut into small pieces. Or spread with melted butter.
Grill the sandwich on a panini maker or on a grill pan till the sandwich turns crispy & golden.
This beef sandwich tastes absolutely delish.
Let's make beef stuffing
Place a wide saucepan over medium heat.
Add oil and onions.
Season with salt, add ginger-garlic paste.
Cook the onions till they turn golden in color for 10 minutes.
Add cooked potatoes, slightly mash using a wooden spoon.
Add the shredded beef, combine well.
Add garam masala and salt if required. Combine well.
Add cilantro, combine well.
Beef stuffing is ready, keep it aside.
Making beef cutlets
In a bowl, take half of the beef stuffing.
Using your clean hand, combine well and make into medium-sized patties.
With half of the beef stuffing, you will be able to make 6 cutlets.
In a bowl, combine cornstarch and water well to make a slurry.
Have breadcrumbs ready on a plate.
Place a pan over medium heat, let turn hot.
Add oil for pan frying.
Dip the beef patties in cornstarch slurry and then coat with breadcrumbs.
Place on the oil and pan fry till both sides have turned golden & crispy.
Transfer to a plate and enjoy warm with tomato ketchup or any of your fav dipping sauce.
Making homemade samosas
In a bowl, combine all-purpose flour & wheat flour.
Add salt & combine well.
Add water little by little & knead for 5 minutes till a soft dough has formed.
cup flour will make 10 samosas, for making 20 samosas take 1 cup all-purpose flour & 1 cup wheat flour.
Add 1 tsp oil over the dough, spread well and let rest for 5 minutes.
Make 5 medium-sized balls out of the dough.
On a wooden board or clean surface, dust with flour and roll the dough balls into thin round shape.
Let's slightly warm up the flattened dough. Place a pan or tawa over medium heat.
Place the flattened dough on the pan, let warm up for a few seconds. Do not cook the dough.
When the bottom side turns warm, transfer to a plate. Ensure the flattened dough is still soft.
In a bowl, combine ¼ cup flour & 2 tbsp water & make into a smooth paste, this is the flour glue.
Cut the warmed-up samosa pastry into 2 equal halves.
With one of the halves, make a cone shape.
Apply the flour glue on the edges and seal the edges of the cone.
Add 2 tbsp beef stuffing into the cone.
Apply the flour glue on the ends & fold the ends of the cone. Seal it well.
Using a fork, gently press over the folded ends, this will give a nice fork indent.
Place a frying pan over medium heat, let turn hot.
Add enough oil for frying.
Drop the samosas in the oil.
Fry over medium heat, flip the samosas over & fry till both the sides have turned crispy & golden brown in color.
Transfer to a plate lined with kitchen paper towel.
Enjoy the samosas while it's warm with tomato ketchup or your fav dipping sauce.