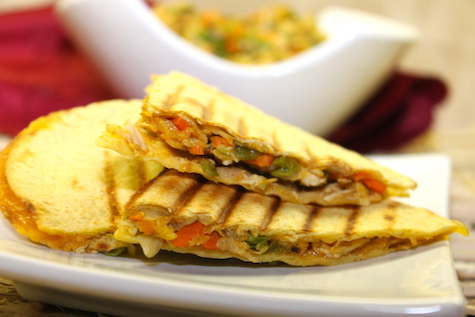 Indian style chicken quesadilla, chicken stuffing made in the Instant Pot…
Quesadilla is a popular Mexican dish, it's basically stuffed tortillas. In this recipe, I have pressure cooked the chicken in the Instant Pot. Used aromatic Indian spices to season the chicken and for making the chicken stuffing. Chicken stuffing is placed between the tortillas, topped with cheese and grilled till golden brown.
This makes a perfect appetizer or a main dish.
Chicken Stuffing
Cooking Video
Indian Chicken Quesadilla- Instant Pot Chicken Stuffing
Ingredients
For cooking chicken
Chicken breasts, cubed- 2
Chili powder- ¾ tsp
Turmeric powder- ⅛ tsp
Coriander powder- 1½ tsp
Garam Masala- ½ tsp
Salt- ½ tsp
For making chicken stuffing
Prepared shredded Chicken
Oil- 1 tbsp
Onion, chopped- 1
Carrot, chopped- ½ cup
Green peas- ½ cup
Green pepper- ½ cup
Water- ¼ cup
Chili powder- ½ tsp
Coriander powder- 1 tsp
Salt- ½ tsp
Cilantro, chopped- ¼ cup
For making Quesadilla
Instructions
In a bowl, combine chicken along with other ingredients 'for cooking chicken'.
Turn on the Instant Pot.
Add the marinated chicken into the stainless steel pot.
Select Pressure cook mode- high pressure. Time 7 minutes.
After 7 minutes pressure cooking, do a quick pressure release.
Open the lid.
Drain the liquid from the cooked chicken and keep the chicken in a bowl. Chicken liquid can be used for making soups.
Using a fork, shred the chicken. keep aside.
Making Chicken Stuffing
Turn on the Instant Pot. Select Saute Mode, Medium temperature.
Let hot sign appear on the display.
Add oil, add chopped onion, season with ¼ tsp salt.
Saute for 3 minutes,
Add carrot, peas and green pepper, sauce for 2 minutes.
Add ¼ cup water, saute for 3 minutes till veggies turn soft.
Add shredded chicken, combine well.
Add chili powder, coriander powder and salt to taste, combine well. Cook for 2 minutes.
Add cilantro, combine well.
Turn off Instant pot. keep aside the chicken stuffing.
Spread 2 tbsp chicken stuffing on the tortilla, top with cheddar cheese.
Place another tortilla over the cheese.
Grill it in a panini maker till golden brown and cheese has melted. Or cook on a non-stick pan, cover tightly with a lid and cook till golden brown.
Cut into wedges and serve. Enjoy.