Hands down, the best tasting and authentic Hyderabadi chicken dum biryani recipe…
Over the years I had tried different kinds of biryani. Though the preparation style is similar for most biryanis, the kind of spices added for making chicken masala makes a huge difference in the taste of the biryani.
Fried chicken biryani, Thalassery biryani and chicken biryani using fried chicken masala and basmati rice cooked in chicken broth are my favorite biryani recipes. However, my quest for the best tasting biryani still continues…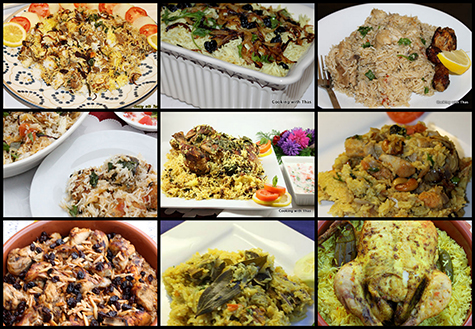 This recipe is an authentic biryani made in Hyderabad. Homemade biryani masala or spice powder is used, aromatic whole spices are roasted to perfection and then ground to fine powder; added to the chicken for marinating along with other ingredients. This spice powder is a winner, made the chicken taste flavorful and imparted a mesmerizing aroma to the biryani .
A must try recipe.
Recipe Courtesy: Cooking with Fem– I've tweaked the recipe a bit according to my needs.
Hyderabadi Chicken Dum Biryani- The best biryani Recipe
Ingredients
Making spice powder-To roast and grind
Coriander seeds- 3 tsp
Fennel seeds- 1 tsp
Whole black peppercorns- 2 tsp
Whole cloves- 8
Whole cardamom- 15
Nutmeg powder- ½ tsp (or add 1 small whole nutmeg)
Dried bay leaves- 2
Mace powder- ½ tsp (or add 1 small whole mace)
Star Anise- 2
Whole black cardamom- 2
Whole cinnamon sticks, 1 inch slice- 10 slices
For marinating chicken
Chicken, bone-in pieces or legs- 14
Ginger-Garlic paste- 2 tbsp
Green chilies, crushed- 2
Prepared Spice powder- 1 tbsp
Cardamom powder- ½ tsp
Red Chili powder- 1 tsp
Turmeric powder- ½ tsp
Fried Onion- 2 fried onion (fry 2 onions sliced thin in oil) (Must add)
Mint leaves, chopped- 10 leaves
Cilantro or Coriander leaves, chopped- ¼ cup
Yogurt- 1½ cups
Lemon juice- 1 tbsp
Salt- 1½ tsp
For cooking Basmati Rice
Basmati Rice- 3 cups (soaked in water for 30 minutes)
Whole cloves- 2
Whole cardamom- 3
Whole cinnamon- 3 inch stick
Dried bay leaves- 2
Ghee- 1 tbsp
Salt- ¾ tsp
Water- 6 cups
Other ingredients while layering chicken masala and rice
Fried onion- 3 onions fried in oil (sliced thin)
Saffron strands- 2 pinches soaked in 3 tbsp milk for 5 minutes
Roasted cashew nuts- ¼ cup
Cilantro, chopped- ¼ cup
Mint leaves, chopped- 3 tbsp
Prepared spice powder- ¼ tsp/layer
Ghee- ½ tbsp/layer
Instructions
First, let's roast the whole spices and grind them into a fine powder.
Place a pan over medium heat, add all the whole spices mentioned 'to roast and grind' (if using ground nutmeg and mace, add that after roasting the whole spices, else they will burn) let roast for a few minutes till they turn aromatic. Be careful to not to brown the whole spices.
Let cool down for a few minutes, grind to a fine powder. Keep aside.
This recipe will yield around 3 to 4 tbsp spice powder- store the remaining spice powder in an air tight container- can be used for making chicken/mutton or beef curries.
I highly recommend using homemade fried onion for better taste and flavor. Don't skip adding fried onions.
Fry 5 onions sliced thin in oil. Use 2 of the fried onion for marinating the chicken. Remaining 3 fried onions while layering.
Save the oil used for frying onions.
Soak basmati rice in water for 30 minutes.
Into a large bowl, add all the ingredients mentioned 'for marinating chicken'. Combine well and marinate for 2 hours.
Place a large non-stick pan over medium heat, add 5 tbsp of oil used for frying onions- this oil has a lot of flavor.
Add the marinated chicken mix, combine well and cook for a few minutes. After that, close the pan with its lid and cook covered till chicken has almost done- about 90% cooked. Do not over cook the chicken.
Drain the soaked basmati rice taken in a sieve and rinse under running water.
Add the soaked rice to a large saucepan.
Add all the above mentioned spices for cooking rice along with 6 cups water.
Cook for 15 minutes till the rice has cooked 90%, do not over cook the rice.
Drain the water and keep the cooked rice aside.
Layering chicken masala and rice and dum cooking biryani
I used the same wide pan used for cooking the chicken- transfer the cooked chicken masala to a large bowl and clean the pan well.
Spread 1 tbsp of melted ghee on the pan.
Layer the cooked rice as the first layer.
Second layer: Chicken masala
Third layer: spread fried onions, cashew nuts, cilantro, mint and drizzle some saffron milk. Spread ¼ tsp spice powder over the rice. Drizzle ½ tbsp melted ghee.
Again layer with rice, chicken masala and toppings. Repeat this one more time.
There will be 3 layers each for rice, chicken masala and toppings.
Cover the pan with an aluminum foil and then close with its lid.
Place the pan over low heat and cook or keep in dum for 20 minutes.
After 20 minutes, remove the pan from the heat, and let rest covered for another 15 to 20 minutes.
Open the lid and aluminum foil. You will be seen inhaling the amazing aroma that's spreading from this biryani.
While serving, combine the rice and chicken masala and serve on plates.
This biryani can be served with raita, pappad, pickle etc.
Notes
Store the spice powder in an air tight container, makes about 4 tbsp- this can be added while making chicken/mutton or beef curries. Tastes delicious.