Wheat flour or atta flour or durum atta is used for making the pizza dough, wheat pizza crust is topped with chicken and baked to perfection…healthy and delicious pizza!
Wheat flour or atta flour is widely used for making chapati, poori and roti in India. These are eaten almost everyday by most people in India. Since, it's wheat flour and not white flour it's more healthy.
My man and I love pizza. Who doesn't like pizza??? Well, I know someone who doesn't like pizza, that happens to be my darling niece. Whenever she sees pizza, she would say right way without any hesitation that 'Pizza is bad for your health'. Sigh, I cannot agree more with her. Since, pizza is made with white flour it is quite unhealthy if you eat on a regular basis.
So, the other day when I made pizza, I made sure that I make a healthy pizza. As usual, I made the pizza dough from scratch, but this time I used wheat flour or durum atta flour instead of all purpose flour. I was a bit skeptical about how the dough would turn out. To my surprise, the wheat dough raised well and the pizza topped with chicken came out of the oven baked perfectly.
Quite healthy and tastes delicious…
For more pizza recipes, click here.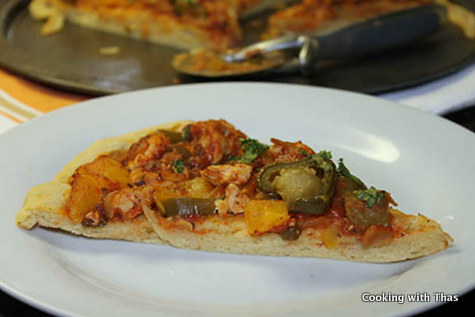 Preparation pictures
Chicken pepper topping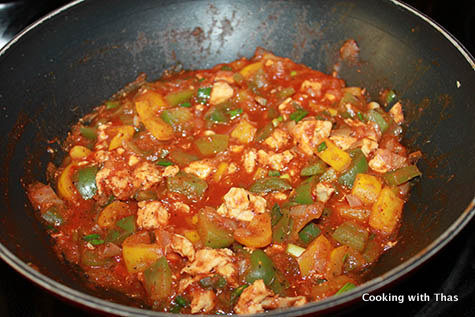 Wheat pizza dough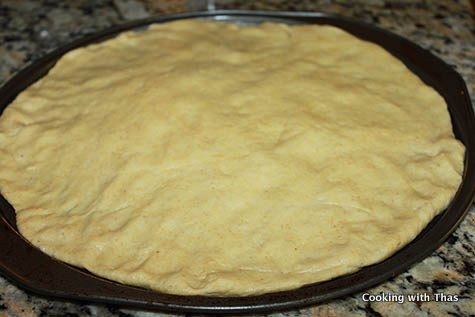 Homemade Wheat Pizza topped with Chicken
Ingredients
For making 1 large pizza crust
Wheat flour or durum atta- 2 cups ( I used Golden Temple durum atta)
Dry active yeast- 1⅛ tsp
Sugar- ¼ tsp
Warm water- ¾ cup
Salt- ½ tsp
Olive oil or vegetable oil- 1 tbsp
For making Chicken Topping
Oil- 1 tbsp
Onion, chopped- 1
Chicken breasts, diced small- 1
Ground pepper- ¼ tsp
Green pepper, diced- 1
Red or yellow pepper, diced- 1
Tomato sauce- 1 cup
Chili powder- ¾ tsp
Garam masala- ½ tsp
Soy sauce- 1½ tbsp
Green onions, chopped- 2 stalks
Other Ingredients
Pickled Jalapeños- 6 to 8 round slices (optional)
Cilantro chopped- 2 handfuls
Cheddar cheese or mozzarella cheese (I didn't add cheese due to my husband's lactose intolerance)
Instructions
Making Pizza dough
In a bowl, combine yeast, warm water and sugar, let stand for 10 minutes.
After 10 minutes, add the salt and oil to the yeast.
In a large bowl, pour the yeast solution and slowly add the flour and knead.
It will be sticky in the beginning, after you add the entire flour you'll find it easy to knead.
Knead the dough well, it should be soft and smooth, don't add too much flour and make it into a hard dough.
Place the dough in a bowl greased with oil and cover the dough with a damp towel , keep aside in a warm place for 1 hour.
Or you could- preheat the oven at the lowest temperature for 5 minutes, turn off the heat and place the dough in the oven, this will speed up the leavening.
Do not cover the dough with wet kitchen paper towels, after an hour it will be stuck to the dough and will be very hard to peel it off.
In the meantime you could start making the chicken filling and have everything ready.
After an hour, the dough must have doubled in size.
Combine the dough well and let it sit for a few minutes.
Making the chicken topping
Place a pan over medium heat, add oil.
Add onion, season with salt and cook till translucent.
Add diced chicken, season with ground pepper and cook covered till the chicken has cooked well.
Add green pepper and red or yellow pepper, combine well and cook for a few minutes. Don't over cook the veggies.
Add chili powder, garam masala, soy sauce and tomato sauce. Combine well and cook for a couple of minutes.
Add green onions and combine well.
Remove the pan from the heat and let cool down.
Making pizza
Preheat the oven to 425 F or 220 C.
Grease the round pizza pan with non-stick cooking spray.
Place the dough over it and using your hands stretch the dough to a round shape.
After rolling the dough, let it stand for 10 minutes on the pan.
Spread the prepared chicken-pepper topping over the rolled dough, top with pickled jalapeños, sprinkle chopped cilantro and generously sprinkle cheddar or mozzarella cheese over it.
Bake for 20 minutes, keeping the pan on the lower rack of the oven until the cheese has melted and the curst has cooked well.
Take the pan out of the oven, slice it and indulge in this healthy wheat pizza.