Chicken cooked with ground pepper and coconut milk, finger licking delicious…
One of my favorite chicken dishes is Chicken Korma. Kormas are creamy, rich, flavorful and delicious. I've tried many kinds of kormas over the years, coconut milk is the key ingredient for making kormas and that's what makes it creamy and rich. To make the kormas even more delicious, ground cashew nut paste or almond paste can also be added.
I've already posted the recipes for making many kinds of Kormas; chicken, mutton, beef, fish or mixed veggies can be used for making Kormas.
In this korma, I have first sautéed the ground garlic, ginger, green chili and whole peppercorns mixture in oil. Onion was added and cooked followed by chicken and potatoes. After the chicken has cooked, coconut milk was added and cooked till a thick gravy was formed.
Well, sharing the picture of a cute little bird that comes to my backyard and eats a lot of food from the bird feeder, it's called Golden Oriole.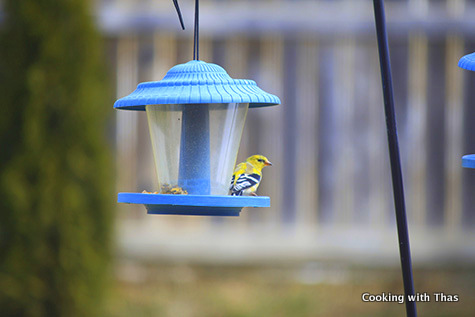 This korma tasted delicious and can served with roti, naan, chapati, rice etc.
For other Korma recipes, click here.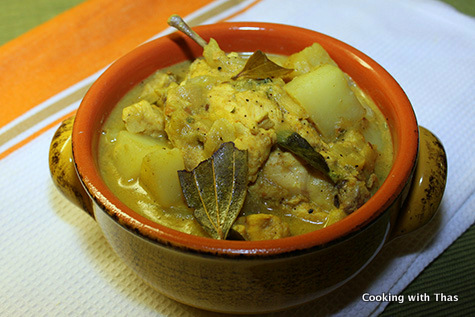 Ground Pepper Chicken Korma
Ingredients
To grind
Garlic, cloves- 4
Ginger- 2 inch slice
Green chilies- 2 or 3
Whole pepper corns- 1 tsp
Cumin seeds- ½ tsp
For cooking Korma
Oil- 2 tbsp
Ghee- 1 tbsp
Whole Cardamom- 2
Whole cloves- 2
Whole cinnamon- 2 inch slice
Bay leaves- 2
Onion, sliced thin and long- 1
Curry leaves- 10 leaves
Tomatoes, chopped- 2
Turmeric powder- ¼ tsp
Fennel powder- 1 tsp
Coriander powder- 1 tsp
Chicken, bone in or boneless pieces- 12 pieces
Potatoes, diced- 2
Water- ½ cup
Coconut milk- 1 cup
Ground pepper- ¼ to ½ tsp (or based on your needs)
Salt- to taste
Instructions
In a blender, coarsely grind all the above mentioned ingredients "to grind". Keep aside.
Place a non-stick pan over medium heat, add oil and ghee.
Add whole cardamom, cloves, cinnamon and bay leaves along with the ground mixture.
Saute for a minute. Do not brown the mixture.
Add onion and curry leaves, season with salt and saute till onion turns golden in color.
Add tomatoes, and cook till they are mashed up.
Add turmeric powder, fennel powder and coriander powder, combine well.
Add chicken, season with salt, combine well and cook covered for 5 minutes.
Add potatoes and water, cook covered till chicken has cooked well and potatoes have turned tender.
Open the lid and add coconut milk, combine well.
Add ground pepper and combine well.
Cook covered for 3 to 4 minutes till the gravy has thickened.
Taste and add more salt if needed.
Remove the pan from the heat and keep covered for sometime.
Serve this korma with naan, chapati, roti or rice.