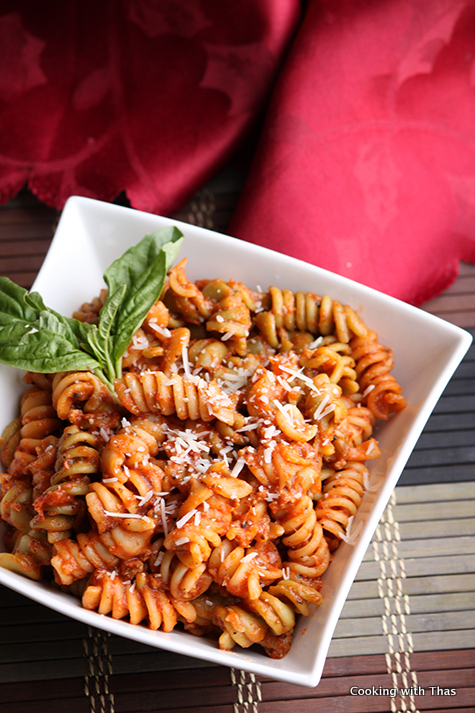 Chicken pesto pasta, a delicious one pot meal…
Hope everyone had a wonderful Eid with family and friends. I attended an Eid potluck party hosted by a dear friend and had a great time. I took two of my favorite dishes: Pistachio Saffron pudding and Chicken pesto pasta. The pudding was a huge hit, everyone loved it.
This chicken pesto pasta is a delicious one pot meal that can be made effortlessly and is perfect to take for potluck parties. I have to tell you that this is one dish that I make quite often as I am a pesto freak and can be served for lunch or dinner and great for taking to work.
Eid Desserts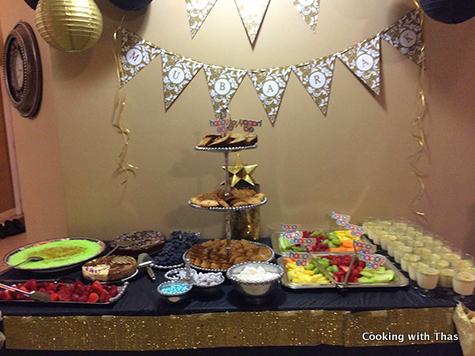 Recipe for making Pistachio Saffron Pudding, click here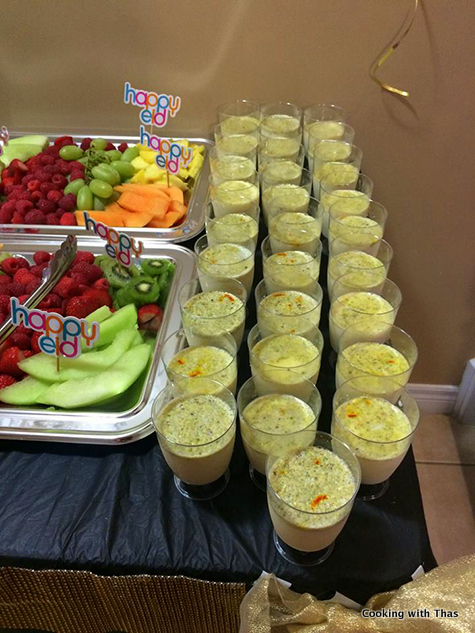 Recipe for making Basil Pesto, click here.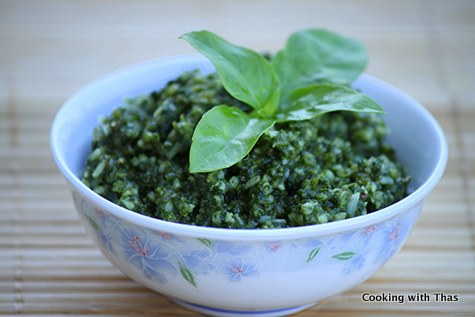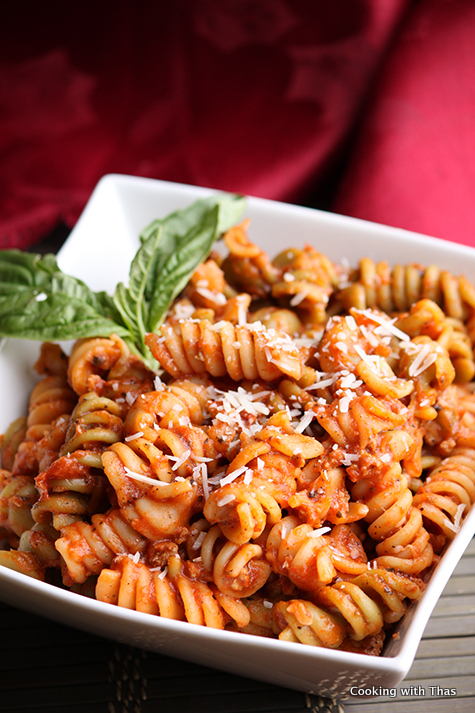 Ground Chicken Pesto Pasta- Pesto Pasta
Ingredients
Oil- 3 tbsp
Onion, chopped- 2
Ground chicken or beef- 2 lbs or 1 Kg (Or add cubed boneless chicken breast)
Red pepper, diced- 1
Green pepper, diced- 2
Tomatoes, chopped- 2
Basil Pesto- 1½ cups (homemade or store-bought)
Tomato sauce- 2 cups
Ground pepper- 2 tsp
Salt- to taste
Parmesan Cheese- to garnish while serving
For cooking Pasta
Pasta, Rotini or Penne- 4 to 5 cups (or 1 Kg)
Water- enough to cook pasta
Salt- a few pinches
Instructions
Cooking pasta
Fill up ¾ of a large pot with water, heat the water and let come to a rolling boil.
Season with salt and add the pasta. Cook till pasta turns al dente. Do not over cook the pasta.
Drain the water and keep aside the pasta.
Drizzle 1 tsp oil over the pasta, combine well to avoid the pasta from sticking together.
Making the chicken or beef pesto sauce
Place a large wide non-stick cooking pan over medium heat, add oil.
Add onions, season with salt. Saute till light golden in color.
Add ground chicken or beef, break the meat using a wooden spoon to remove any lumps.
Or add cubed boneless chicken breast or thighs.
Season with 1 tsp ground pepper.
Cover the pan with its lid, cook till the meat has cooked through.
Add red pepper, green pepper and tomatoes, cook covered till veggies turn tender.
Add the basil pesto, combine well.
Add tomato sauce; season with 1 tsp ground pepper and more salt if needed.
Cook covered for a few minutes till the sauce just starts to thicken.
Add the cooked pasta, combine well into the sauce.
Remove the pan from the heat, keep covered for sometime.
Serve in bowls, sprinkle some parmesan cheese.
Enjoy this delicious chicken pesto pasta.