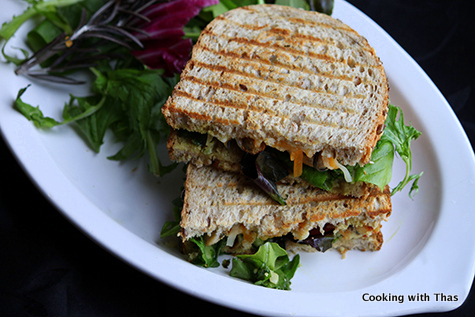 Aromatic, flavorful and delicious chicken melt sandwich…
I am wrapping up a beautiful Sunday by looking up in the sky and enjoying the beauty of  the majestic Super Moon of 2014, it's actually 14 per cent bigger and 30 per cent brighter than a regular full moon. Here is the picture of the super Moon clicked from my backyard.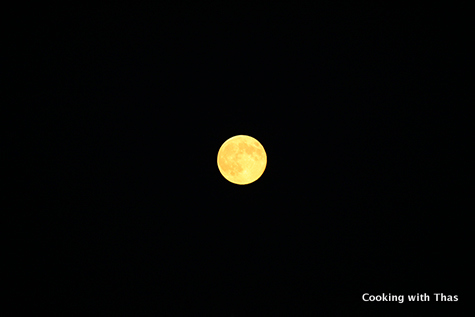 Woke up late, well on Sunday's I ought to be late, enjoyed my favorite cornmeal waffles along with a cup of coffee. After that, I felt like picnicking in the woods. Apparently, my Man was thinking of doing some fun stuffs too- hit the beach, take a dip and relax. Hence, we picked a place where we could enjoy both woods and the beach, it was only 45 minutes drive away from my house.
I wanted to have lunch in the woods too, so I made this rosemary chicken melt sandwich. Hubby wanted hot dogs, so I grilled some hot dogs too. Packed all the food and got ready to picnic.
If you adore the aromatic rosemary, then you will love this melt sandwich. Season the chicken with rosemary, fennel seeds, garlic, red pepper flakes and grill it. Grilled chicken is then sandwiched between the breads along with greens/tomatoes/cheese; sandwich is then grilled till the cheese has melted and the bread turned crispy. Delicious sandwich that can be made effortlessly and tastes so good.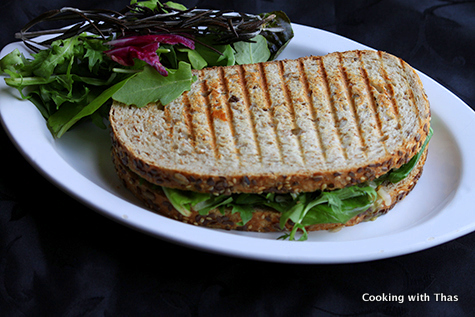 Preparation Pictures
Recipe Courtesy: Rachael Ray

Grilled Rosemary Chicken Melt Sandwich Recipe
Ingredients
To season chicken breasts
Chicken breasts, halved and pounded to ¼ inch thick- 2
Fresh rosemary leaves- stripped from 1 sprig
Fennel seeds- 1 tsp
Red dry chili flakes- ½ tsp
Garlic, grated- 1 large clove
Olive oil- 2 tbsp
Ground pepper- ¼ tsp
Salt- a few pinches
Lemon juice- ½ tbsp, to drizzle over grilled chicken
For making sandwich
Mayonnaise or any dressing
Swiss or cheddar cheese
Greens/ sliced tomatoes
Thick bread or ciabatta (Italian white bread)
Instructions
I halved the chicken breasts vertically and pounded it to make it thin. You don't have to half the chicken breasts, use as it is after pounding it to ¼ inch thin.
In a bowl, combine rosemary leaves, fennel seeds, red dry chili flakes, garlic, olive oil, ground pepper and salt.
Add the chicken breasts and combine well into the marinade to coat well.
You could either grill the chicken or pan fry it on a non-stick pan.
Grill the chicken till it has cooked well and turns golden brown in color.
Towards the end of grilling, drizzle ½ tbsp of lemon juice over the chicken and grill for another minute.
Remove the chicken from the grill and let cool down a bit.
To make the sandwich: I used thick whole multi grain bread. Use any thick breads.
Spread mayonnaise or any dressing on one of the bread slices.
Top with cheese, handful of greens, 1 tomato slice and 1 grilled chicken breast. Close with the other bread slice.
Grill the sandwich in a panini maker till the cheese has melted and grill marks are formed on the bread.
Cut the sandwich into halves, serve with salad and chips.