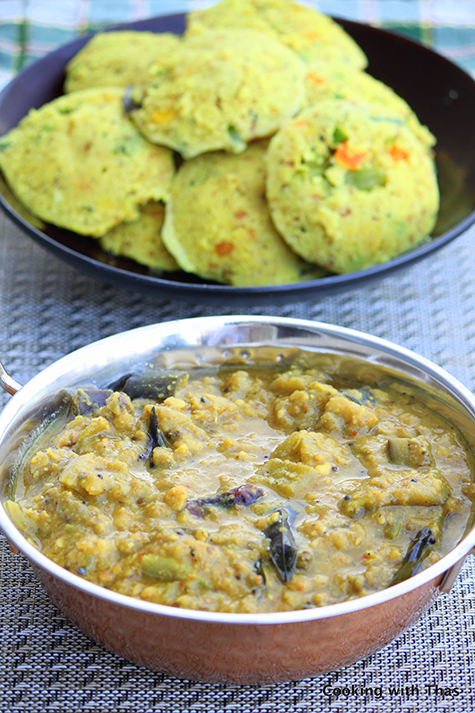 Green tomatoes, lentil, eggplant and roasted ground coconut masala cooked together to make this finger licking sambar…
Harvest season has come to an end and I had to pick all the unripe green tomatoes form my veggie garden. I got a lot of green tomatoes sitting on my counter top, thought of letting them ripen in my kitchen. However, it seems there a lot of South Indian recipes that can be made with green tomatoes- sambar, theeyal, avial etc. Since, green tomatoes will impart the needed sourness to the dish, this can be used to replace tamarind or green mangoes. As my first dish, I tried this sambar using green tomatoes and I loved it.
I served with Oats Idli, tasted delicious…
Homegrown organic green tomatoes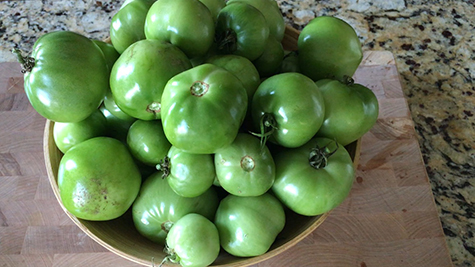 Green Tomatoes Sambar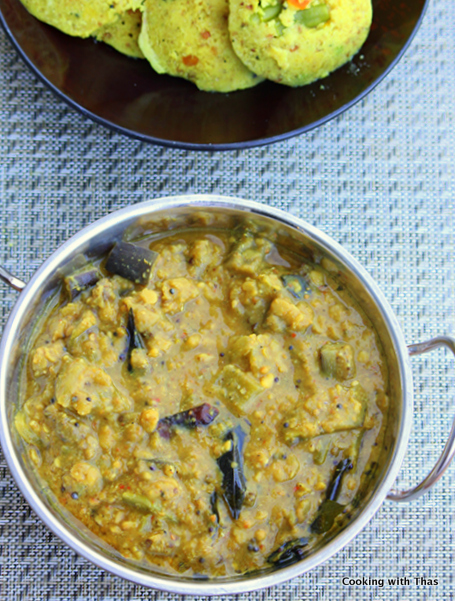 Cooking Video
Green Tomatoes Sambar- South Indian Recipe
Ingredients
Toor Dal or Pigeon Peas or Sambar lentil- ½ cup
Green Tomatoes, diced- 3, large
Eggplant, diced- 1 cup
Salt- 1 tsp
Water- 1½ cups
Turmeric powder- ¼ tsp
To Roast and Grind to a coarse powder
Chana Dal- 3 tbsp
Urad Dal- 1 tbsp
Coriander seeds- 3 tbsp
Whole black peppercorns- 1 tsp
Cumin seeds- ¾ tsp
Dry red chilies- 3
Grated coconut- ½ cup
For Tempering
Oil- 2 tbsp
Mustard seeds- 1 tsp
Dry red chilies- 2
Curry leaves- 1 sprig
Instructions
In a pressure cooker, combine toor dal, green tomatoes, eggplant,, turmeric powder, salt and 1½ cups water.
Place over medium heat and cook till 1 whistle or 20 minutes till dal and veggies have turned tender. Don't over cook the veggies.
Place a non-stick pan over medium heat, add all the ingredients mentioned 'to roast and grind to a coarse powder' and roast till coconut turns golden brown.
Let cool down and grind to a coarse powder.
Open the pressure cooker, combine the cooked veggies and toor dal.
Add turmeric powder and ground masala, combine well.
Add ½ cup more water.
Cook for 5 minutes and remove from the heat.
Place a frying pan over medium heat, add 2 tbsp oil and let oil turn hot.
Add mustard seeds, let it splutter.
Add dry red chilies and curry leaves, fry for a few seconds.
Pour the tempering over the cooked sambar.
Close the cooker with its lid and keep aside for 5 minutes.
Serve sambar along with idli, dosa or rice, tastes delicious.
Notes
Roasted Ground Masala can be made ahead of time and refrigerated in an air tight container for a month.