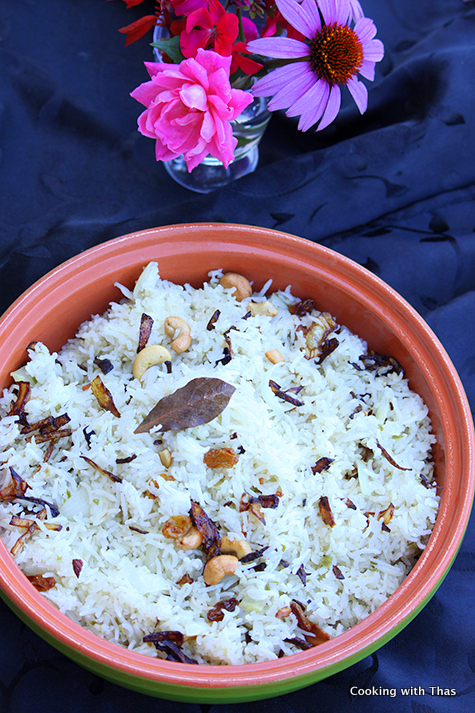 The most delectable and aromatic cooked Rice, which goes well with Chicken curry or Mutton curry..
Is there any ingredient which cannot be mixed with rice? If you want to find an answer, you definitely have to put a lot of thought into this. I literally throw anything from my pantry or from the refrigerator to convert cooked  plain rice into a delicious rice dish. If I start counting the number of cooked rice dishes, I will have to count forever. Starting from the most common fried rice, I can make a huge list. Among the many rice dishes I've tasted Ghee rice is my favorite. The aroma from the ghee makes the rice rich and flavorful. It's easy to prepare and it can be served along with chicken or mutton or beef curries.
While cooking Ghee rice, the aroma from the spices and the rice roasting in the ghee will spread all over the house in no time and everyone will be seen taking in a few deep breaths.
To make the delicious ghee rice, you would need really good Basmati rice, good quality Ghee and avoid over cooking the rice.
Ghee Rice Cooking Video
Ghee Rice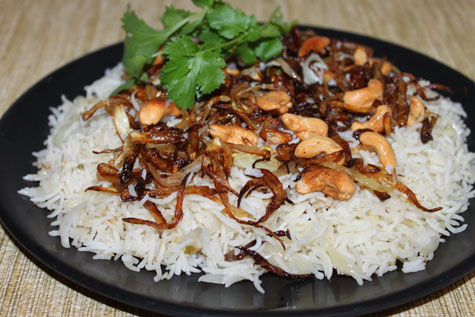 Preparation Pictures
Ghee Rice or Ney Choru
Ingredients
Basmati Rice, washed in water and drained well- 2 cups
Water- 4 cups
Onion, large cut thin lengthwise- 1
Bay leaves, fresh or dry- 2
Ghee- 4 tbsp
Salt- ¾ tsp
To Grind
Fresh ginger, chopped- 1 inch slice
Fresh garlic chopped-3 cloves
Green chilies, chopped- 3
Whole cardamom-2
Whole cloves-2
Cinnamon- 1 inch slice
Other ingredients
Onions, cut thin lengthwise- 2
Vegetable oil- enough for frying onion
Cashew nuts- 10
Raisins, roasted in 1 tsp ghee- 1 tbsp
Cilantro, chopped- to garnish
Instructions
Grind the above mentioned ingredients 'to grind' in a blender and keep aside.
Place a saucepan over medium heat, add the ghee.
To the ghee, add the onions, salt, bay leaves, saute until the onions turn translucent.
Add the ground mixture, saute until the raw smell of the ginger/garlic goes away- about 3 minutes.
Add the rice to this and saute in ghee for about 3 to 4 minutes. Don't brown or over roast the rice.
Add 4 cups water.
Cover the saucepan with its lid and cook for 20 minutes till the water has dried off.
Open the lid, using a spatula give the rice a mix and keep aside covered.
Fry the onions in oil until golden brown and transfer to a paper towel.
Roast cashew nuts in the oil used for frying onion until golden, keep aside in a paper towel.
Roast Raisins in oil till it bubbles up, keep aside.
Garnish the cooked rice with fried onions, roasted cashew nuts , roasted raisins and cilantro.
Keep covered for a few more minutes.
Serve warm with your favorite veg or non-veg dish.
Cooking in a rice cooker
After the rice is roasted in ghee-onion/ginger/garlic/green chilies mixture, transfer the roasted rice into a rice cooker pot.
Rinse the saucepan in which rice is roasted with 1 cup water and add this water to the rice, along with the 2½ cups water. In rice cooker you only need 3½ cups water for 2 cups rice.
Cover the rice cooker pot with its lid and turn on the rice cooker, let cook.
After the rice has cooked well, combine the rice using a spatula.
Garnish with fried onions, roasted cashew nuts, raisins and cilantro.