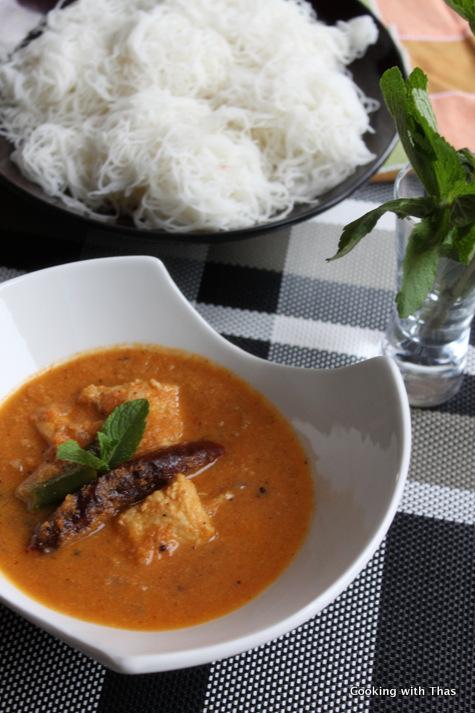 Fish cooked in tomato and coconut gravy, mint leaves made this fish curry aromatic…
I stepped out a bit from my comfort zone and made this fish curry. Whenever I make fish curry, I follow the usual Kerala style fish curry preparation methods. It gets hard for me to try a different kind of fish curry. So, this time I tried making the fish curry a little differently. Instead of making a paste with grated coconut alone, I added tomatoes to it. Also, I added mint leaves which is quite unusual in fish curries. Yes, I said no to curry leaves and cilantro. My hubby and I loved this fish curry and was served along with Idiyappam (Steamed Kerala style rice noodles).
For Idiyappam recipe, click here.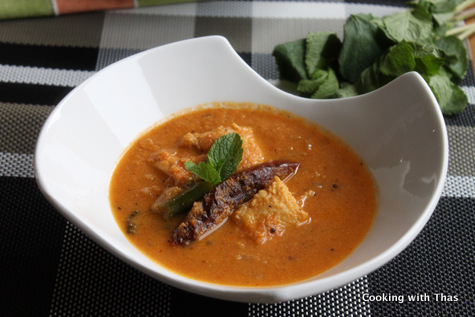 Preparation Pictures
After adding tomato-coconut paste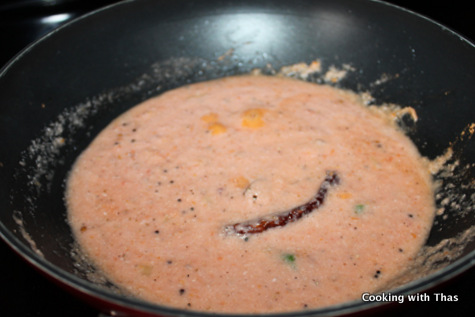 Making fish curry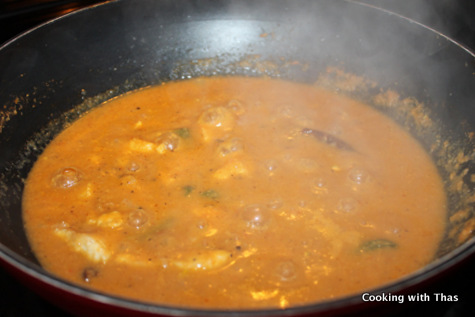 Fish in Tomato and Coconut Gravy - Fish Curry with Mint Leaves
Ingredients
For making paste
Large Tomatoes, chopped- 2
Grated coconut- ½ cup
Small onions- 4
Whole Peppercorns- ½ tsp
Cumin seeds- ½ tsp
Water- ½ cup
For making the curry
Fish, cubed- 10 to 12 pieces (use mild tasting fish like tilapia, bass, red snapper)
Vegetable oil- 1 tbsp
Sesame oil- ½ tbsp
Mustard seeds- 1 tsp
Fenugreek seeds- ½ tsp
Red dry whole chilies- 2
Onion, chopped- 1
Green chilies, chopped-1 or 2
Fresh Tamarind juice- 3 inch tamarind soaked in 5 tbsp warm water
Chili powder- ¾ to 1 tsp
Turmeric powder- 2 pinches
Coriander powder- 1½ tsp
Ground pepper- ⅛ tsp
Garam masala- ½ tsp
Mint leaves, chopped- 4 large leaves
Salt- to taste
Instructions
In a blender, grind the ingredients "for making paste" into a smooth paste. Keep aside.
Soak fresh tamarind in warm water for 5 minutes, squeeze the tamarind into the water well, drain the juice and keep aside.
Cut the fish into cubes or 2 inch slices. I used bass fish.
Place a large saucepan over medium heat, add both the oils and let it turn hot.
Add mustard seeds, let it splutter.
Add fenugreek seeds and dry red chilies, saute for a couple of seconds.
Add onions and chopped green chilies, season with salt and saute till onions turn translucent.
Add the ground tomato-coconut paste, combine well and cook for a few minutes.
Add chili powder, turmeric powder, coriander powder and ground pepper, combine well and cook for a couple of minutes.
Add the tamarind juice, combine well. Let it come to a boil.
Taste and add more salt and chili powder if needed for more spice.
Add the fish into the gravy.
Add the chopped mint leaves.
Cook covered for a few minutes till the fish has cooked.
Open the lid and sprinkle garam masala over the fish curry.
Cook for a couple more minutes, remove the pan from the heat and keep it covered for sometime.
Serve this fish curry with rice, idiyappam, pathiri, orotti, chapati etc