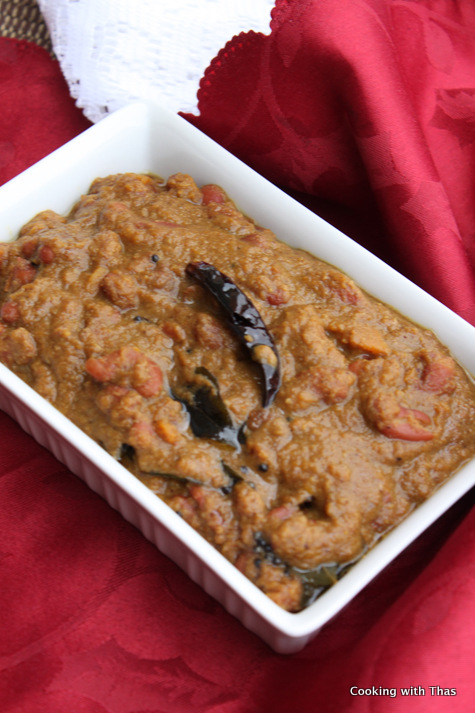 One of the dishes served with Sadya…
For this year's Onam I made a few dishes that I'd not tried before, one of the dishes was erissery. There are so many versions of making erissery and I liked this version as roasted coconut paste is added to the red beans and pumpkin. Any dish tastes great when roasted coconut paste is added, this is no exception. I've used pumpkin; have seen some versions with raw plantain or elephant yam added to this dish.
This is definitely protein rich and very flavorful vegetarian dish, can be served with chapati, roti or rice.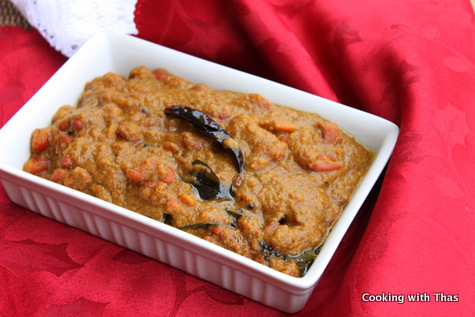 Erissery- Sadya dish- Pumpkin and Red Beans in Roasted Coconut Gravy
Ingredients
For roasting
Coconut, grated- ½ cup
Mustard seeds- ½ tsp
Red whole dry chili- 4
Small onions- 3
Curry leaves- 1 sprig
Oil- 2 tbsp
Cooking in pressure cooker
Pumpkin, diced- 1 cup
Red beans or red cow peas, soaked in water- 1 cup
Turmeric powder- ¼ tsp
Red chili powder- ½ to 1 tsp
Salt- to taste
Water- 1 cup
Salt- to taste
For seasoning
Oil- 1 tbsp
Mustard seeds- 1 tsp
Dry red chilies- 2
Curry leaves- 1 sprig
Instructions
Soak the red beans overnight.
In a frying pan, add oil, grated coconut and all the other ingredients for roasting, roast till coconut turns golden brown. Let cool down.
Grind the roasted coconut along with water to make a smooth paste. Keep aside
Cook the soaked beans in a pressure cooker along with turmeric powder, chili powder, salt and water for 3 to 4 whistles or till beans have cooked well.
Open the pressure cooker lid, add the pumpkins and cook till the pumpkin turns tender and gets mashed up.
Add the ground roasted coconut paste to the pressure cooker, combine well and cook for sometime till the coconut paste has cooked well and the gravy thickens. Remove from the heat and keep covered.
Make the seasoning: Heat a frying pan, add oil. Let the oil turn hot.
Add mustard seeds, let it splutter.
Add red whole dry chili and curry leaves, saute for a few seconds.
Pour the seasoning over the cooked curry, keep covered for sometime.
Serve for Sadya, with rice, chapti, roti etc.