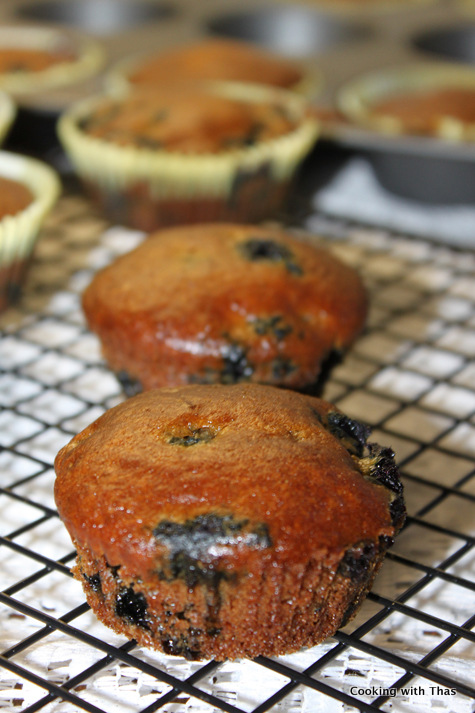 Healthiest yet the yummiest muffins ever…
A muffin that's made without adding eggs and butter still tastes like the regular muffins is a true winner. Hence, I declare that this blueberry muffin is a true winner in all sense. I am always in search of recipes that are healthy and can be made with simple ingredients as I do care about my health. When I came across this recipe that called for zero eggs and butter, I screamed out of joy. Though I was a bit skeptical about the texture of the muffin, that didn't stop me from baking this muffin.
I was aware of a few ingredients that can replace eggs: like apple sauce, flaxseeds, yogurt, bananas etc. However, I didn't try any of these replacements in my recipes, I just went with eggs. I was so surprised to know that vinegar can replace eggs and it will give the muffin a soft and moist texture. I used apple cider vinegar instead of white vinegar as white vinegar has an intense pungent smell while apple cider vinegar has a mild and sweet taste. It worked amazingly.
After I popped the muffin pan inside the oven, I got very curious to find out the texture of this eggless muffin. As I took the pan out of the oven, the over all look of the muffin itself put a smile on my face. I then touched it, felt it and then tasted it…I shook my head with disbelief, it was unbelievably soft and moist, tasted nothing less than regular muffins.
My man couldn't believe that this muffin was made without eggs and butter. I shared this with my co-workers and everyone got curious too. One of the comments was: "the eggless muffins that I had tried before had a horrible texture, but these muffins are just unbelievable".
These muffins couldn't get any softer and tastier. This is 100% vegan blueberry muffins so vegans and non-vegans are going to love it.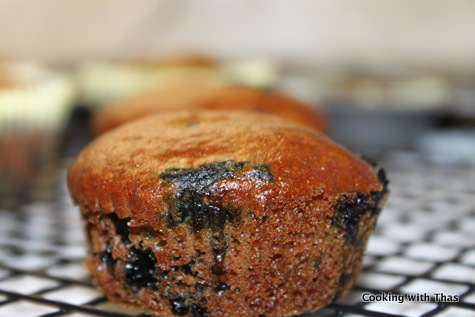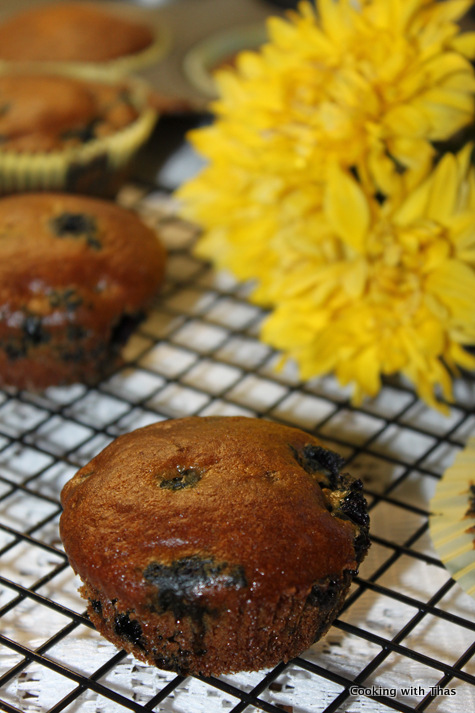 Recipe Courtesy: The joy of Vegan Baking

Eggless Blueberry Muffins - Eggless and Butterless Muffins
Ingredients
All purpose flour- 2 cups
Baking soda- 1½ tsp
Salt- ½ tsp
Orange zest- grated from 1 orange (or use lemon zest)
Sugar- 1 cup
Milk, fat free or whole- 1 cup
Vegetable oil or Canola oil- ⅓ cup
Apple cider vinegar- 1 tbsp
Blueberries or mixed berries- 1¼ cups
Instructions
Preheat oven to 375 F.
In a bowl, combine flour, baking soda, salt and orange zest together.
In another bowl, whisk together the milk and sugar till sugar has dissolved.
Add oil and vinegar to it, whisk well.
Add the wet ingredients to the flour mix, using a whisk combine well without any lumps.
I didn't use the electric hand mixer, just used the whisk and spatula to mix the ingredients.
Do not over mix the batter.
Add the blueberries and gently fold into the batter, don't mix thoroughly.
Grease a muffin or cup cake pan with non-stick cooking spray. You could place the cupcake liner into the cups if you want.
Pour the batter into each cups, fill only ¾ th of the cups.
Place the pan in the preheated oven and bake for 20 to 25 minutes or till a fork inserted into the center of the muffin comes out clean.
Remove the baked muffins from the oven, let cool down completely.
Serve for breakfast, as an evening snack or as a dessert.