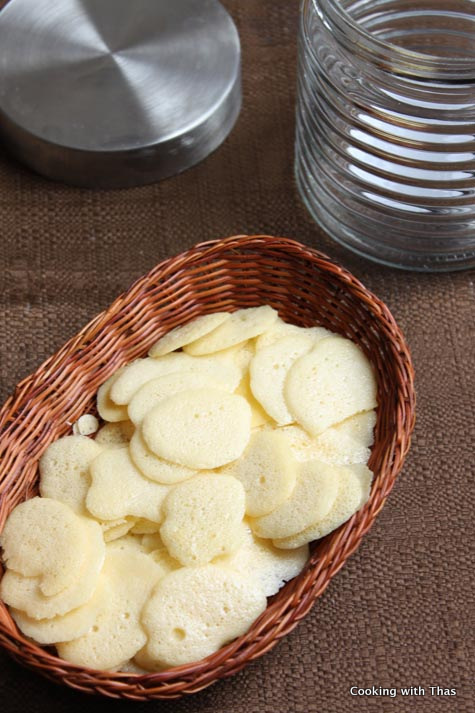 Melt in the mouth, crunchy biscuits found at bakeries in Kerala…
Finally, I made these cute egg or coin biscuits and succumbed to my craving. I feel content! These were my favorite evening snack as a kid and while growing up. Apparently, these are called biscuits in Kerala, mostly found in the shape of coins and sometimes it gets the bean shape as well. These itsy bitsy biscuits are found stored in glass jars in almost all bakeries in my hometown. You can buy by weight and are then wrapped in plastic bags. I never had the patience to wait till I reached home to devour this. So, I always would start munching on these the moment I got out of the bakery. My mom wasn't that pleased by this habit of mine. By the time I reached home I would have almost finished it and my sister gets the last few of the broken biscuits. She would frown at me and calls me "Kothichi" malayalam word for someone with food/snack greed 😛 These biscuits never lasted too long in my house, these extremely delicious egg-vanilla flavored biscuits are devoured in no time.
I haven't had these biscuits in the last 9 years, wow that's a long time. I haven't seen these being sold at any Indian stores in North America. However, a couple of months ago all of a sudden I thought of these biscuits and had searched for the recipe. But in vain! I didn't come across any recipes nor did I volunteer to experiment making these in my kitchen. Instead I added these cookies into the "must-try while in Kerala" folder in my heart. Coincidentally, a couple of days ago one of my readers asked me if I knew the recipe for making these and we shared a few messages sharing our love for these biscuits. That message kind of triggered my craving again and this time I made up my mind to make these in my kitchen. If we want to know about something, what do we do first??? Exactly, we ask Google. I did a lot of google search and finally stumbled upon a recipe for making these biscuits. I couldn't be any happier, the pictures looked similar to the egg biscuits that I was searching for. I had a feeling that it was a good recipe and so gave it a try.
Such an easy breezy recipe, only a few basic baking ingredients are needed to make this biscuits. After the batter is made, it's pipped onto parchment paper as small rounds and are baked. In less than 20 minutes of baking, these biscuits are ready to be devoured. Honestly, it was challenging to make perfect round shapes, when it was kept in the oven the batter started to spread a bit. The taste of these homemade egg biscuits were similar to the bakery ones, the texture wasn't that close as the bakery bought ones are more crunchier. Well, for the time being I found this recipe helpful. Next time, when I visit Kerala I would try to get the recipe for making the perfect egg biscuits that tastes exactly like the bakery bought ones.
Recipe courtesy: A tasty Challenge
Step by Step Pictures
Egg biscuits in the shape of Coin or Beans - Kerala biscuit
Ingredients
Egg, at room temperature- 2
Sugar- ⅔ cup
All purpose flour- 7 tablespoons
Baking powder- ⅛ tsp
Vanilla extract- 1 tsp
Instructions
Preheat oven to 250 F or 120 C.
Combine flour and baking powder together and sift it without any tiny lumps.
In a large bowl, beat eggs, sugar and vanilla extract together using an electric hand mixer till the mixture gets smooth and double in size.
Slowly add the flour/baking powder mix, combine using a wooden spoon till smooth. Don't use electric mixer to combine the flour.
Transfer this mixture to a ziplock bag or a squeeze bottle.
Line a large baking sheet with parchment paper, grease the paper with non-stick cooking spray.
Put a small hole on one end of the ziplock bag.
Slowly squeeze the bag or bottle, place coin shaped batter onto the parchment paper.
While placing another batter drop leave enough space in between the drops. Else while baking, the drops will expand and will attach together.
Place the baking sheet on the middle rack and bake for 15 to 16 minutes till the edges turn light golden brown.
Remove from the oven, as soon the biscuits are out of the oven it will be soft. Allow them to cool on the baking sheet itself for 5 minutes, it will turn crispy.
Using a spatula remove the biscuits from the paper and serve immediately.
Store in an air-tight container.
You can make a lot of tiny biscuits using this recipe. You have to bake it in batches without crowding the biscuits.