Baked Chickpeas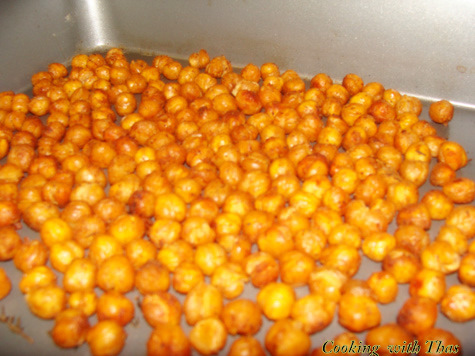 Chickpeas cooked- 2 cans (rinsed and patted dry)
Olive oil- 2 tbsp
Paprika or chili powder-1 tsp
Cumin powder-1 tsp
Pepper powder-1/2 tsp
Salt- a pinch
Thyme, fresh or dried- 1 stalk or 1 tsp
Rosemary, fresh or dried(optional)- 1 stalk or 1 tsp
Preheat oven to 400 F.
Combine the chick peas and other seasonings together.
Grease the baking sheet lined with aluminum foil with non-stick cooking spray.
Spread the seasoned chick peas the baking sheet and bake, stirring occasionally, until golden and crisp, about 25-30 minutes.
After it turns crispy and golden brown, remove from the oven, let cool down a bit and start munching.